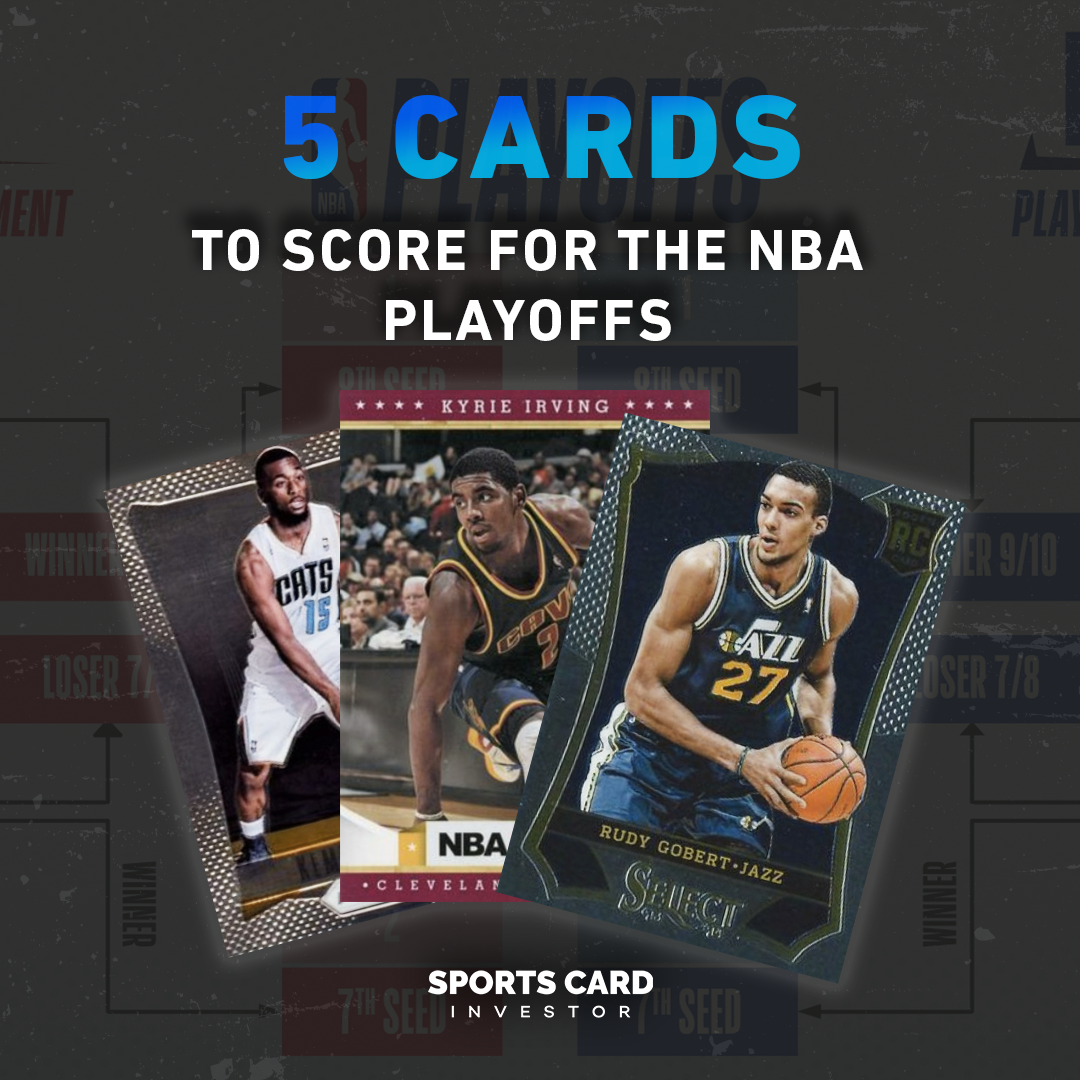 The NBA Play-In Tournament tips off on May 18. Its layout feels a little gimmicky, but it does provide more basketball in a quick, pressure-packed kind of format, so it can't be all bad. With how things have shaken out in the standings over the past few weeks, it's looking like some of the league's top names (LeBron James, Steph Curry) will have to play in these earlier rounds, too.
Once we get to the later stages of the playoffs, the real fun begins. And we're talking on the court and off of it with the cards. Who will be this year's TJ Warren? You know, the guy who basically comes out of nowhere — the largely undiscussed Warren averaged 30 points per game for Indiana in the NBA restart bubble last year — to demand some attention in the hobby. And on the flip side, which all-star-caliber player will disappear under the national spotlight, taking whatever profits you were hoping for down with his sad performance?
In this unpredictable year, anything can happen. But no matter what unfolds, we're not expecting many letdowns from the five following players. These guys have been steady, often spectacular, all year. Yet for some reason, the excitement surrounding their cards has been tepid at best. Once the prime-time cameras start rolling and these players get going, though, we're counting on that to change. Here's hoping you aren't stuck on the baseline this postseason when it does.
Rudy Gobert's 2013 Select
The most consistent team in the NBA this season has been the Utah Jazz. Want to know the biggest reason the squad hasn't had a losing streak longer than two games all season? Donovan Mitchell. Know one of the biggest reasons things have kept chugging along for Utah, even with Mitchell sidelined with an ankle injury since April? Rudy Gobert. The 7'1" rim protector is grabbing boards (12 games of 15+ rebounds since the all-star break) and swatting shots (his 2.7 block average leads the NBA) at a remarkable clip.
Still, his rookie cards aren't necessarily feeling the love. We know his defensive game is efficient but rather methodical. Nothing terribly exciting about his offensive skill set, either. But for there to be only 42 PSA 9s and 10s out there for the two-time Defensive Player of the Year's RC is a bit of a shock.
It's also an opportunity. If you can score a PSA 10 now in the $300 range, go for it. Might be a decent call to gamble on a few raw Selects, too. Because after seeing these Jazz play deep into the Western Conference playoffs, the market will wake up and realize Gobert is the second-best player in the '13 class (behind only Giannis Antetokounmpo). And when it does, you'll be waiting with your card to flip and an I-told-you-so look on your face.
Kyrie Irving's 2012 Hoops
When the '20-21 season began, this rookie card for Brooklyn Nets star guard Kyrie Irving sold for around $200. In March, prices jumped over $400. If you can recall, there was still lots of excitement surrounding the James Harden trade then. Early April saw average sales drop back down to the mid $200s. Blame so-so play and Kevin Durant's injury for the slip in Brooklyn buzz. But with May playoff action about to get into full swing, the tide should turn back in Irving's favor.
The seven-time all-star is at his best in the postseason and, with back-to-back stellar performances of 38 and 45 points in early May, we get the sense he's again ready for his playoff close-up. Additionally, KD is looking healthy, Harden is facilitating as well as ever and even Blake Griffin seemingly has a renewed vigor in his step. If Irving is okay after a May 11 elbow to the face, all signs point to a productive postseason of 25/5 stat lines, show-stopping dribbling clips and an underrated rookie card that's ready to explode.
CJ McCollum's 2013 Prizm
One of the league's most underappreciated talents, all CJ McCollum does is get buckets for the Portland Trailblazers. Going for 23 points and nearly five assists a game, McCollum is the ideal Robin to Damian Lillard's Dark Knight. The only issue with the Blazers, and it's a glaring one, is that they haven't fared very well in the postseason in recent years. But while first-round exits in three of the last four playoffs aren't great, McCollum hasn't been the reason for the falls.
McCollum had 36 in the Blazers' elimination game a season ago. This card was north of $600 around that time. Two weeks after Portland's exit, it was going for under $250. Out of sight, out of the market's mind. As Portland popped back on the regular-season radar this March, this 2013 Prizm ticked up to $425. It's again fallen under $300 at press time. But if Portland can get out of the first round, you might be able to catch this McCollum roller coaster on its way back up.
John Collins' 2017 Prizm Silver
We don't blame you for not knowing much about John Collins' steady production this year. There seems to be an active effort by sports media outlets to show the Atlanta Hawks play as infrequently as possible. In fact, the May 12th game between the Hawks and Washington Wizards was just the third time Atlanta has been on ESPN all year, even though the team owns the 4th-best record in the East.
Of course, hobby darling Trae Young has been able to work around the media oversight. The Hawks guard's 2018 Prizm Silver PSA 10 has averaged sales of nearly $2,000 over the past few months. Collins, on the other hand, has fetched a fraction of that, with sales of his 2017 Prizm Silver PSA 10 hovering between $241 and $375. Maybe hobbyists simply aren't realizing that Collins (17.8 points and 7.5 rebounds per game) is the recipient of many of those highlight-worthy passes from Young every night. Here's hoping that when the Hawks finally get some consistent national exposure over the next few weeks, collectors will see just how vital the high-flying Collins is and this card could take a leap as a result.
Kemba Walker's 2012 Prizm
It's not that Kemba Walker needed any motivation to have a big postseason, but news of his Boston Celtics teammate Jaylen Brown going down with a season-ending injury certainly douses some fuel to his fire. Though Jayson Tatum will likely be the centerpiece of the Cs' offensive game plan, Walker is more than capable of holding his own when the situation calls for it. The Boston guard has had four games of 30+ points since April 22.
Speaking of April, the four-time all-star's 2012 Prizm rookie peaked at $400 around that time. It has since tapered off to around $130-140. But we're of the belief that stumble had more to do with the team's uneven play than anything Walker did. Collectors will see how important Walker is to the short-handed Celtics' postseason prospects rather quickly. Once they do, there may be a scramble to pick up this card and Walker's other first-year products.
Track your collection and maximize your profit with Market Movers, the hobby's most powerful sports card pricing platform! Learn more here.