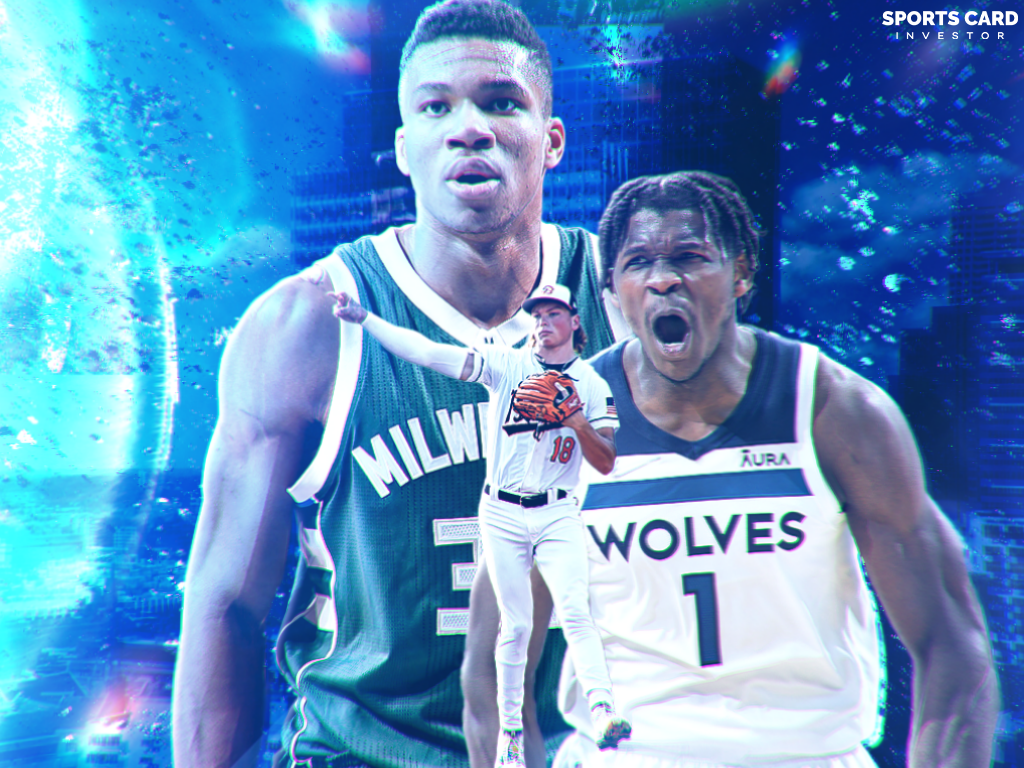 5 Cards for Beginners to Add to Their Collections
Entering the sports cards hobby can be both overwhelming and confusing for newly admitted members, or those re-entering after a decade-plus long hiatus. Who should you buy? Which sports? How do we avoid losing all of our money if we want to sell? There are a multitude of different strategies hobbyists use, and today we're going to break down what factors we'll be looking at when selecting staples to add to our portfolio.
Key Factors When Buying or Investing
Sell Markers: One of the most important things to consider when entering the selection process for sports cards is timing. Not only do you need to know when to buy, but you also have to be buying already knowing when you're looking to sell. We use hype cycles, strong performances, MLB call-ups, and news-related spikes to have a better understanding of what's fueling card prices and what we're waiting for to know when to sell. 
Current Pricing: An obvious factor to look at is the current pricing of cards you're interested in. Tools like Market Movers gives us clear and accurate information as to where the card's current pricing is relative to where we think it can be. If we have a card that we think has strong upside and notice it's currently trading at a discount, it gives us more confidence in our buying decision.
Historical Trends: This factor is fairly synonymous with analyzing current pricing, but historical trends of a card's values let investors grow their knowledge on specific sports and their hype cycles. For example, we like to get the quarterbacks we picked up at a discount during the NFL offseason listed for sale right before the season starts to maximize profits off the NFL hype cycle — and also mitigate risk of poor performances tanking their values. Knowing which months a certain sport spikes in pricing gives us greater insight to our sell period. 
Pop Count: Another metric to consider is the population count in circulation for a particular card. For example, cards with lower pop counts also hold a certain level of exclusivity that may make them more desirable to collectors and susceptible to higher volatility spikes during periods of growth. Cards with high pop counts often see more frequent trades and a higher level of liquidity, but they may be at a slight disadvantage in regards to profit percentages.
Rookie Cards: One thing to note is that for a majority of players we hold interest in, we're specifically looking at their rookie cards, and often in PSA 10 grades. These cards typically hold higher values and are more desirable for both collectors and flippers.
Let's take a look at some options for beginners to invest capital in to build stability in your portfolio and get you started off on the right foot.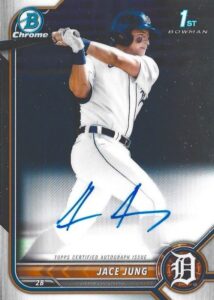 Jace Jung: 2022 Bowman Draft Chrome 1st Prospect Auto PSA 10
As we mentioned within the sell markers description, one of the key markers we look for is the MLB call-up. Some don't often invest in any players that have already made the jump to the bigs, and focus instead on prospects with cards that could see spikes due to the hype created by their call-up and the prior minor league play that got them there.
Jung's Bowman Draft Chrome 1st Prospect Auto in PSA 10 is a card that could be significantly undervalued relative to other prospects of his skill level and minor league resume. You can pick up Jung's 1st Prospect Auto for less than $150.
Caleb Williams: 2022 Bowman University Chrome 1st Prospect Auto PSA 10
Next is a player that could be a highly profitable investment with clear sell markers. USC quarterback Caleb Williams is on the way to his second Heisman in as many years, and appears to be a lock for the No. 1 overall pick in the next NFL Draft. His 2022 Bowman University Chrome 1st Prospect Auto in PSA 10 can be picked up for under $1,000, and should see some healthy spikes if he wins the Heisman and when he goes No. 1 in the Draft.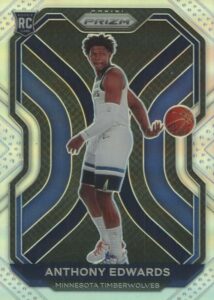 Anthony Edwards: 2020 Prizm Silver PSA 10
The first NBA player on our list is blossoming Timberwolves combo guard Anythony Edwards. The explosive 4th-year highflyer used this offseason as a prime opportunity to showcase his continuous improvement while playing for Team USA in the FIBA basketball games, and even though the USA roster suffered a disappointing early dismissal from the tournament, Edwards established himself as a clear leader and top player for a team comprised of tons of exciting and growing young talent. 
His 2020 Prizm Silver in PSA 10 is one of our favorite cards for those looking to add Edwards to their portfolio. It's down nearly 10% the last 30 days, has shown strong liquidity, and currently sits near an all-time low in terms of pricing. Investors can pick this card up for around $650.
Giannis Antetokounmpo: 2013 Prizm Base PSA 10
With the addition of Damian Lillard, the Bucks have quickly emerged as a front-running favorite for the 2023-24 NBA Finals, and you can be sure Giannis Antetokounmpo's card market would see substantial gains if they make a serious playoff push. The Greek Freak also provides investors with additional sell markers such as the MVP race, strong In-Season Tournament performances, and highlight plays as he posts monster performances throughout the year.
His Prizm Base PSA 10 is easily attainable with a pop count of 2,928, and has seen an opportunistic discount over the last two weeks while down $50. You can pick this print up for less than $900, a steal for a card that has historically proven to have the ability to spike as high as $6,300. It seems, particularly prior to the Lillard trade, that Antetokounmpo has been flying below the radar for both analysts and collectors, which we love.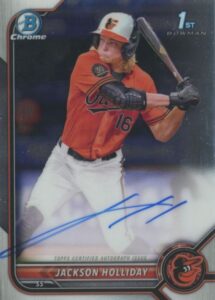 Jackson Holliday: 2022 Bowman Draft Chrome 1st Prospect Auto
Sitting in the leadoff spot as the No. 1 ranked prospect in all of baseball, Jackson Holliday, son of former MLB All-Star Matt Holliday, is another fantastic prospect to target now. While his cards have already seen some strong growth over the course of the season as a reflection of Holliday's impressive minor league play, we believe there is still room to grow for his card values.
We wouldn't be surprised if his 2022 Bowman Draft Chrome 1st Prospect Auto saw Elly De La Cruz-type growth upon the call up, just remember to not get greedy and make sure to get him sold as soon as the news drops. It's simply too risky hoping strong MLB play boosts his card values even higher. You can pick this specific print up for between $400-$500, and could possibhly still have enough time to get it graded and back prior to expected call-up in 2024.
With the Sports Card Investor app, you can profit from the hobby you love by keeping up with trending cards, tracking real-time prices with Market Movers and buying items on eBay. 
Download the industry-leading app here for Apple or Android. Note to readers: If you purchase something through one of our affiliates, we may earn a commission.
Paul Hickey is a regular contributor to Sports Card Investor, the creator of the Sports Card Investment Report at NoOffseason.com, and the host of the Sports Card Strategy Show on Apple Podcasts, Spotify and YouTube. He can be found on Instagram at @sportscardstrategy and on Twitter @nooffseasoncard.