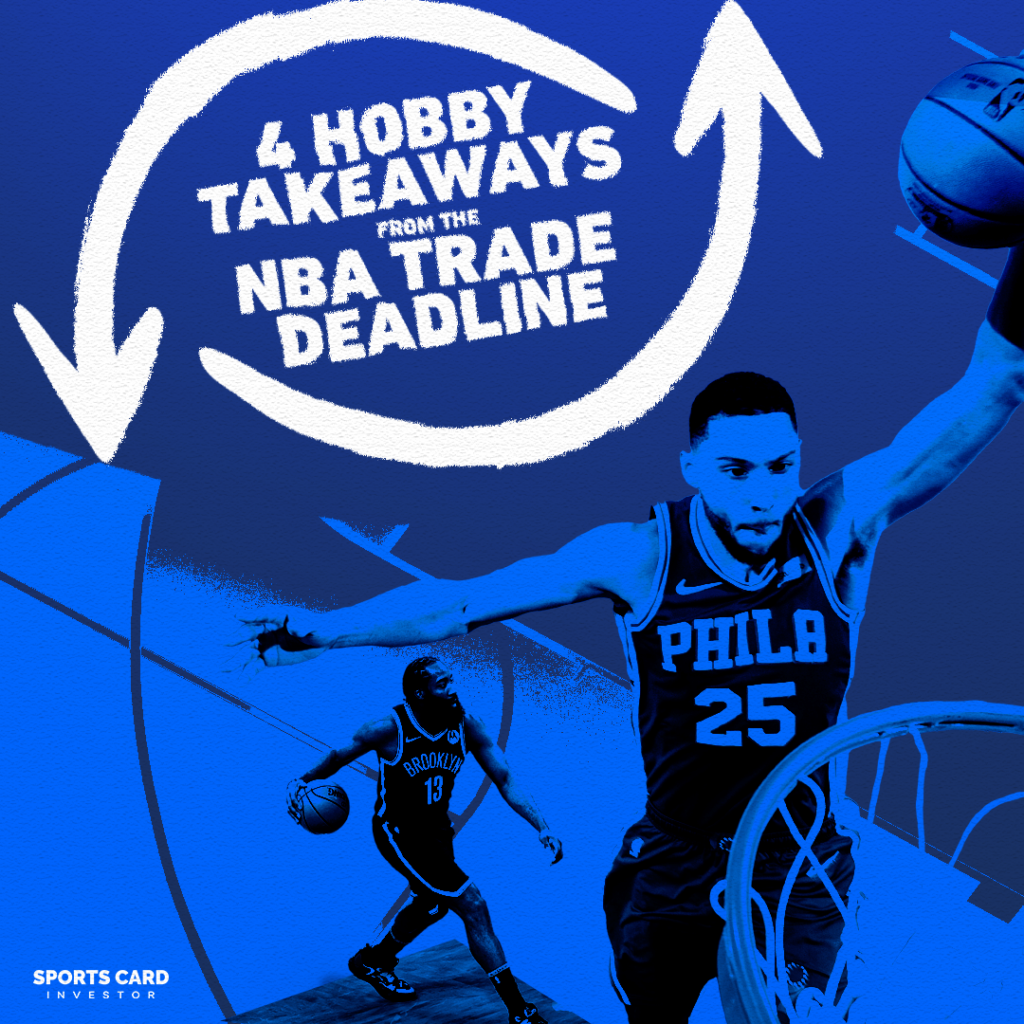 4 Hobby Takeaways From the NBA Trade Deadline
With a James Harden-for-Ben Simmons swap leading the way, few NBA trade deadlines in recent memory have been as entertaining as Thursday's. Several moves will have a major impact on the court down the stretch, but it remains to be seen how some of these transactions will impact the sports card market.
Here are four hobby takeaways from the NBA's recent trade deadline:
Blockbuster trade doesn't guarantee Harden and Simmons are hobby winners
The Harden–Simmons (and additional pieces) trade is easily the biggest story of the NBA season so far, but collectors actually shouldn't expect huge market shifts for those two stars. Sure, they both get fresh starts and it's a big story on the court, but the reality is that neither Harden or Simmons are what many would consider hobby popular.
With Harden specifically, you have an example of an incredibly talented and unique player who will go down as one of the most versatile and potent scorers the league has ever seen. That hasn't translated to a surging card market, though, because a major factor with collectability is how popular and likable you are. The reality for Harden is that he's not super likable and many hobbyists just haven't been interested in buying his cards.
We can see Harden's lack of popularity, if we compare him to another star from that 2009 class: Steph Curry. Comparing their key 2009 Topps paper rookies in Market Movers, we see Curry's 2009 Topps Base PSA 10 has sold 51 times over the last year while Harden's 2009 Topps Base PSA 10 has sold 47 times. The price is where we see the difference, though. Over that period, that Curry sale price has averaged about $12,300. Harden's has averaged just $4,800.
For even more context, the highest sale tracked by Market Movers for Harden's 2009 Topps Base PSA 10 over the last year is $9,100 — that just happens to be the lowest sale tracked on Curry's over the same period.
Shifting to Simmons, we see issues similar to Harden. Outside of Simmons' shooting struggles, he's managed to become one of the NBA's better two-way players while pairing incredible playmaking and passing with lockdown defense. That hasn't translated well to his card market, though. Disappointing playoff performances and issues with the team haven't helped his popularity either, and that's reflected in his key rookies.
Over the last 365 days, Simmons' 2016 Prizm Base PSA 10 is down 44%, his 2016 Optic Base PSA 10 is down 27% and his 2016 Hoops Base PSA 10 is down 46%. As expected, Simmons has seen a small bump in sales growth and volume in the immediate aftermath of the trade, but it's hard to see that continuing when he's moved from a situation where he was, at worst, the team's second star to a team where he's now a clear No. 3 option. Third options typically don't translate well to hobby relevance, so don't expect a move to Brooklyn to help Simmons much long term.
Embiid could actually be the winner from the Harden-Simmons deal
While Harden and Simmons aren't stars in the hobby, the opposite is true for Joel Embiid. Along with Giannis Antetokounmpo and Nikola Jokic, Embiid has shown the hobby that big men can still play a major role for many collectors.
Embiid's market is down overall over the last year — mostly due to a major shift in the market as a whole — but cards like his key 2014 Prizm Base PSA 10 have started trending back up in recent months. That 2014 Prizm Base PSA 10 is down 47% over the last 365 days, but has jumped 26% over the last 90. Selling nearly once per day over the last year, there's evidence that Embiid's dip just has more to do with the market as a whole falling than a lack of faith in his game from the hobby.
The two knocks against Embiid have always been health and playoff success. The former is still a concern worth monitoring while the latter has had more to do with the pieces around Embiid than the big guy himself. The change from Simmons to Harden gives the Sixers another perimeter weapon, and a title run has a chance to rejuvenate Embiid's market. Creating the right fit for Harden is still a major challenge, but the list of guards better than Harden can be at creating space for Embiid is extremely short.
This might be the end for Porzingis' hobby relevancy
It's easy to imagine Kristaps Porzingis among that group of big men who are viable investment options if not for a regular rotation of injuries. An elite shooter and shot blocker, Porzingis entered the NBA back in 2015 and was quickly considered one of the game's "unicorns."
He's on pace to play 50 games for just the second time in five years, though, and the market Porzingis once had seems to be fading fast after a trade to the Washington Wizards. It's hard to think of a better spot than next to Luka Doncic in Dallas, but that situation didn't work out and collectors holding Porzingis have a right to be concerned about his future.
His 2015 Prizm Base PSA 10 is down 80% over the last 365 days through a combination of missed games and overall market dip. The 240 sales over that period shows there's still plenty of desire for Porzingis, though a valid question is if it's true belief or some collectors just taking a low-risk, high-reward approach with that Prizm selling for less than $50 over the last two weeks.
Stars like Bradley Beal and John Wall have struggled to get hobby traction while playing in Washington, so there should be concern that this might be one of the final stops in Porzingis' hobby relevancy.
Haliburton market worth watching after Pacers trade
Without a large lineup of hobby stars on the move, it's worth taking time to look at a rising star and what a move from one bad situation to another might bring. Outside of the Harden-Simmons swap, the Kings deciding to ship Tyrese Haliburton to Indiana was probably the most talked about move from the trade deadline.
The Kings have struggled to draft and develop talent for years now, and Haliburton has been one of the few exceptions. Despite being 21-36 as of February 11, the Kings appear to be shifting to a win-now strategy by moving Haliburton, and the Pacers likely couldn't be happier.
Moving from Sacramento to Indiana likely won't provide a huge boost to Haliburton's card market in the short term, but it's reasonable to expect the Pacers to be a much better long-term option. Haliburton and Chris Duarte form one of the better young backcourts in the NBA, and Haliburton's market especially will be worth watching if he continues to develop at his current pace.
A lack of graded population makes it difficult to really track Haliburton's market, though it could be worth stashing some of his key raw rookies if you're a believer. Clearly one of the best players from that 2020 class, there's plenty of price-growth potential to capitalize on if you're able to scoop up his 2020 Prizm Base Raw and 2020 Optic Base Raw for their current averages of just $5 and $3.
Track your collection and maximize your profit with Market Movers, the hobby's most powerful sports card pricing platform! Learn more here.
Note to readers: If you purchase something through one of our affiliates, we may earn a commission.