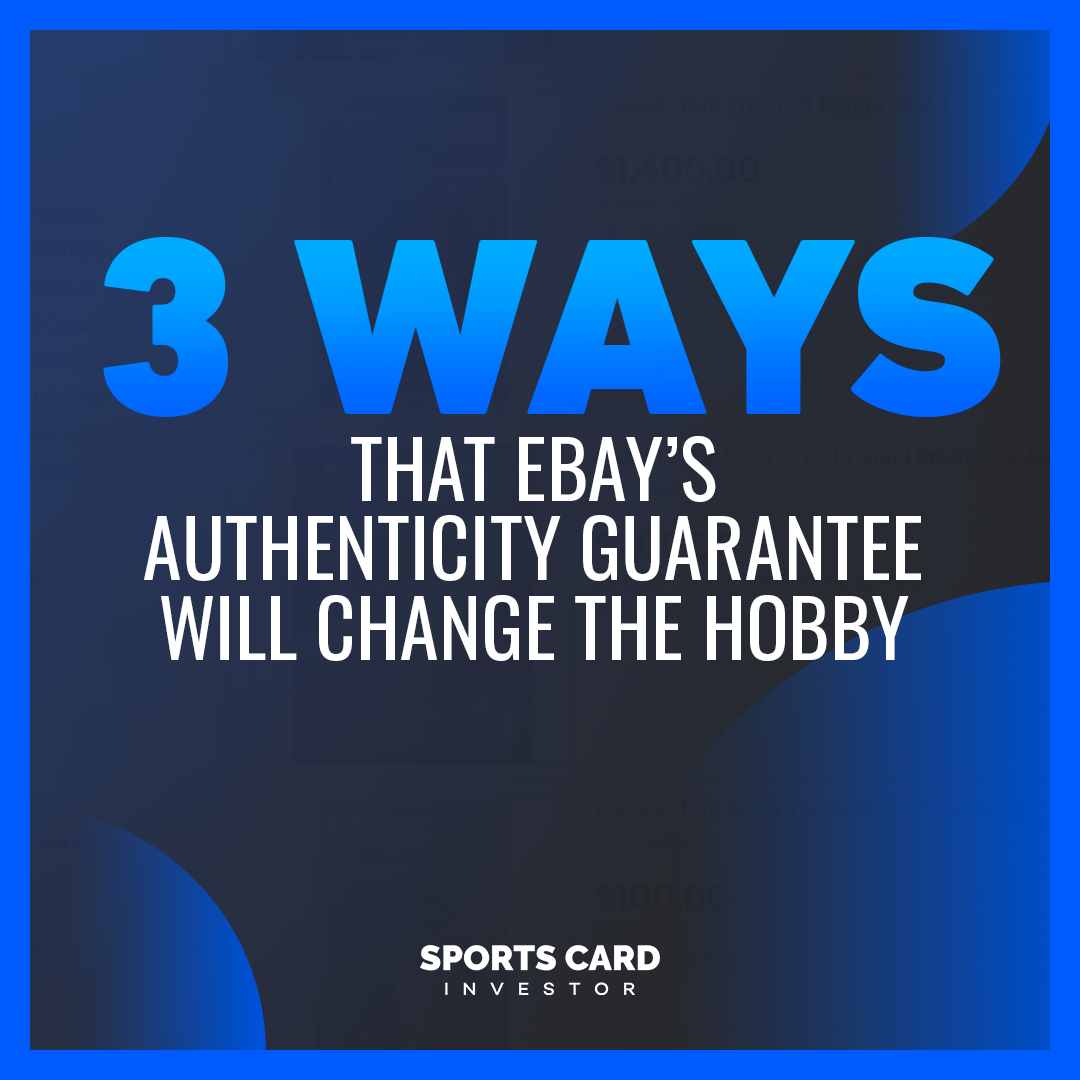 eBay's Authenticity Guarantee service for trading cards has played a part in our hobby lives for a few months now. We've had some time to reflect on the industry-leading marketplace sending our cards off to a third-party authenticator and it's clear that this service genuinely has the hobby's best long-term interests in mind. In fact, at its core, we found a number of ways that eBay's Authenticity Guarantee service for trading cards is changing the face of collecting for good.
Accountability
With so many people actively buying and selling trading cards, eBay's Authenticity Guarantee is the universal protection plan the industry needs. Before the service, buyers and sellers of trading cards relied on community feedback and star ratings as their primary guides for knowing who to transact with. And while that method has seen some success over the years, Authenticity Guarantee provides a new level of trust for enthusiasts. By involving independent third-party authenticators, ungraded cards over $350 are authenticated before a deal is complete. Therefore, if a card is deemed questionable, things are sorted right away. Likewise, Authenticity Guarantee's "Final Sale" option ensures buyers follow through with purchases on their end. With this level of accuracy and transparency, everyone is held accountable. 
Assurances
With more trained eyes on the process, product quality (and product descriptions) only strengthens. Cards endure a multi-point inspection at the authenticator. If they deem something to be inauthentic or misrepresented from the posted description, it's returned to the seller and the buyer's money is refunded. As stories of the authenticators' thorough checks pass around the hobby, deceitful dealers will be deterred. But even those who may not be actively trying to be mischievous will take a second or third look at their cards before listing them. I probably should mention that frayed corner, right? Maybe a close-up of that slight dimple is in order. Before Authenticity Guarantee, the collector's conscience may not have whispered so loudly.
Aspiring Collectors
Arguably the most exciting part of eBay's recent expansion of Authenticity Guarantee for trading cards is that it could be the extra motivation someone needs to make that significant purchase, sell that rare card or dive into collecting. A young hobbyist may have noticed a $300 raw card they wanted to purchase but, understandably, had a bit of hesitation to hit the "Buy Now" button. With the reassurance that comes with eBay's Authenticity Guarantee for trading cards, that might be all an aspiring collector needs to pull the transaction trigger. And we all know what that means—the more people who confidently join in the fun, the stronger the collecting community becomes.
Track your collection and maximize your profit with Market Movers, the hobby's most powerful sports card pricing platform! Learn more here.
Note to readers: If you purchase something through one of our affiliates, we may earn a commission.