Twenty twenty-one was an extremely successful year for the world's biggest mixed martial arts promotion, the UFC. The past 12 months gave birth to a new roster of MMA superstars and delivered some of the most memorable moments in combat sports history. In addition to an entertaining and successful campaign, 2021 marked the debut of Panini's arrival to the octagon.
For the last decade, Topps had been the only major provider of UFC cards. But it was only a matter of time before industry heavyweight Panini entered the fight. The company began its UFC introduction with 2021 Prizm's debut. After a successful start, Panini followed that up with releases of Select and Chronicles to further expand its line of products.
Panini is on track to continue its growth in the combat sports sector with strategic drops throughout the year. As a result, there are numerous combatants that sports card enthusiasts can choose to invest in as the UFC and Panini continue to develop and grow their brand. Speaking of which, here are three talented fighters we'll be keeping a close eye throughout 2022.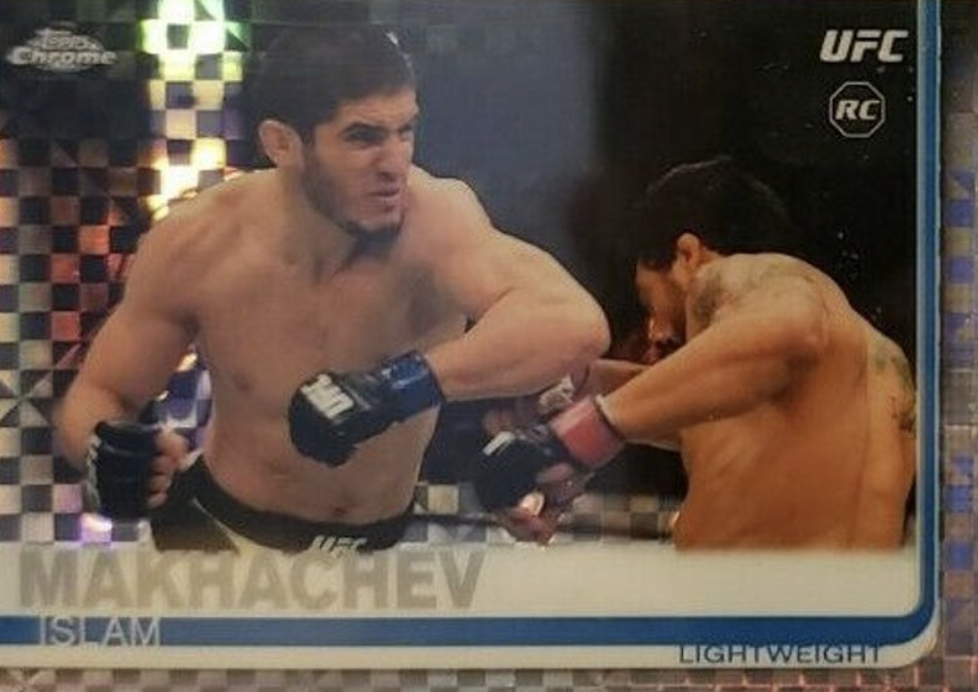 Many UFC fans will be familiar with the name Islam Makhachev. The No. 4-ranked lightweight contender is a prolific Sambo practitioner who hails from the Russian republic of Dagestan and is training partners with former lightweight kingpin Khabib Nurmagomedov. He has quickly compiled a dominant 10-1 record since joining the UFC and is scheduled to take on Beneil Dariush on February 26. Makhachev exhibits the same celestial qualities that made Nurmagomedov such a dominant champion. A win over Dariush will likely put him next in line for a title shot. Thus, getting in on him early in 2022 is especially key before prices rise to otherworldly levels.
If you are looking to get in on the potential champion at lightweight, look no further than his 2019 Topps Chrome rookie cards. This is his only card in the set but it comes in a variety of parallels, including X-Fractor, Blue Wave (#/75) and Gold (#/50). You can grab his base rookie raw in the $40-70 market, depending on condition. Parallels, such as the Diamond, are in the $350-to-$450 range. A PSA 10 X-Fractor sold for just under $2,000 recently, so his accomplishments have certainly already captured the attention of the market.
Makhachev is currently not featured in Prizm or Select, but expect his parallels and autos to one day be of the utmost importance to UFC collectors if he continues his recent success.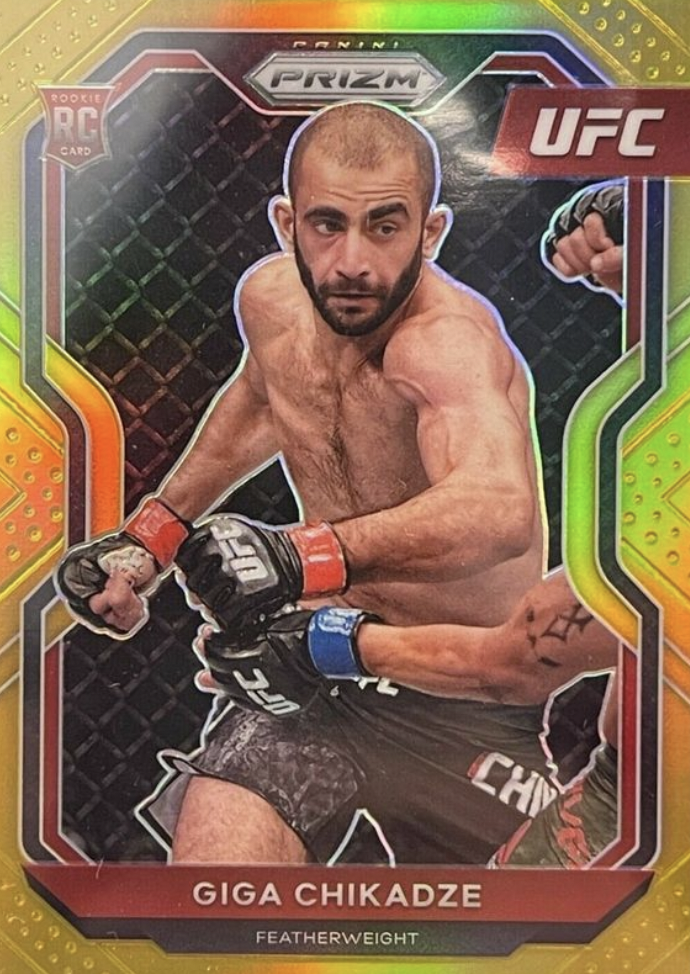 Even with the tough loss to Calvin Kattar on January 15th, Giga Chikadze is still one of the most intriguing featherweights in the world. If given the chance, he could still present a unique challenge to current champion Alexander Volkanovski. The No. 8-ranked UFC featherweight is a crafty and lengthy striker who mixes karate and kickboxing. Chikadze has compiled an impressive 7-1 record since joining the UFC with wins over Cub Swanson and Edson Barboza.
Unlike Makhachev, Chikadze's s rookie cards are featured in both 2021's Prizm and Chronicles sets. When it comes to the former, grabbing a few of his base rookies (under $10) and pairing them with a couple lower-numbered parallels should suffice. For Chronicles, collectors can scoop up his '21 Optic Rated Rookie in Silver and a host of other colors. The Chronicles rookies are certainly friendlier on the wallet, but collectors will likely see a more significant appreciation in his Prizm debut cards.
If investing in the Georgian striking prodigy interests you, you may want to wait things out for the dip that's sure to come to his card prices after the Kattar defeat. When things do level out, jump at the Prizm Silver or even one of the Red parallels. The color proves a nice complement to the flag of his native land.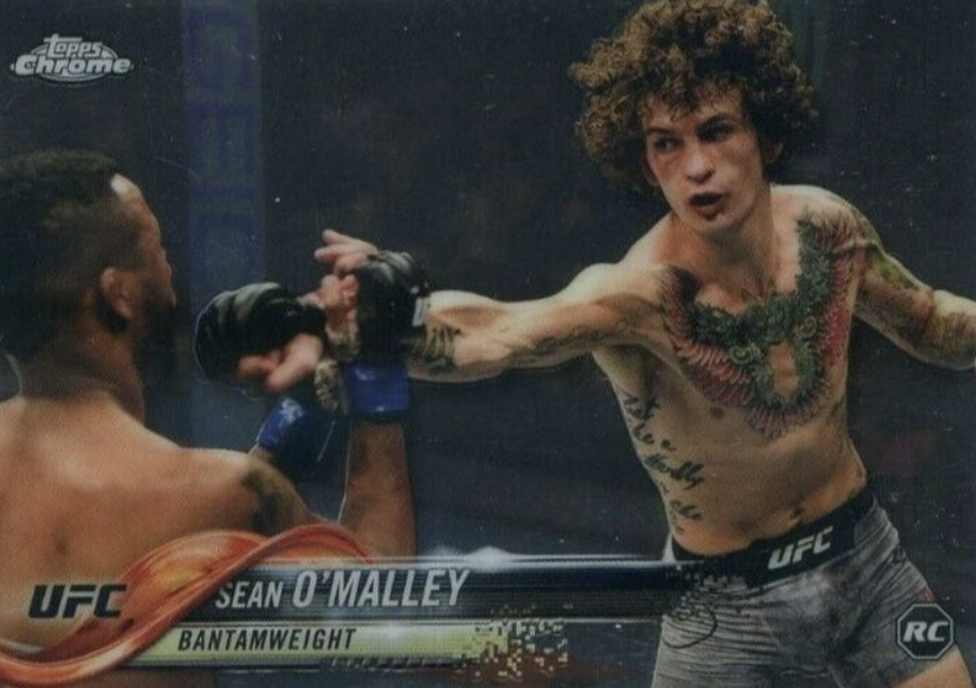 Do not sleep on the "Suga Show," folks, because it is only getting started. Sean O'Malley possesses the technical skill, personality, and swagger of a future superstar in the world of combat sports. He officially made his UFC debut in December 2017 and went on to compile an impressive four-fight winning streak. The hype train came to a temporary halt when he was defeated by Marlon Vera in his fifth UFC fight. Realizing that the talented yet young prospect needed more honing, the UFC reverted to matching him up with similarly skilled fighters to ensure he was built up the appropriate way.
Since then, O'Malley has compiled a three-fight winning streak, all by way of knockout. He continues to impress and show improvement in every octagon appearance. This will be O'Malley's biggest year yet as he continues to garner a huge following and faces stiffer competition.
Picking up a few of the American fighter's 018 Topps Chrome rookie cards is essential for UFC collectors. Base refractors, Diamond, and Blue Wave should all get the job done. Base rookies are under $100 right now. PSA 10 refractors can still be found under $1,000. Other options include grabbing his 2018 Topps Chrome rookie auto, which is just under $500 raw but will only climb as this top prospect continues to get better.
For those interested in the Panini product, O'Malley is featured in all three of 2021's releases. However, grabbing a couple parallels and a numbered auto is the ultimate move for O'Malley investors looking to play the long-hold game.
Track your collection and maximize your profit with Market Movers, the hobby's most powerful sports card pricing platform! Learn more here.
Note to readers: If you purchase something through one of our affiliates, we may earn a commission.