The NBA's 2022-2023 regular season tips off on October 18, and an explosive offseason has created plenty of storylines to watch both on the court and in the sports card hobby. From blockbuster trades to key players returning to the court, here's three hobby-related things to watch for this season:
1. Can a healthy Zion Williamson carry the NBA card market again?
Arguably one of the most important active players in the hobby, regardless of sport, Zion Williamson will make his return to play this regular season after missing all of last year with a foot injury. An ankle sprain currently has him listed as day-to-day, but Williamson isn't expected to miss New Orleans' season-opener.
It's easy to forget that Williamson, along with Ja Morant and the rest of that 2019 NBA Draft class, was a major reason the NBA card market exploded so much during the Covid-19 pandemic. Williamson's prices now aren't what they were then, but it's clear that the hobby is extremely excited about the Pelicans star's return.
Williamson's PSA 10s tracked by Market Movers are up 10% collectively over the last 30 days across a massive 1,100 sales, and the usual suspects are near the top in terms of sales volume. Williamson's 2019 Prizm Base PSA 10 is his most-sold over the last month with 148 sales, though it has trended down over that period in terms of price growth. His 2019 Optic Base PSA 10 and 2019 Select Concourse PSA 10 are also among the most sold at 67 and 31 sales each — the difference on these is both have managed to maintain positive price growth at 71% and 26%.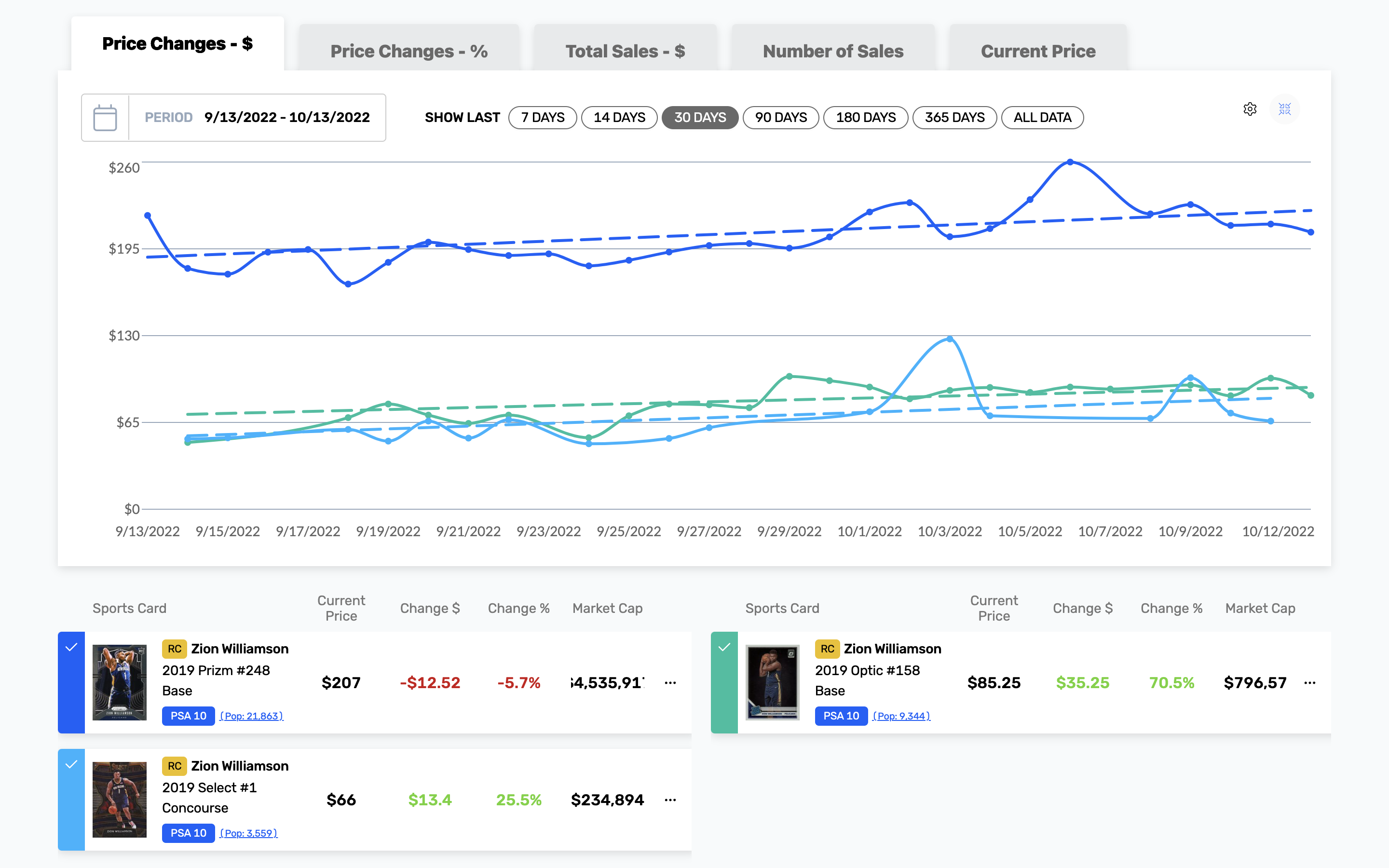 Despite the strong growth on his cards over the month leading up to the regular season, the key thing to monitor for Williamson is whether his prices reach what they were a year ago. Williamson's PSA 10s tracked by Market Movers over the last year are down 36% collectively while those Prizm, Optic and Select rookies are all down 47%, 44% and 59% each.
It's too early to tell, but if Williamson, Brandon Ingram and CJ McCollum are able to gel, a playoff appearance (and positive price growth) could be in the Pelicans' future.
2. Can a move to Cleveland revive Donovan Mitchell's card market?
Years later, the 2017 NBA Draft has produced several solid starters and rotation players across the league with guys like Lonzo Ball, Bam Adebayo, John Collins, Luke Kennard, Jarrett Allen and De'Aaron Fox — this is of course in addition to the two stars: Jayson Tatum and Donovan Mitchell. One thing is clear, however, and it's that Tatum's market is very different from Mitchell's. Much of the delta in prices can be attributed to the fact that Tatum is likely a top-10 player while Mitchell is more of a top-20 or top-30 player. Some believe the gap has more to do with the popularity between Boston and Utah.
According to Market Movers' Intelligence Reports, Tatum's 2017 Prizm Base PSA 10 has been selling for 2.32 times as much as Mitchell's 2017 Prizm Base PSA 10 over the last 30 days — $183 to just $79.
The delta is even bigger when we look at the 2017 Optic Base PSA 10, with Tatum's holding a 2.5 ratio over Mitchell's — $102 to just $41.
Mitchell will need a truly outstanding season to close the gap with Tatum, but could a move to Cleveland give his cards a bump? It's hard to argue that swapping Utah for Cleveland is a major upgrade in terms of market popularity, but there are two positive indicators telling us the Cavaliers are in a better situation: Darius Garland and Evan Mobley.
Garland had a breakout season in 2020-2021, and earned Cleveland's first All-Star appearance since Kevin Love and LeBron James back in 2018. The hobby reacted accordingly, too. According to Market Movers, Garland ranks fifth in PSA 10 rookies sold from that 2019 class over the last year, and you have to go No. 32 Grant Williams before you find another player with positive price growth on their lineup of cards across that date range.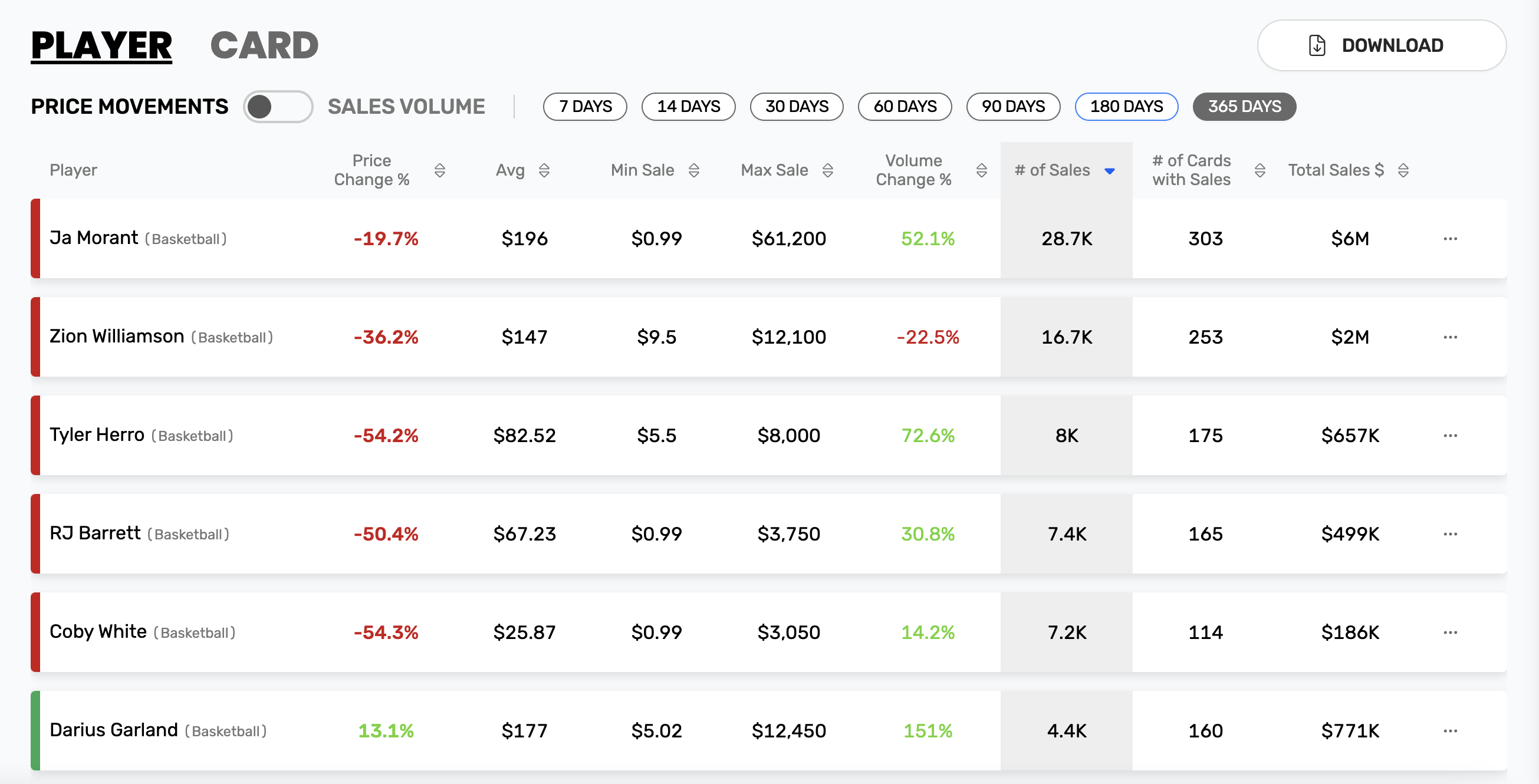 Cavaliers forward Evan Mobley was shown the love as well during his fantastic rookie campaign. The No. 3 pick overall, Mobley made the All-Rookie team while averaging 15-8 in 69 games. It's too early to compare graded cards for the 2021 NBA Draft class, but when comparing 2021 Prizm Base Raw sales we see only No. 1 overall pick Cade Cunningham with more than Mobley over the last 365 days.
Cleveland might not be a huge popularity upgrade over Utah, but it's clear that the hobby doesn't care if these young stars are posted up in Ohio. If Mitchell plays well and his market doesn't improve, there's enough evidence that the hobby has a problem with Mitchell, not the Jazz.
3. Will the regular season help key rookies for LeBron James, Steph Curry and Giannis Antetokounmpo?
While Zion Williamson has seen significant price growth on several of his key rookies leading up to the regular season, the same can't be said for some of the game's active greats.
It's always interesting to look at the established stars — the players with little speculation on their career required anymore — to see how their prices fluctuate throughout the year.
Over the last year, key rookies for LeBron James, Giannis Antetokounmpo and Steph Curry are all down in a major way. Over the last 365 days, James' 2003 Topps Base PSA 10 and his 2003 Topps Chrome Base PSA 10 are down 39% and 61% across over 400 sales collectively. Antetokounmpo hasn't been much better, with his 2013 Prizm Base PSA 10 down 44% and his 2013 Select Base PSA 10 down 46%.
Curry's 2009 Topps Base PSA 10 has managed to perform the best of this group, but it's still down 17% over the last 365 days.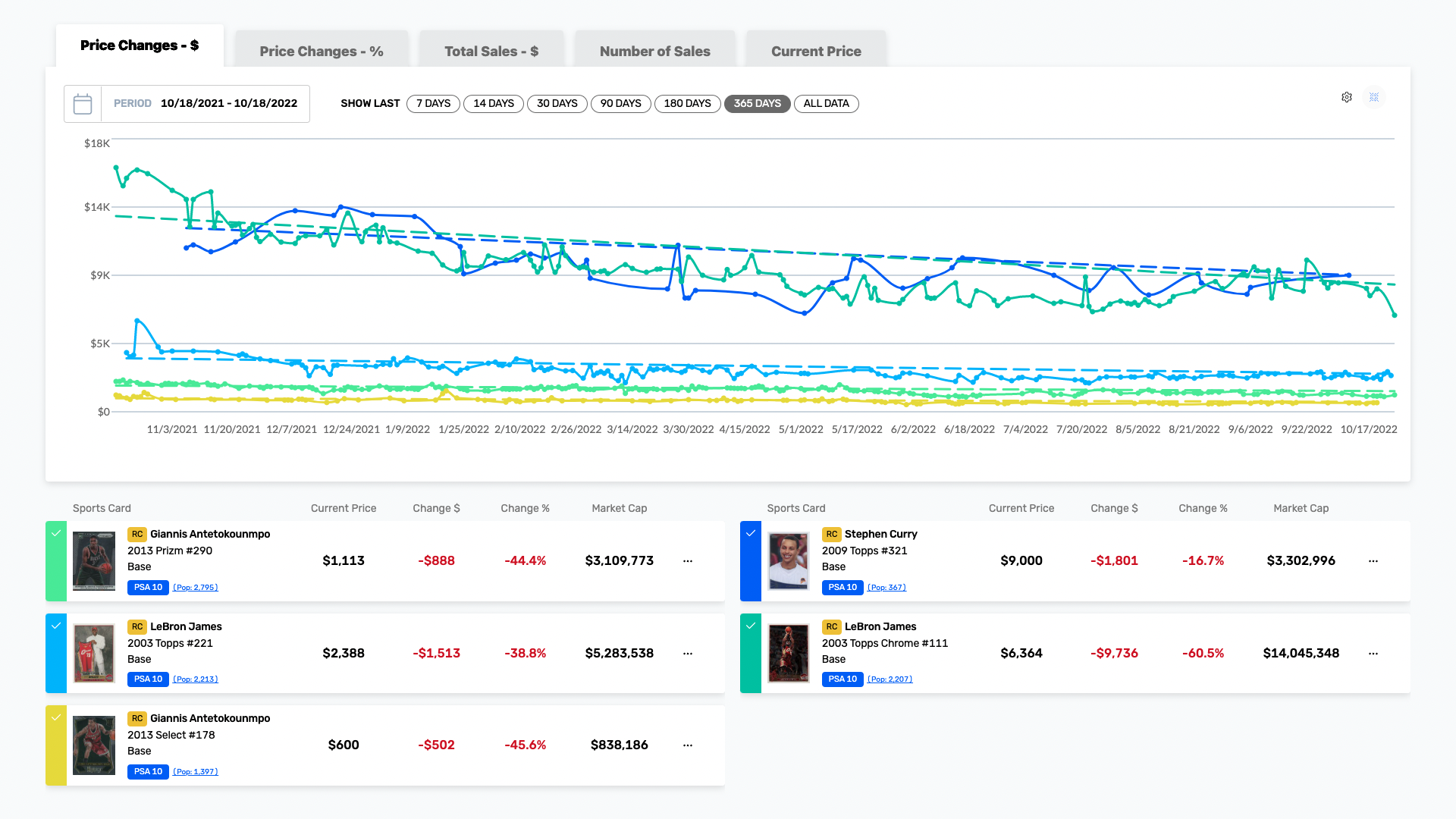 While still trending down, most of those five cards have leveled back out some, and aren't down nearly as much over the last month.
James' 2003 Topps Base 10 and 2003 Topps Chrome Base PSA 10 are down 5% and 20% over the last 30 days while Antetokounmpo's 2013 Prizm Base PSA 10 is now down just 8% and his 2013 Select Base PSA 10 is actually up 9% over that same period. Curry's 2009 Topps Base PSA 10 has remained level with only one sale over the last 30 days.
It's fair to assume these cards could trend into positive price growth once the NBA's regular season is in full swing, but it's also worth asking what the ceiling on those cards might be. According to FiveThirtyEight, the Warriors and Bucks have an 87% and 82% chance at making the playoffs this year, respectively. James and the Lakers? Just 18%.
Team success should matter less for this group of established megastars, but it certainly doesn't hurt to be good. We also appear to be out of the era where James is so good that he can drag any team he's on to a conference finals appearance — he's currently +1800 to win the MVP, with nine players, including Curry and Antetokounmpo, ahead of him.
It's hard to tell how things will shake out just as the season starts, but based on projections, James' cards might have a harder time seeing growth this season than Antetokounmpo and Curry — unless he breaks the scoring record, of course.
With the Sports Card Investor app, you can profit from the hobby you love by keeping up with trending cards, tracking real-time prices with Market Movers and buying items on eBay. Download the industry-leading app here for Apple or Android
Note to readers: If you purchase something through one of our affiliates, we may earn a commission.