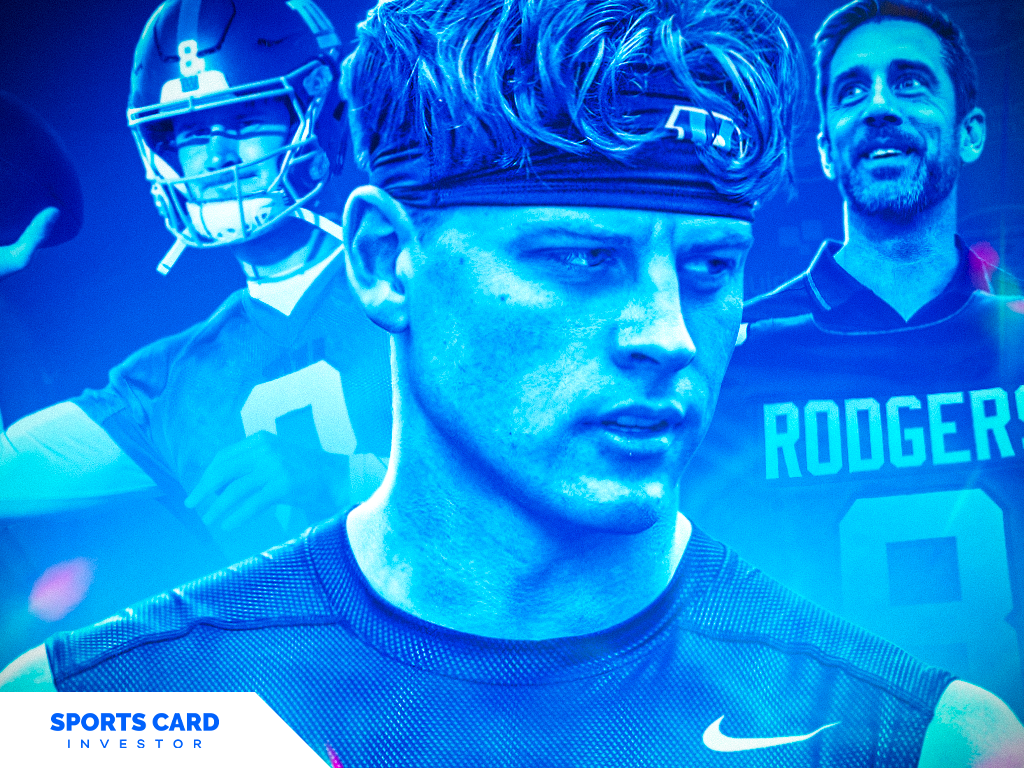 2023 NFL Offseason Takeaways & Names To Watch
Free agency and the NFL Draft each year yields a massive amount of transactions, some worthy of blockbuster status. The 2023 version was no different, with huge names like Aaron Rodgers and Lamar Jackson in the news constantly before finally settling in New York and back in Baltimore, respectively. Significant QBs like Derek Carr and Jimmy Garopollo moved cities, while Geno Smith and Daniel Jones locked back in.
Whether you're a hardcore "there is no offseason" NFL collector, or tunnel vision on baseball season or NBA Playoffs this time of year, we're here to analyze top takeaways from the NFL offseason.Below are three sections, one that helps you stay laser-focused on the top QBs heading into 2023, and two others that help you dig a little deeper for sleeper plays.
Top Targets: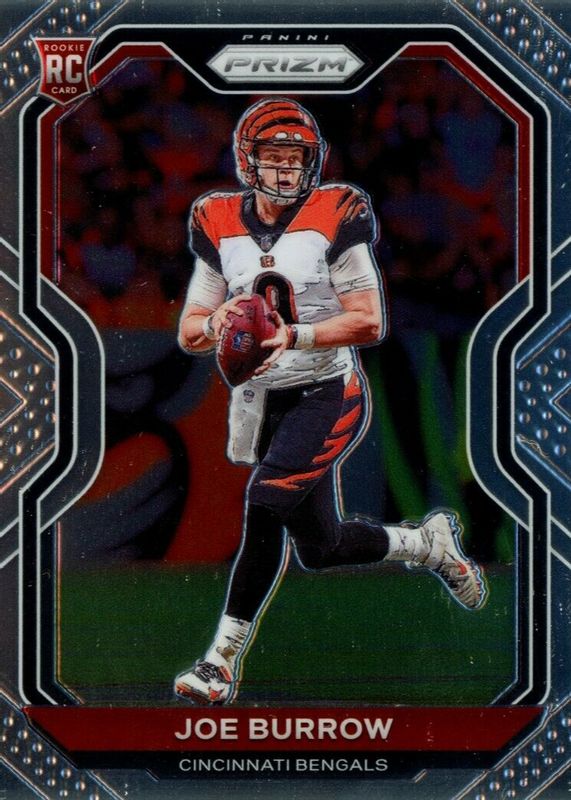 The market has spoken. The No. 1 overall pick in the 2020 NFL Draft has the second-most liquid PSA 10 rookie card in the last 365 days. His 2020 Prizm PSA 10 has sold 1,200 times for an average of $230, the most of any football Prizm Rookie PSA 10. Burrow's 2020 Optic Base PSA 10 has sold the third-most times (439 times for an average of $167) in the last 365 days for any football Optic Base PSA 10.
Each card is down between 8% and 15% over that time period, making now a solid time to buy in and look to flip Burrow during hype spikes in August or September.
Jalen Hurts, Eagles QB
His 2022 season speaks for itself. If he didn't miss a few games towards the end of the regular season, he could have easily beat out Patrick Mahomes for the MVP award. After leading the Eagles to the Super Bowl and almost beating the Chiefs, Philly solidified Hurts as its future, locking in a five-year contract extension that, along with contract incentives, is worth $255 million. The incentive-laden deal is described as "wins over guarantees," which bodes well for his investors. Additionally, many describe the Eagles as having "won the NFL Draft," locking up the following players:
Round 1, Pick 9 (Traded up) – Jalen Carter, defensive tackle from Georgia

Round 1, Pick 30 – Nolan Smith, pass rusher from Georgia

Round 2, Pick 65 (From HOU) – Tyler Steen, offensive tackle from Alabama

Round 3, Pick 66 (From ARZ) – Sydney Brown, safety from Illinois

Round 4, Pick 105 (From HOU) – Kelee Ringo, CB from Georgia

Round 6, Pick 188 (From HOU) – Tanner McKee, quarterback from Stanford

Round 7, Pick 249 (From DET) – Moro Ojomo, defensive end from Texas
The Eagles also acquired running back D'Andre Swift from the Detroit Lions for a swap of seventh round picks and a 2025 draft pick. The Swift acquisition makes the Eagles offense even more dangerous on paper than they were in 2022.
His 2020 Mosaic Base PSA 10 has sold almost 2.5 times per day over the last 365 days, making it by far the most liquid Hurts PSA 10 rookie card. It also happens to be down the most of any of his rookie cards in PSA 10 over the last seven days (down 24.1%) to $36. 
Hurts' 2020 Prizm Base has a 33% PSA gem rate, and his 2020 Optic Base has a 54% PSA gem rate, meaning if you're looking to buy raw and grade an affordable base, Hurts' Optic would give you the best chance at a profit.
Trevor Lawrence, Jaguars QB
T-Law went from top prospect to probable legend in January when he threw four TDs in the second half of the Wild Card round against the Chargers after tossing four INTs in the first half, leading the Jags to the biggest comeback in franchise history.
His popularity has increased over the last 365 days, as his 2021 Donruss Base outsells all other 2021 QBs almost 3-to-1 across all PSA 10 rookies despite a lower pop count than Mac Jones and a nearly equal pop count to Justin Fields and Trey Lance.
The Jags strengthened their WR corps, adding 2018 first-rounder Calvin Ridley, who hauled in 90 balls for 1,374 yards and nine TDs in 2020 before stepping away in 2021 for personal reasons and losing his 2022 season due to suspension for betting on games.
Lawrence's value could continue to climb in 2023. It's worth noting that his 2021 Prizm and Optic gem rates are absolutely putrid — under 12% — which means those of you who can get your hand on a T-Law PSA 10 will have the scarcity factor going for you long term.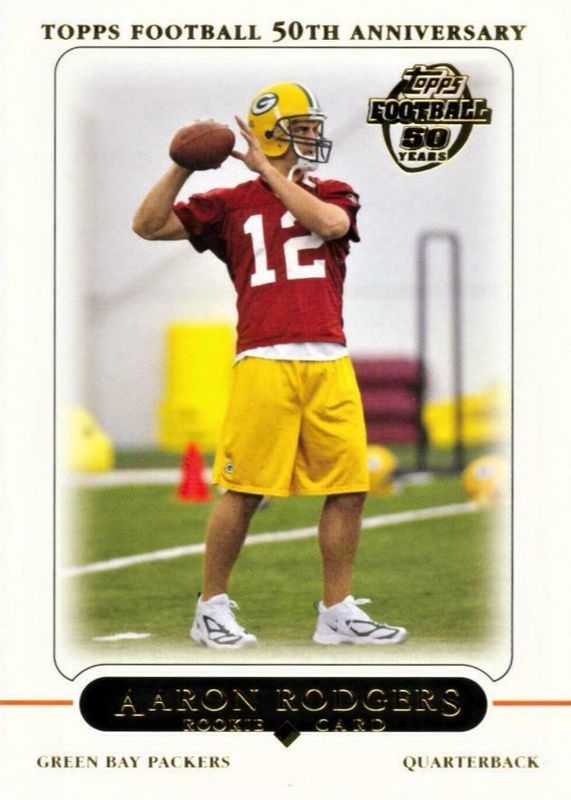 Rodgers' moving to the Jets puts him in a position to make a run at the Super Bowl. An already strong young team with the likes of 2022 Offensive and Defensive Rookies of the Year, Garrett Wilson (WR) and Sauce Gardner (CB) adds WRs Allen Lazard and Mecole Hardman to pair with Rodgers — and gets 2022 second round RB Breece Hall back from injury. 
Interestingly, the easiest Rodgers card to dump, his 2005 Topps #431 Base PSA 10, is down 41% over the last 365 days despite the trade hype after selling 452 times for an average sale of $376. Also, the more rare black version of the same card is down 58% over the same time period, to $1,030 from $2,500. So the data shows that his likability factor in the hobby is down a bit, as his prices are down in spite of solid sales volume.
This could mean opportunity, however, if Rodgers does lead the Jets all the way and re-enters the conversation as a top-five QB of all time. As of now, there doesn't appear to be that Super Bowl Championship pricing baked in, making Rodgers an interesting buy. 
Names to Watch:
Jimmy Garopollo, Raiders QB 
The Raiders basically locked in the 31-year old veteran as their starter on a two-year $48.5 million this offseason. They also added veteran TE Austin Hooper and WR Jakobi Meyers to join top weapons RB Josh Jacobs and WR Davante Adams. He's a long shot to make it out of the AFC West, let alone the AFC, which would really be the only way we'd see a serious increase in his card value. But if you believe in Jimmy G in Las Vegas, going for his 2014 SP PSA 10s (Camo Refractor /499, Sepia Refractor /99, or X-Fractor which are all down more than 58% in price over the last 365 days) might not be a bad play.
Derek Carr, Saints QB
With Jimmy G taking his job in Vegas, Carr moves to New Orleans, exciting many Saints fans as he projects to be a drastic improvement over what they've had at QB since Drew Brees retired. But like Garopollo, Carr really hasn't done that much in his pro career to lead football card investors to believe that he can truly make a run at the Super Bowl. Getting out of the stacked AFC certainly helps his odds, and the NFC South division is a bit weak, meaning Carr could find himself in the playoffs. His 2014 Prizm Base PSA 10 is down 76% over the last 365 days over 57 sales, making it a card to keep an eye on.
Geno Smith, Seahawks QB
The 2022 NFL Comeback Player of the Year signed a three-year, $75 million contract extension in March, but if he underperforms, it will be a one-year, $27 million deal, meaning he should return with that same chip on his shoulder that helped him in 2022. Seattle strengthened its defense big time, snagging Illinois CB Devon Witherspoon with the fifth overall pick, and grabbing Ohio State WR Jaxon Smith-Njigba with the 20th overall pick to join the returning DK Metcalf and Tyler Lockett.
Since he was a backup for so many years, Smith doesn't have many PSA 10s, but his 2013 Topps Chrome Base #21 Raw has sold 131 times in the last 365 days for an average of $3. The refractor version has sold 90 times for an average of $8. 
As a population, 2013 Topps Chrome Football has a PSA 10 Gem Rate of 46% and gives you a 92% chance of getting a PSA 10 or PSA 9. 
The PSA 10 refractor has sold consistently in the last 90 days for between $90-$100, leaving plenty of profit by submitting in a PSA Value Bulk Submission.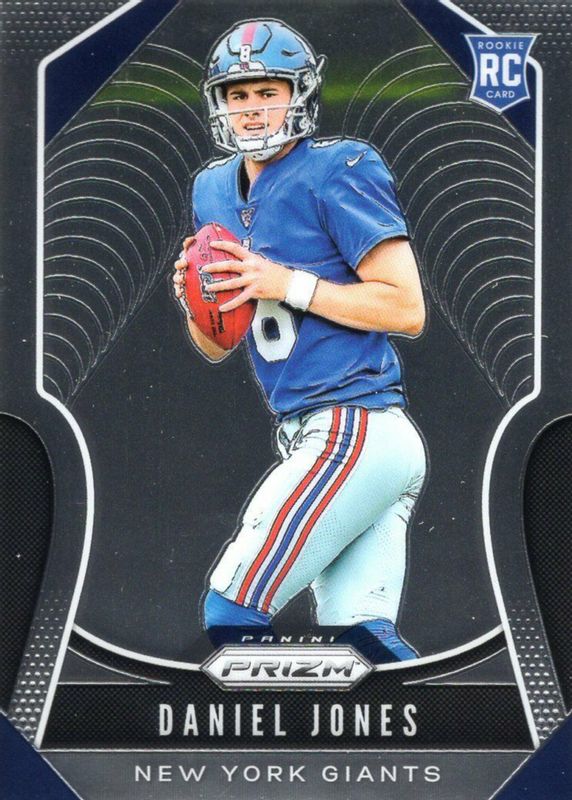 The 25-year-old signed a four-year, $160 million contract extension after leading the Giants to a Wild Card Round playoff upset win over Minnesota. Additionally, the Giants landed him a huge weapon, trading for TE Darren Waller from the Raiders. 
His 2019 Prizm Base PSA 10 but is up 25% over the last 180 days, but down 18% over the last 90 days, making it a solid opportunity to snag this card for a lower rate and possibly sell higher during the 2023 NFL season.
Mac Jones, Patriots QB
The market is down huge on Jones (78% down on almost 4,000 sales across 271 different rookie PSA 10s over the last 365 days) but he remains the Patriots starter on a team that added underrated weapons WR JuJu Smith-Schuster and massive pass catching TE Mike Gesicki.
His 2021 Prizm Base PSA 10 is down 92% over the last 365 days, and while it's a risky buy, if he returns to form and plays well early in the 2023 season, it's an easy flip for some money. 
Lamar Jackson, Ravens QB
The Jackson offseason drama resolved itself with a collective sigh of relief for Ravens fans, as Baltimore retained their megastar QB on a five-year, $260 million ($185 million guaranteed) deal. They also added veterans Odell Beckham Jr. and Nelson Agholor in free agency.
Jackson's 2018 Optic Base PSA 10 is down 22% over the last 365 days and his 2018 Prizm Base PSA 10 is down 42%. Of the two, the Prizm has the higher upside to yield profits should he stay healthy and return to his MVP form.
Deep Sleepers:
Baker Mayfield, Buccaneers QB
Tampa Bay added the former No. 1 overall pick on a one-year, $8.5 million deal (only $4 million guaranteed), to compete with 2021 second-rounder Kyle Trask. If Mayfield wins the job, keeps the job and performs well, there's a chance his 2018 Prizm Base PSA 10 can rise in value from its current price of around $50-$60.
Kyle Trask, Buccaneers QB
Trask could win the job over Mayfield, and while the Bucs may not be any good, there will be a chance to flip Trask's 2021 Prizm Silver Photo Variation PSA 10 from its current $65 price point.
Gardner Minshew, Colts QB
Widely considered one of the best backup QBs in the league, Minshew — who has a cool off-the-field story — lands in Indianapolis as the current starter on a one-year, $3.5 million deal. Of course, fourth overall pick Anthony Richardson is likely to earn the job at some point in 2023, but Minshew could surprise fans by sticking around into the first part of the season as the Colts starter. This makes him a solid potential buy now, flip in August as his 2019 Prizm Base PSA 10 trades for only $15, 40% less than 365 days ago.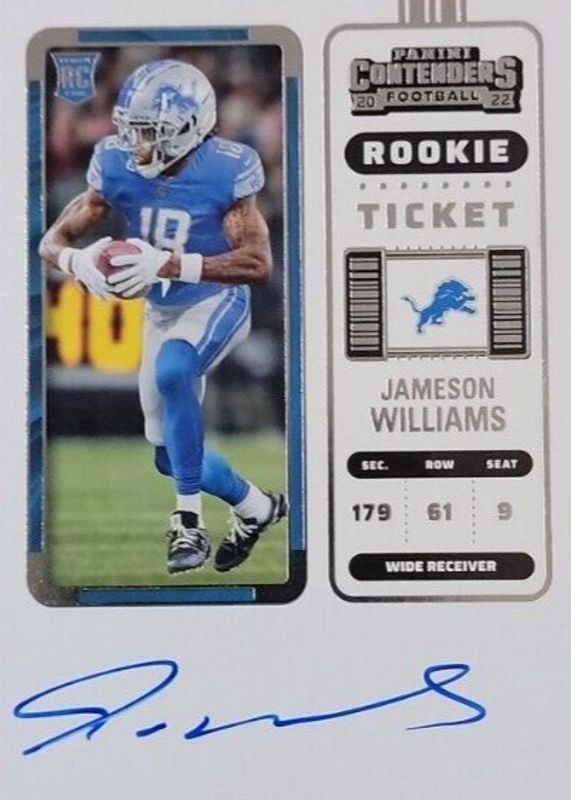 The 12th overall pick in 2022 missed all but six games last year due to a torn ACL, but has the talent to be a star in the league. But there's another problem — he was caught betting on football games and suspended for the first six games of 2023. His 2022 Contenders Rookie Ticket Auto Base is an intriguing buy at around $40-$50 raw. If the Lions are as good as many think they will be, and Williams joins Amon-Ra St. Brown as a top-tier weapon, he could yield huge returns for those that buy into his cards.
Taylor Heinicke, Falcons QB and Mike White, Dolphins QB
Two more guys to keep an eye on. Each has played well at times as spot starters in Washington and New York, respectively. They've each "earned" new back-up roles. Heinicke is Desmond Ridder's primary backup in Atlanta. If Ridder struggles, Heinicke could lead a very talented Falcons team in a pretty wide open NFC South. White was a fan favorite for the Jets in relief of Zach Wilson over the past couple of seasons. With Tua Tagovailoa's questionable health situation in full effect, we'll likely see a capable White at least a couple of times in 2023 leading a very talented Dolphins attack.
With the Sports Card Investor app, you can profit from the hobby you love by keeping up with trending cards, tracking real-time prices with Market Movers and buying items on eBay. Download the industry-leading app here for Apple or Android
Note to readers: If you purchase something through one of our affiliates, we may earn a commission.
Paul Hickey is a regular contributor to Sports Card Investor, the creator of the Sports Card Investment Report at NoOffseason.com, and the host of the Sports Card Strategy Show on Apple Podcasts, Spotify and YouTube. He can be found on Instagram at @sportscardstrategy and on Twitter @nooffseasoncard.