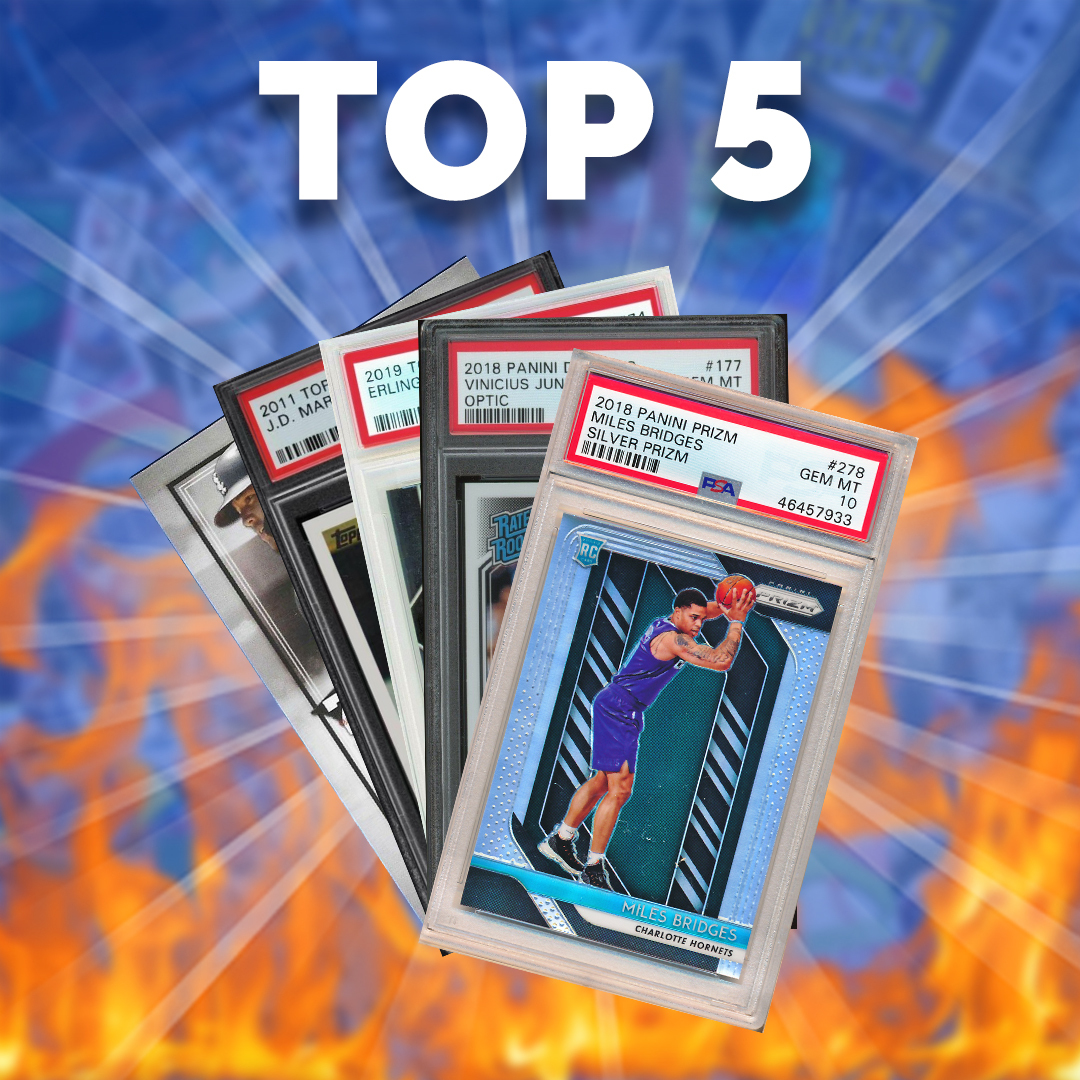 This week's Top 5 Hottest Sports Cards is led by two of the top young soccer stars and arguably the best story in MLB so far this season.
Here's a glance at this week's Top 5:
5. Miles Bridges
Maybe it's a bump from playing with LaMelo Ball or maybe it's because he's been dunking all over people this year. Either way, Bridges' cards are going up big. His slam over Clint Capela on Sunday night is a Dunk-of-the-Year candidate while his shooting has greatly improved this season.
His 2018 Prizm Silver PSA 10 is up 47% over the last 30 days.
4. Vinicius Junior
Flashy and explosive, Real Madrid's young winger has turned into one of soccer's young stars and his cards are following that trend. Named Champions League Player of the Week after scoring two goals against Liverpool, Junior has seen his 2018 Donruss Optic Base PSA 10 jump 86% over the last 30 days.
3. Erling Haaland
Some believe Haaland is close to being the best striker in the world, and fans are buying his cards up accordingly. He's in line to be one of the next big soccer stars, and a transfer to Barcelona or Real Madrid could be in the works, too. His 2019 Topps Chrome Champions League Base PSA 10 is up 127% over the last 30 days.
2. J.D. Martinez
Martinez has quickly recovered from an awful 2020 with a hot start to 2021. He belted three home runs against Baltimore on Sunday and his 2011 Topps Update Base PSA 10 is up 133% over the last 30 days.
1. Yermin Mercedes
One of the best stories in MLB so far this season, the 28-year-old rookie has finally broken through with the White Sox and piled up 15 hits in his first 28 at-bats this season. Mercedes' 2021 Topps 70 Years of Baseball Auto Raw is up 4,300% over the last 30 days.