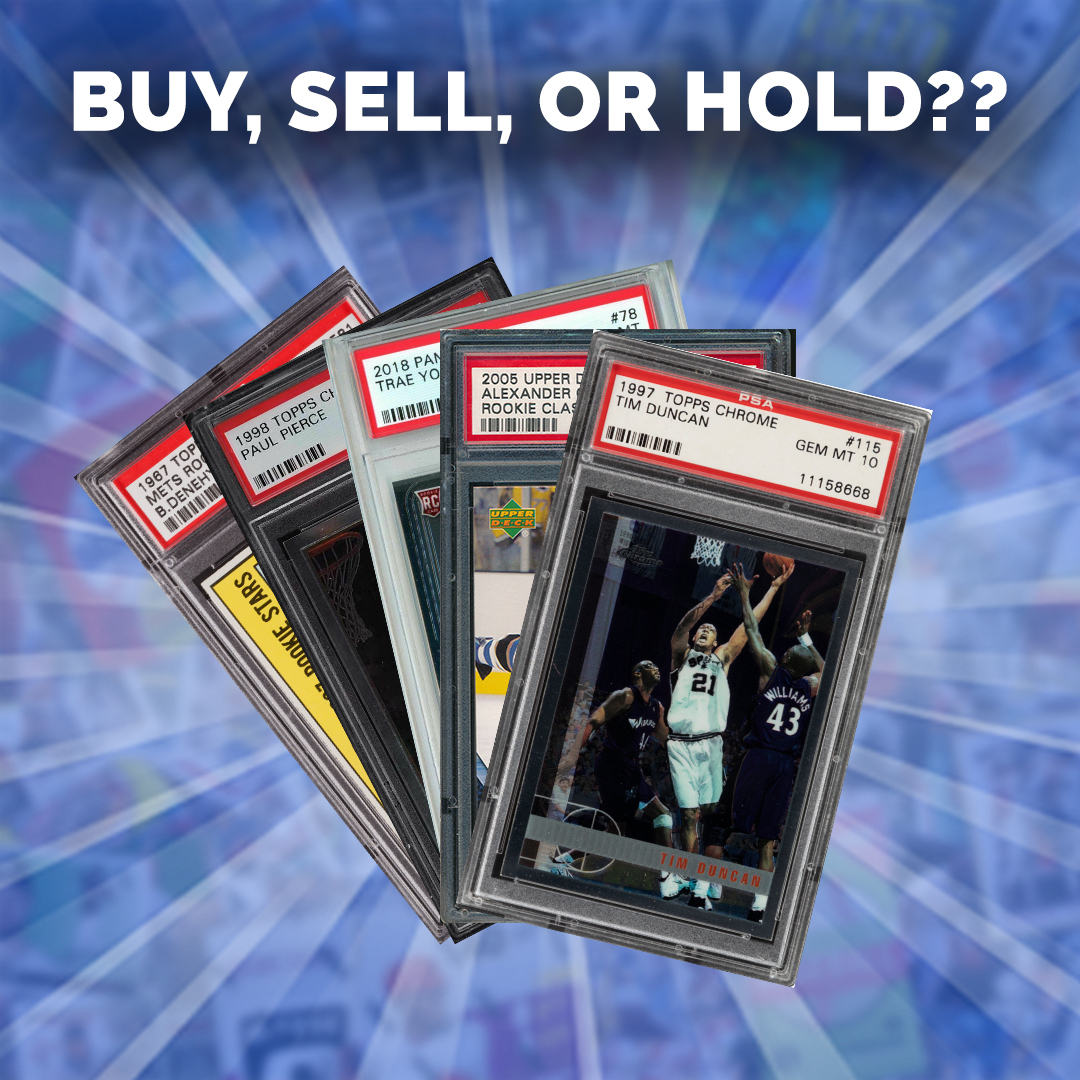 This week's Forecast touches on one hockey player closing in on some scoring legends along with a pair of NBA stars who might be getting Hall of Fame bumps this year.
Here's a breakdown of this week's Forecast, but be sure to watch us on YouTube for a deeper dive on each card:
Alexander Ovechkin
Ovechkin has scored so many goals over the years that it's easy to lose track. Well, the reality is that he's closing in on the game's all-time greats. Currently at 730 — as of today — he's 6th all-time. Gretzky has the goal record with 894, and could be within reach.
Hockey cards aren't incredibly popular, but Ovechkin breaking that record could be a serious moment for the hobby.
Geoff's pick: Buy
Trae Young
Young has been a star since entering the NBA back in 2018, and he's positioned himself as one of the future faces of the league. He's always put up numbers, but this year he'll likely make his first playoff appearance.
We've seen players get big hobby bumps with strong playoff performances, and Young shouldn't be any different.
Geoff's pick: Buy
Tim Duncan
Considered by some to be the greatest power forward ever, Duncan's next hobby bump likely comes from his Hall of Fame ceremony. That's happening this May, so Duncan could see a big surge before or after his induction.
Duncan never had a great personality on the court, but his incredible play could make up for that in terms of hobby popularity.
Geoff's pick: Hold
Paul Pierce
Continuing with the Hall of Fame theme, Pierce is an interesting subject. He was incredibly popular among Celtics fans and finally got the hobby boost after winning a championship alongside Ray Allen and Kevin Garnett.
An NBA Finals MVP and 10-time All-Star, Pierce wasn't as dominant as some other players during his era, but it's probably safe to say he gets in, which could result in bumps after the announcement and then another surge around the ceremony in September.
Geoff's pick: Buy
Tom Seaver
We're mixing things up a bit and reaching back for some vintage baseball. One of the greatest pitchers ever, Seaver has a strong lineup of cards from the late 60s through early 70s that are quite valuable.
The hobby typically doesn't love pitchers, but Seaver's 1967 Topps Base PSA 7 rookie has been up big over the last year and has had an average sale price of nearly $2,200.
Geoff's pick: Hold
Track your collection and maximize your profit with Market Movers, the hobby's most powerful sports card pricing platform! Learn more here.