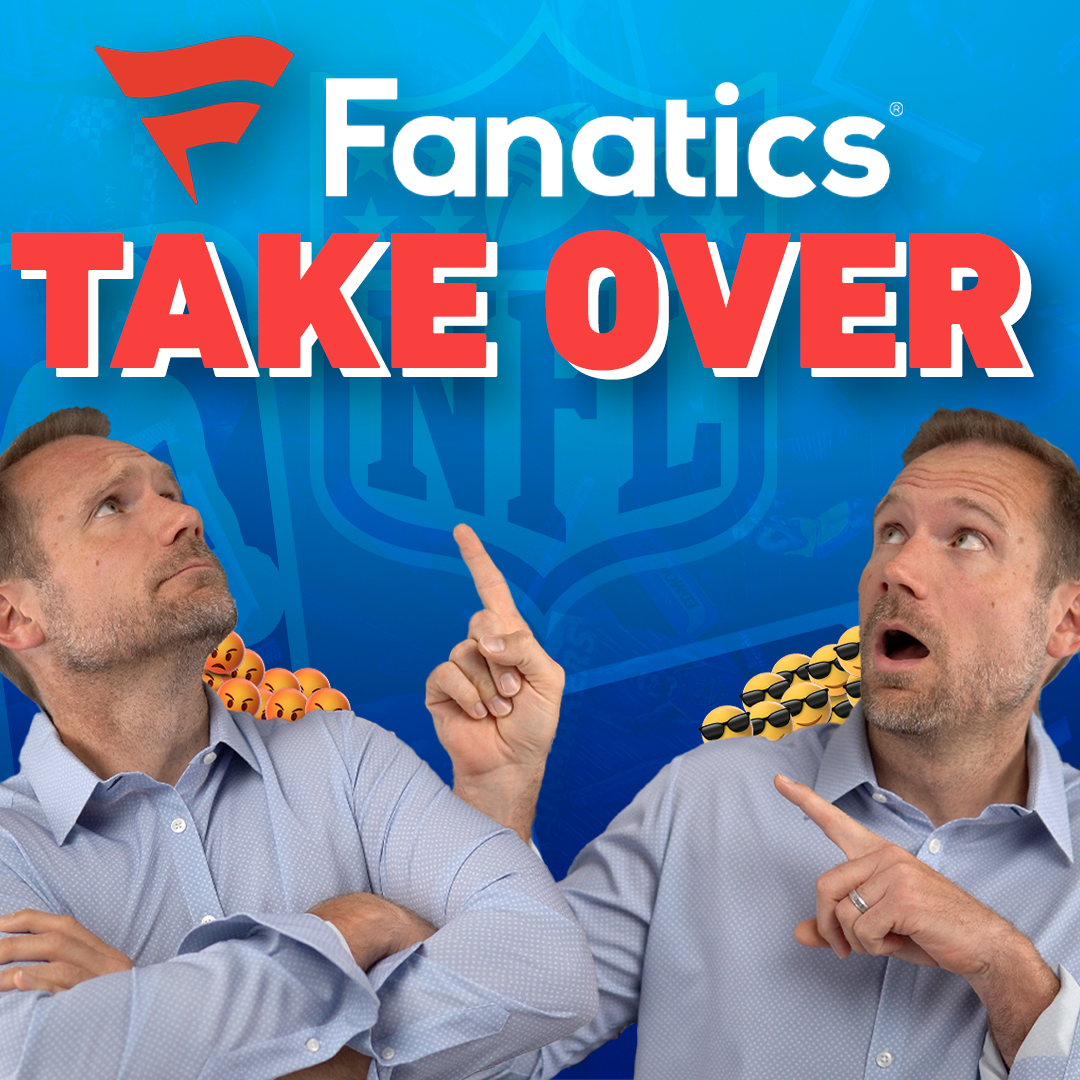 Capping off one of the most important weeks in the history of the sports card hobby, Fanatics appears positioned to end Panini and Topps' hold on the trading card market through a series of shocking licensing deals.
According to multiple reports and an MLBPA memo, Fanatics has reached an exclusive trading card rights deal with MLB and the MLBPA that would see the company end Topps' decades-long hold on baseball cards.
Similar deals are reportedly also in place with the NBA, NFL, and their unions that would push Panini out in 2025 and 2026.
What does Fanatics' grip on the hobby's three most popular sports mean? Here's 12 things to love or hate about the takeover.
1. Big money is being invested in the hobby
It's probably good news for the hobby in general that Fanatics is willing to spend massive amounts of money to get more involved. Fanatics already had a relationship with Panini that saw exclusive releases, so it's likely good news that one of the biggest companies in sports wants more of the pie.
The fact that the three major leagues will all have ownership in the new sports card company is good news, too. The NBA, NFL and MLB all being financially tied means this new company will likely get the advertising and support it needs from the beginning.
2. The new deal could result in overprinting
One of the biggest concerns in the immediate future is the overprinting of products from Panini and Topps. The earliest Fanatics can start making any cards is 2023, so there's plenty of time for Panini and Topps to squeeze as much revenue out of them as possible.
3. Fanatics has years to prepare
With years to go until Fanatics can start making any products, there's plenty of time for it to come up with ideas for how to innovate or even solve many of the hobby's biggest problems. It won't be easy, but Fanatics has time to improve design and production or even solve issues like quality control, customer service or product pricing.
4. This could be the death of retail products or local card shops
Fanatics has specialized in utilizing its powerful website to bring products directly to consumers, so the future of retail products or local card shops is unclear. Panini and Topps' close relationship with retailers like Target and Walmart has lasted for years, so how Fanatics decides to distribute its cards is something to watch.
5. Panini and Topps could focus more on soccer
The two companies currently split licensing for various soccer leagues, and that doesn't appear to be changing with Fanatics' deals with other sports. Many investors see soccer having the highest ceiling among any of the major sports in the hobby, so Panini and Topps investing more in what they have left could be good news.
6. Panini and Topps could see a talent exodus
With rights to the three major sports going away, it's easy to assume that some of the most talented people working with Panini and Topps could look to move on to new things. Both companies are filled with some of the industry's most talented creators and the long-term outlook for both relies heavily on that talent sticking around.
7. Josh Luber will reportedly lead this new company
It's good to have someone who loves the hobby in charge, and Luber is exactly that. A cofounder of StockX, Luber has shown the ability to innovate and run major companies, and it's hard to see a better fit for Fanatics' new sports card arm than him.
8. This potentially creates a monopoly
Fanatics will theoretically have a monopoly over basketball, baseball and football cards, and monopolies are typically bad for consumers. Competition is healthy and good for every market, and Fanatics might not have that under the current deals.
9. Fanatics could improve quality control and customer service
The major card companies like Panini, Topps and even Upper Deck have had plenty of issues with quality control over the years. From bad centering, print lines, or damaged boxes, plenty can go wrong before you ever open the pack. Collectors have become more vocal about customer service for things like redemptions, too. Fanatics can potentially bring a fresh take on both.
10. Relationships with dealers and local card shops could be impacted
Dealers and hobby shop owners have spent years working with Panini and Topps and those relationships might not matter anymore. How Fanatics supports local card shops is one of the most important things going forward, and it's easy to see why those shop owners might be worried.
11. The hobby has gone through this before and became stronger
It's easy to forget that Panini is relatively new to the sports card hobby compared to Topps and Upper Deck. Panini has a longer history with stickers, and there was major concern from many collectors when Panini won exclusive rights to the NBA and NFL. It's hard to know how things will play out over the next few years, but something similar has happened before, and many believe the hobby has done well so far.
12. The loss of Topps' tradition is disappointing
Topps' 70-year relationship with baseball is historically important and it's disappointing to see it potentially end. Many collectors got their start opening packs of Topps baseball, so it's hard not to be a little disappointed even if Fanatics' new products are bigger and better.
Track your collection and maximize your profit with Market Movers, the hobby's most powerful sports card pricing platform! Learn more here.
Note to readers: If you purchase something through one of our affiliates we may earn a commission.