Newsflash: that Michael Jordan fella was pretty darn good. During his playing career, the 14-time All-Star was nearly unstoppable. When MJ hung up his Nikes in 2003, he was arguably more influential in pop culture than any athlete still playing. And in the years since his retirement, he's become an absolute force in the card-collecting world.
Of course, a lot of the industry excitement surrounds Jordan's '86 Fleer rookie. But nearly as important to the overall sustainability of the hobby is how MJ's cards in the '90s have almost single-handedly kept basketball's junk wax era from becoming a complete joke. Be it his classic '90 Fleer or '93 Topps Finest, the Bulls legend's cardography keeps collectors coming back—and those are just his base cards from the decade.
Step into the 1990s' cult-like world of basketball inserts and Jordan rests in the most rarefied of air. We're talking Jambalayas, Planet Metals and Scoring Kings. Any of these cards in a PSA 10 can rake in a ridiculous amount to this day. Keep reading for a complete list of cards (in no particular order) that have somehow managed to stand out from all of Jordan's '90s insert standouts.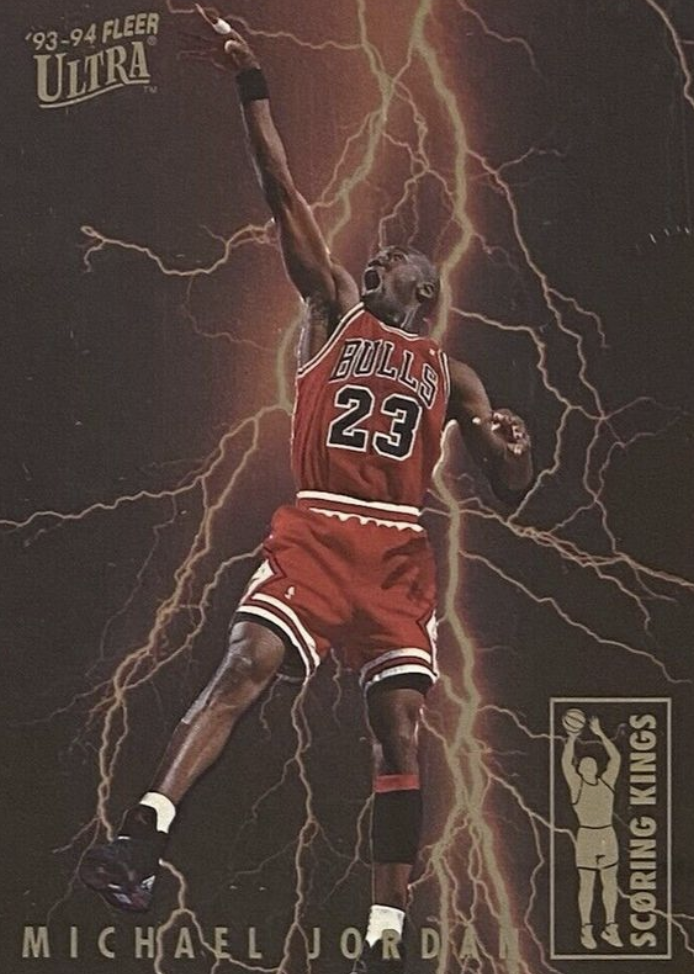 1993 Fleer Ultra Scoring Kings #5: Color us biased, but the way an elevated Jordan looks over the dark, lightning-filled backdrop here always thrills us. Hobbyists must agree, seeing as how this one in a gem mint sells between $11,000-$18,000.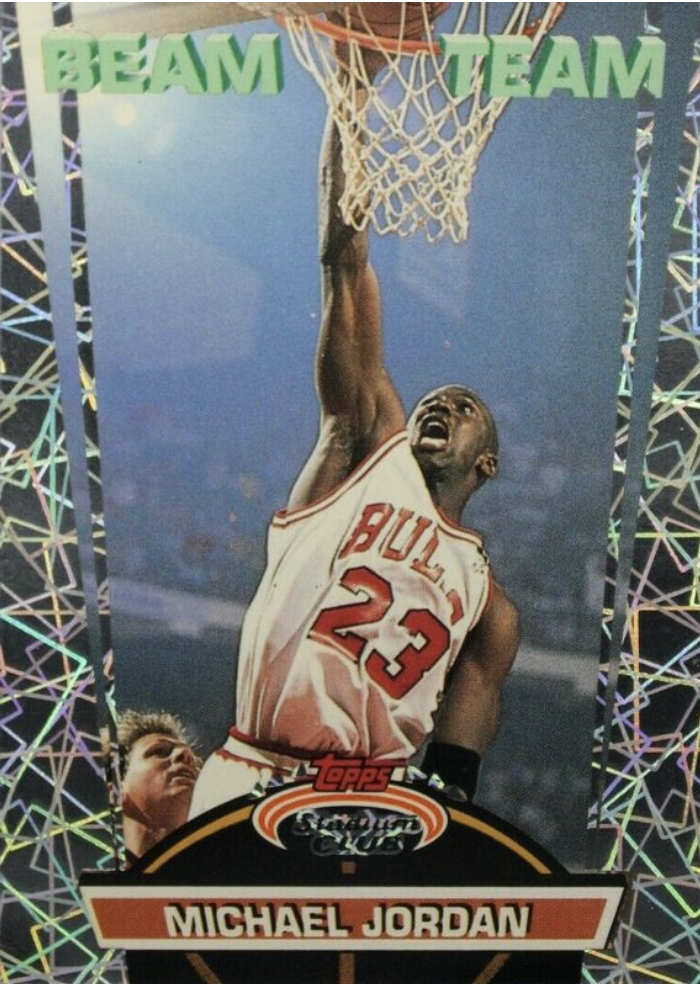 1992 Topps Stadium Club Beam Team #1: While the frantic splattering of neon-colored lines on the side of this one screams Saved By The Bell or some other '90s sitcom, this card has proven to be a timeless treat for anyone fond of Jordan slams or collectibles that get over $4,000 on the open market.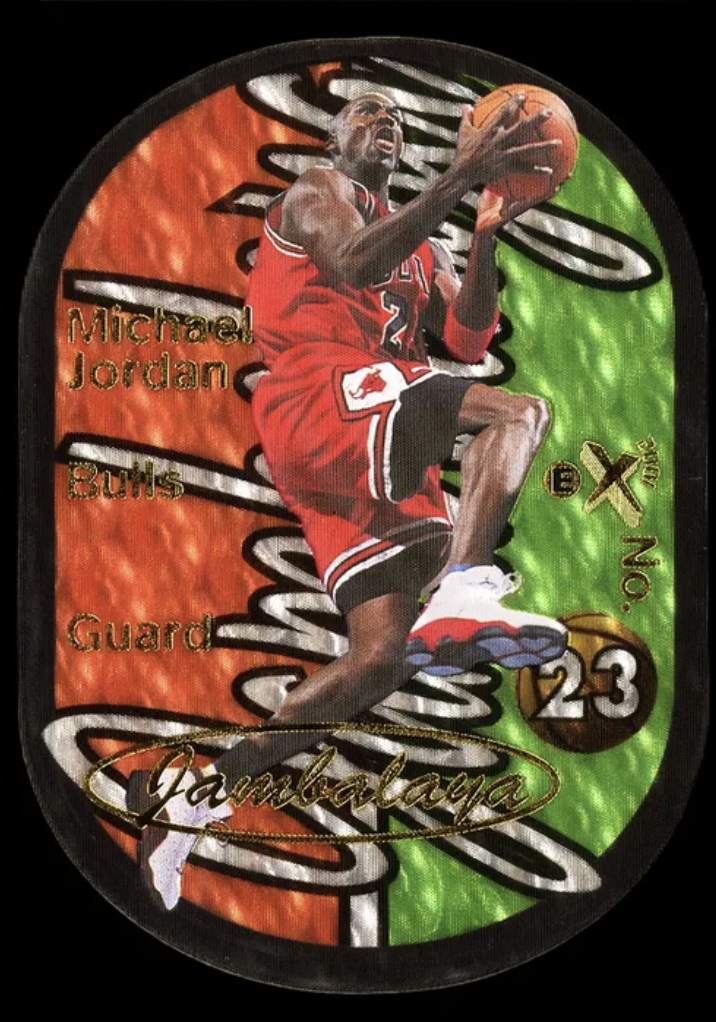 1997 Skybox E-X2001 Jambalaya #6: PSA says just 46 of these rare beauties have ever passed through its warehouse doors. It's this sighting infrequency that stirs so much excitement and sparks auction sales to go north of $50,000.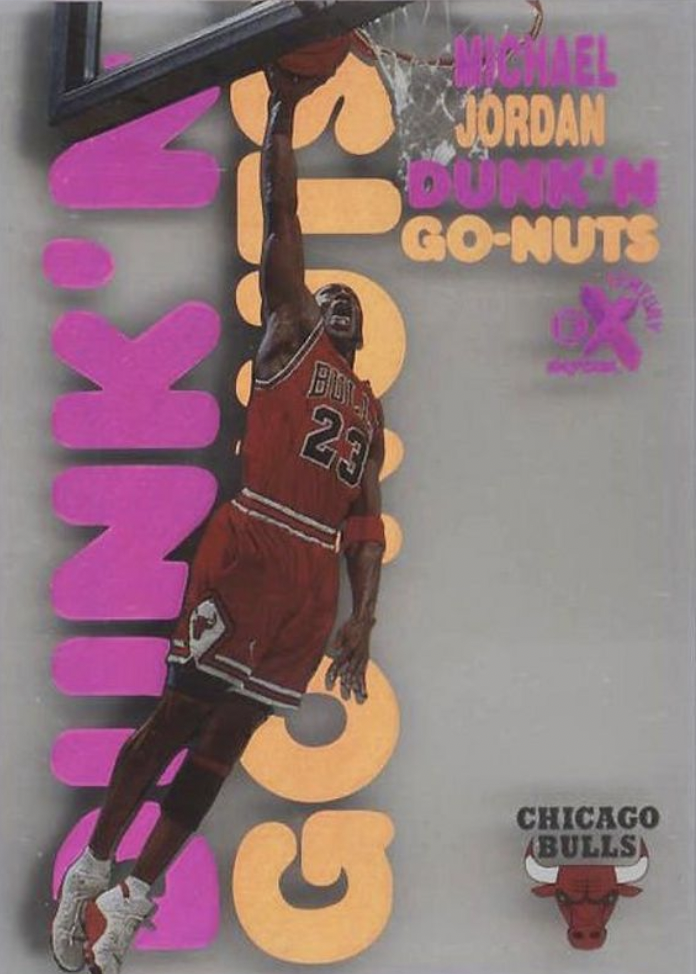 1998 Skybox E-X Century Dunk 'N Go-Nuts #15DG: A tie-in for the ages, Skybox ingeniously borrowed Dunkin' Donuts' color scheme and font style for an insert set filled with slams from the likes of A.I., Grant Hill and Shaq. MJ's might attract the most attention, but any of these Dunk 'N Go-Nuts make sweet additions to your PC.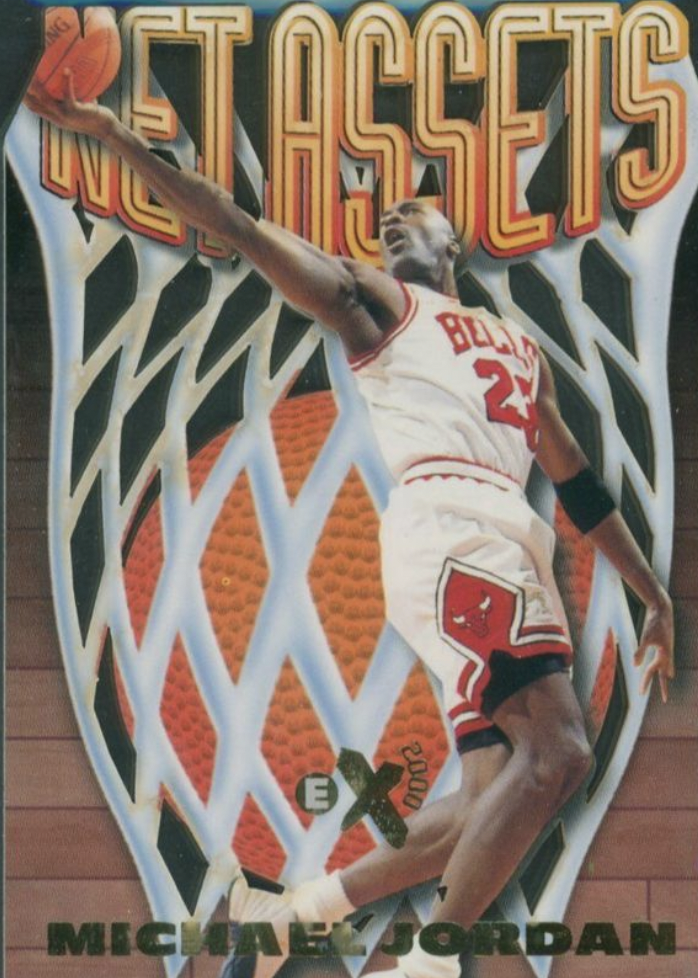 1996 Skybox E-X2000 Net Assets #8: With its bold gold lettering and massive net/ball imagery, the look on this '96 treasure can be a bit much. But since it generally comes along with a $4,000 tag, collectors have learned to deal with the card's lackluster look.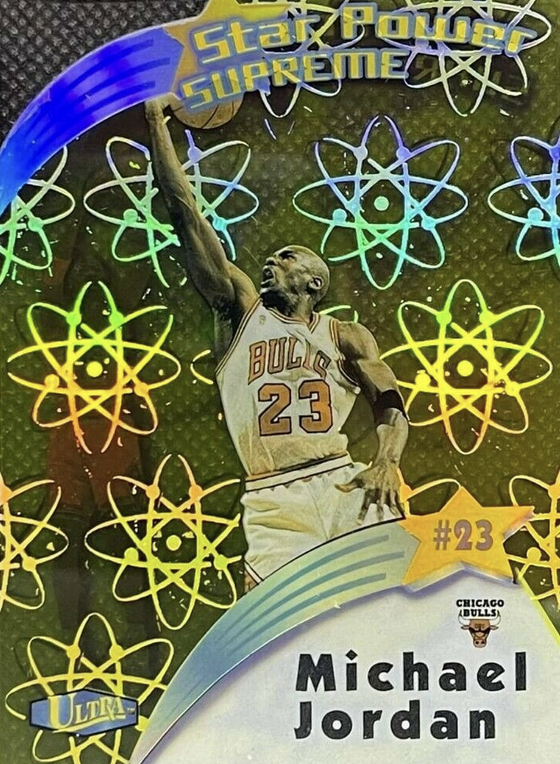 1997 Ultra Star Power Supreme #1: This futuristic doozy wows with atom-like shapes and a reflective coating you'd think NASA had something to do with. This insert has proven so likable that the Iverson and Tim Duncan options have had some out-of-this-world price tags.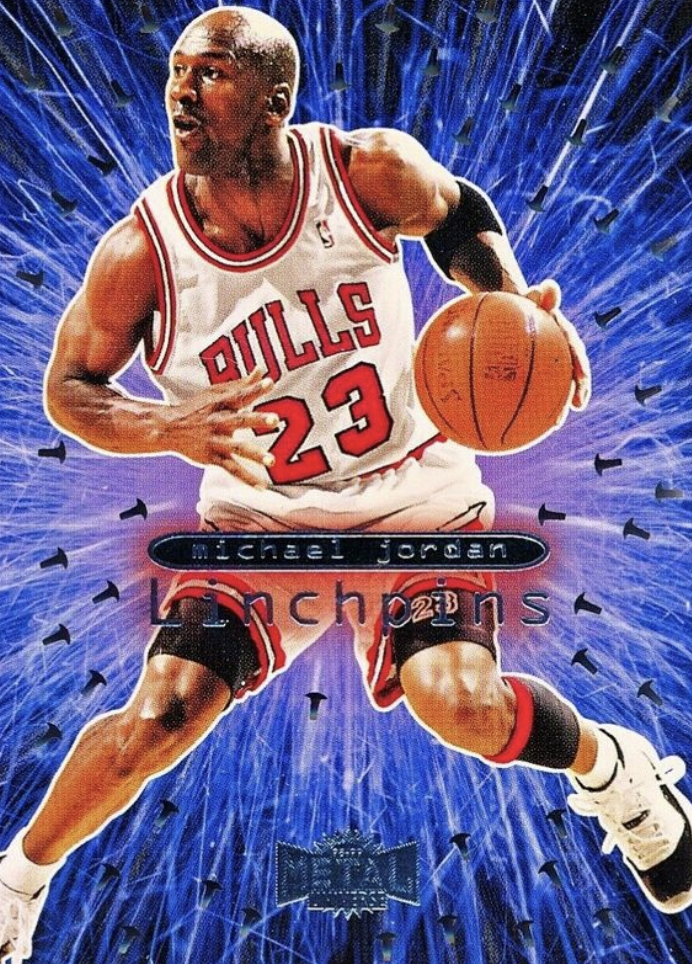 1998 Metal Universe Linchpins #8: See all of those cool pins and electric currents in the background? Must be hard to keep those babies precise because there hasn't been a PSA 9 or 10 sold on eBay in more than a year. Eights, going for more than $3,500, may be the sharpest you can find.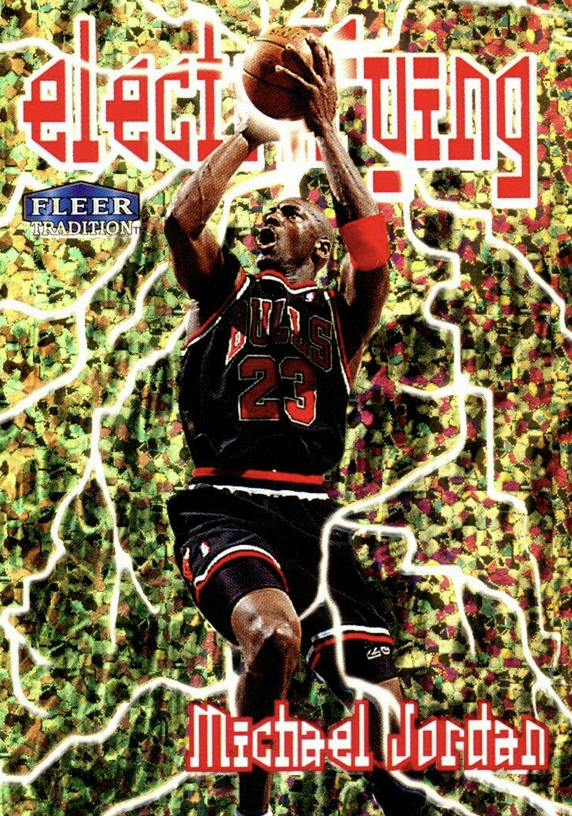 1998 Fleer Tradition Electrifying #6: Arguably the most head-turning insert on the list, this Fleer favorite dazzles with a shockingly fun font over a Matrix-approved wallpaper. This one is so coveted that raws have even gone for over a grand.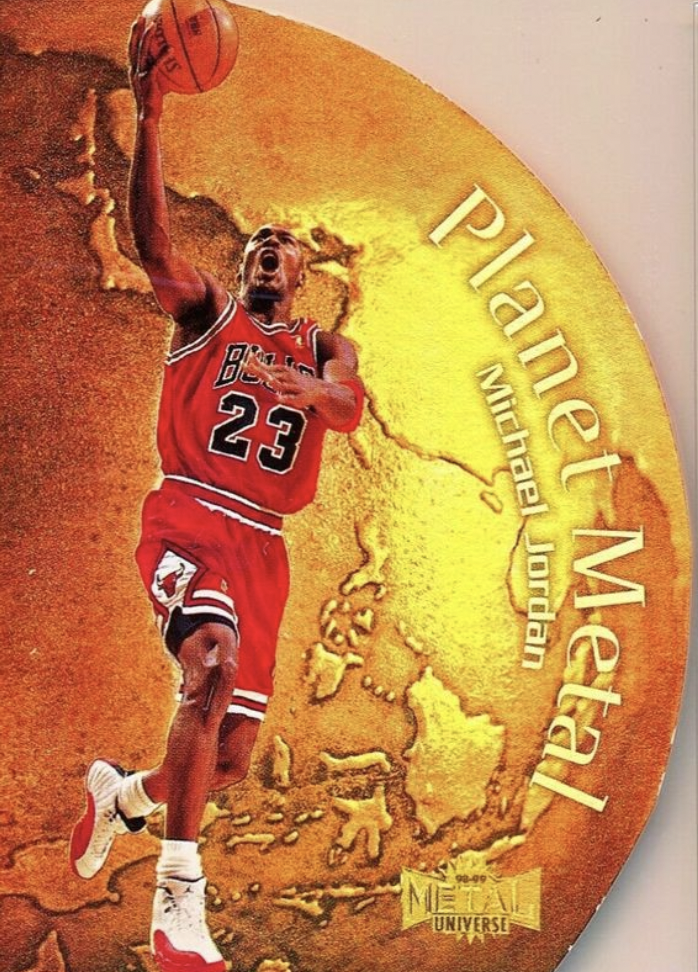 1998 Metal Universe Planet Metal #1: Metal Universe's inserts have become some of the most popular since the pandemic's start. While the hobby as a whole has wobbled a bit in '22, this shiny stunner's first three PSA 10 sales of the year have averaged a solid $6,533.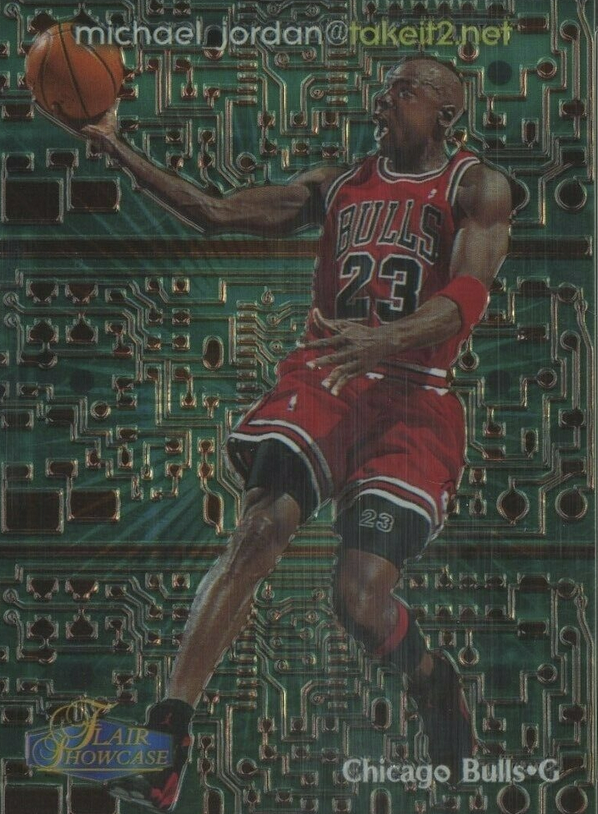 1998 Flair Showcase Takeit2.Net #13: Keeping with the trend of futuristic inserts, this Showcase showstopper captures Jordan doing a poetic move in the paint—all atop what appears to be a magnified shot of a computer chip. A BGS 9.5 sale for $6,500 in early-May '22 proves that this dandy from dot.com's early days can still deliver.
Track your collection and maximize your profit with Market Movers, the hobby's most powerful sports card pricing platform! Learn more here.
Note to readers: If you purchase something through one of our affiliates, we may earn a commission.