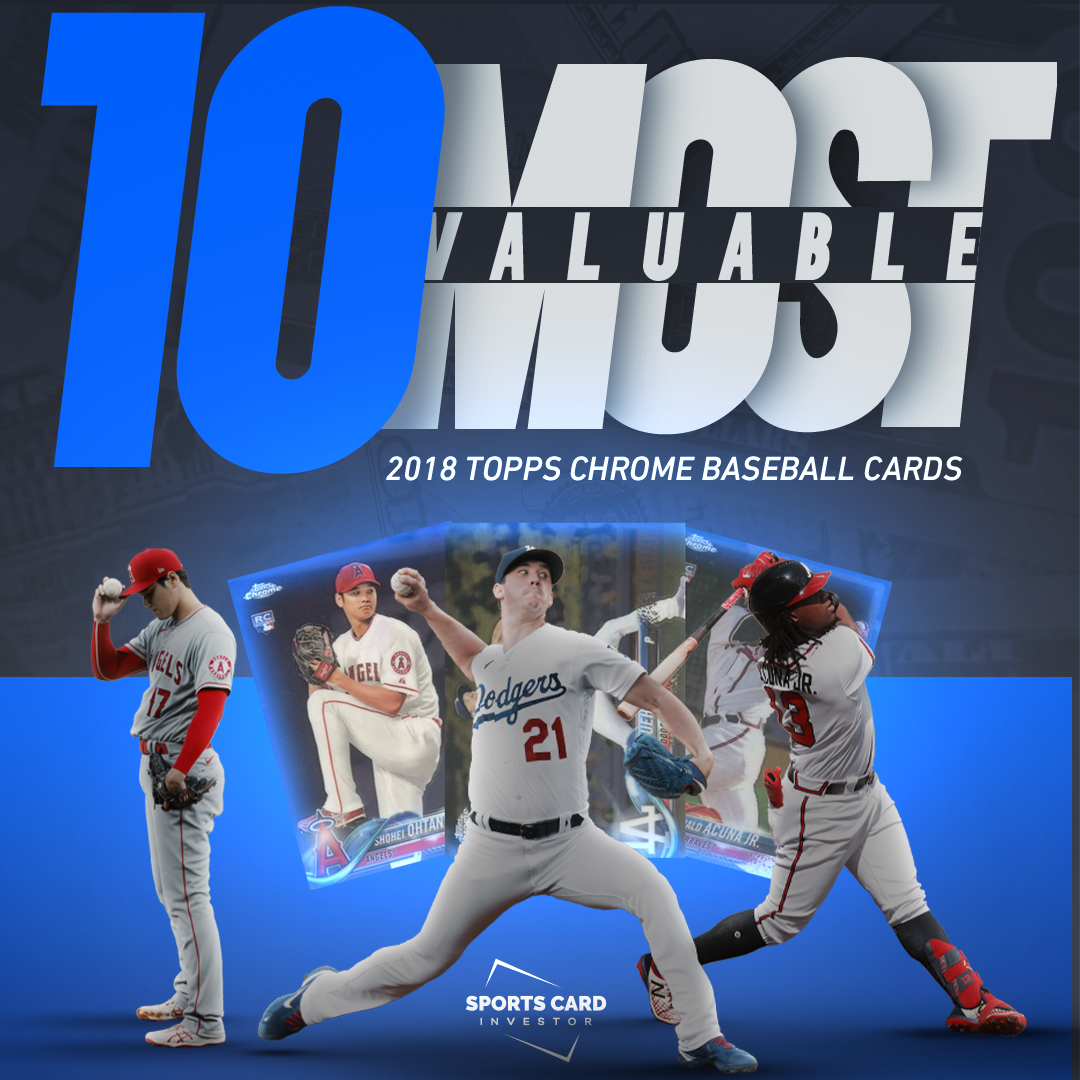 We had a feeling that the 2018 crop of rookies would end up being pretty special, but what the group is doing on the diamond far exceeds even our wildest dreams. Ronald Acuna Jr., Juan Soto and Walker Buehler are shaping up to be generational talents. Shohei Ohtani is having such an explosive 2021 campaign that he may have already scheduled his Cooperstown jacket fitting. If you keep going down the list, you'll find even more all-stars or players on the cusp of greatness.
Of course, Topps' team-logoed images make it one of the premier products in baseball every year. With '18 Chrome, especially, the photos really pop because of the borderless design and name plate fading away as if Thanos had just snapped his fingers. There's a reason why this set is an annual favorite.
But again, the 2018 installment shines because of its checklist—even though Soto doesn't appear until the year's Topps Chrome Update series. That said, you could probably guess that Acuna and Ohtani would make the top 10, but you might be surprised by some of the other cards that stand out from this spectacular set.
*NOTE: This list is based on average sales over the 90 days prior to press time. Like everything else in the hobby, prices and rankings can change at any moment.
1 Ronald Acuna Jr. #193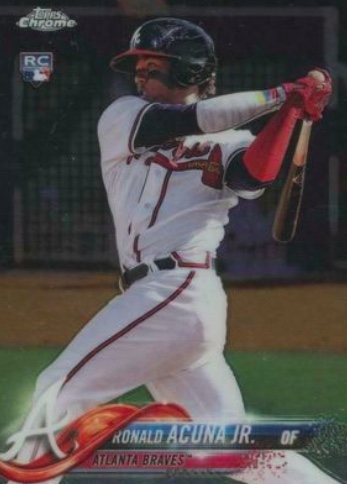 During Acuna Jr.'s first spring training, Atlanta Braves beat writers said the ball made a sound coming off the young slugger's bat that they never heard before. But the two-time Silver Slugger doesn't just hit it hard; he steals bases, plays a mean right field and has plenty of fun between innings. The combination of it all makes him a generational talent that the card community will fawn over for years.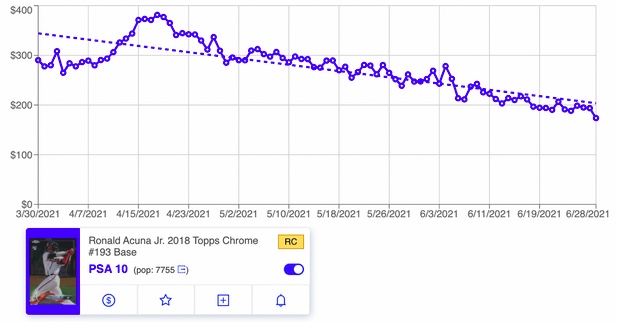 2 Shohei Ohtani #150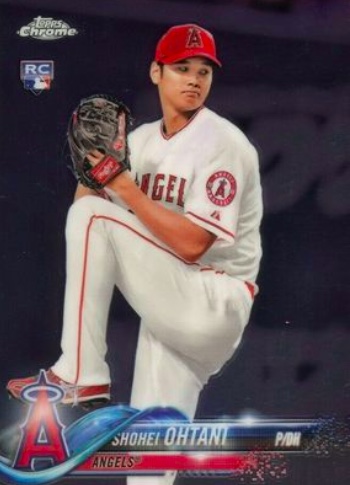 In the modern era, we've seen guys pitch and produce from the plate. Rick Ankiel and Carlos Zambrano immediately come to mind. But nothing anyone has done over the last 75 years can come close to matching Ohtani's output in 2021. The on-field stats — on July 1, 2021, Ohtani led the league in home runs (28) and had an impressive 2.58 ERA in 59 innings — baffle the mind. The numbers that this card have been doing aren't too shabby, either.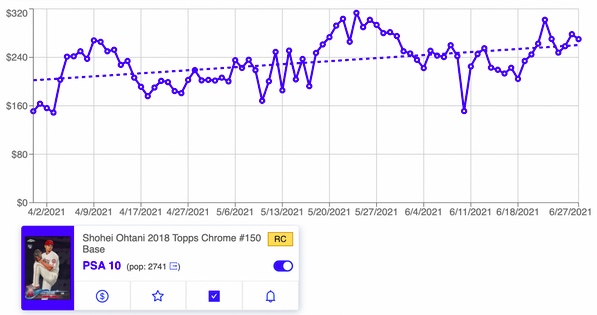 3 Rafael Devers #25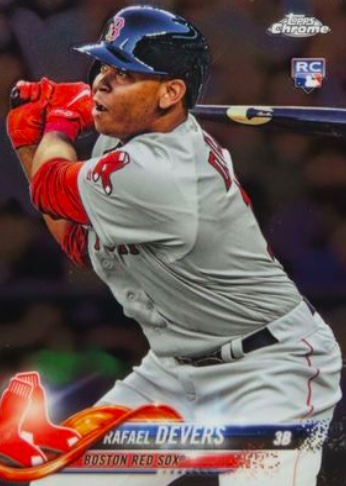 One of the Boston Red Sox's brightest young players, Devers has already won a World Series title ('18) and led the league in doubles ('19). Still, even with all that excitement, this rookie card has struggled to stay above the $100 mark. The talented third baseman seems to be well on his way to a special '21 season, so things could start to change pretty soon.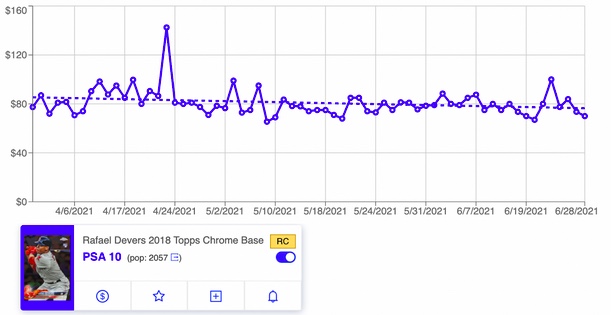 4 Gleyber Torres #31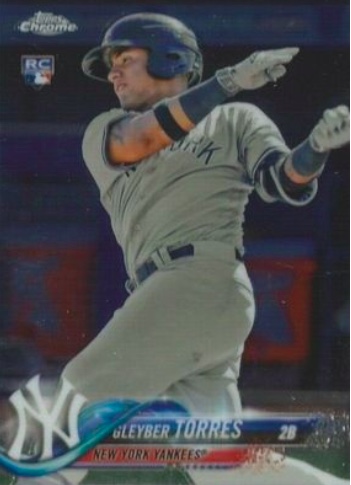 Torres' career began with back-to-back all-star appearances. The New York Yankees infielder looked to be on his way to a legendary career in the Bronx. Unfortunately, '20 was a dud and, thus far, '21 hasn't fared much better. Because of his massive struggles at the plate, this card's prices fell 65% between March and July 2021.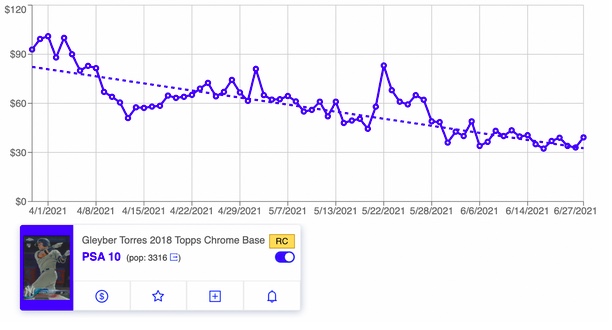 5 Alex Verdugo #167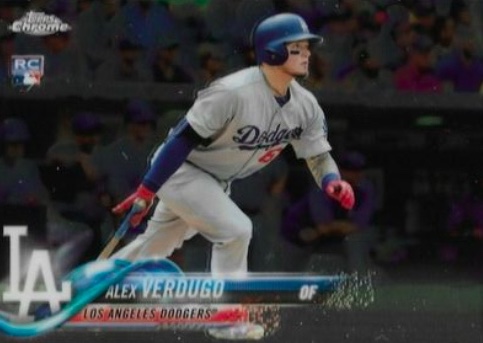 Up to the start of the '21 season, Verdugo was largely known for merely being a part of Los Angeles' big trade for Mookie Betts. Now the 25-year-old outfielder has started to carve out a name for himself with his bat. And with each solid offensive night for the Red Sox, this card seems to be finding some footing in the market.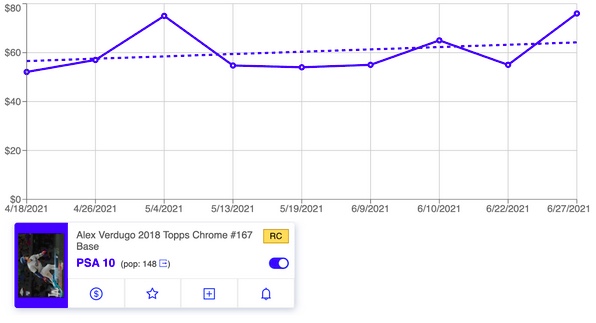 6 Walker Buehler #71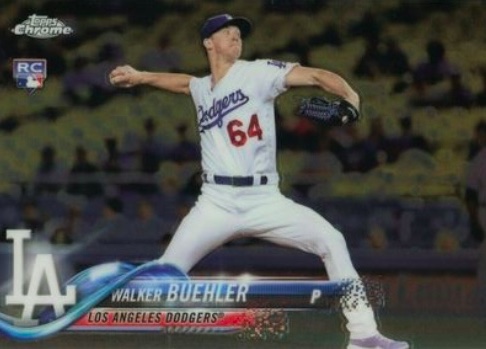 Horizontal Topps Chrome cards have always stood out and this Buehler RC is no exception. With the L.A. hurler revving back for some heat, the shot captures the 2019 all-star in all his glory. Because Buehler is one of the Dodgers' steadiest arms, we wouldn't be shocked to see this one creep up the list in a year or so.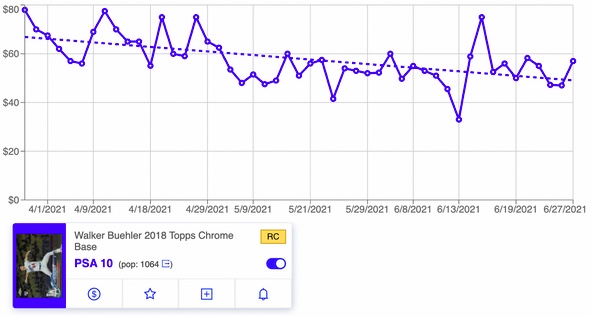 7 Tyler O'Neill #35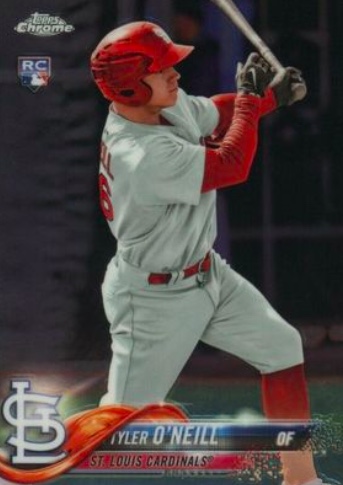 Though he had a reputation of being a long-HR or lousy-K kind of guy, O'Neill has diversified his game a bit. But seeing as how this rookie card only has a POP 19, that bit of news still seems to be missing on everyone living outside of the St. Louis metropolitan area.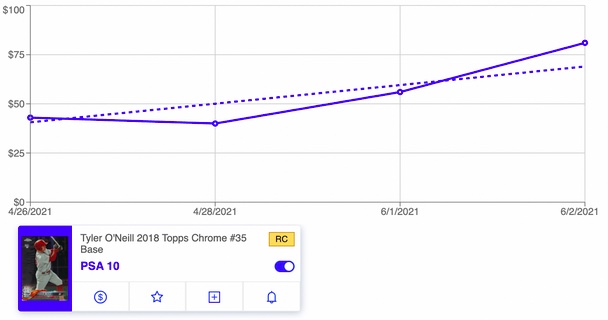 8 Jack Flaherty #4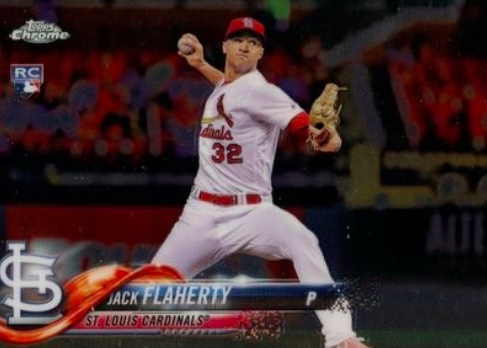 The ace of the Cardinals rotation, Flaherty finished 5th in '18 Rookie of the Year voting and 4th in '19 Cy Young totals. He's likely an all-star in '21. Should he keep confusing batters with his four-seam fastball and slider, we'll likely see this card jump a lot on this list.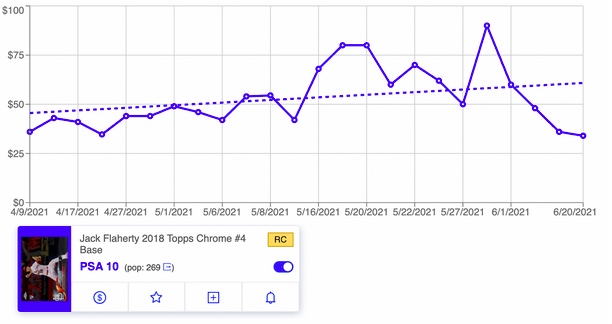 9 Max Fried #66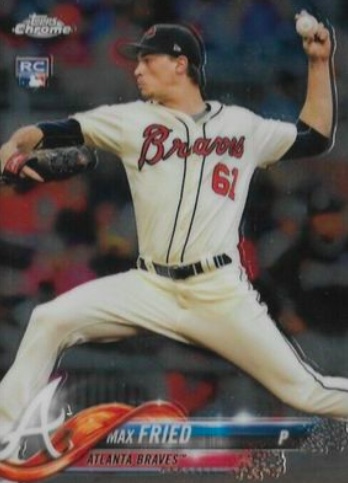 The Atlanta Braves' offense seems to be in great shape with Acuna and Ozzie Albies. But if they're to take the World Series leap, a young pitching staff, anchored by Fried, will have to get more consistent. The same goes for this RC, which hasn't seen $100 since March 2021.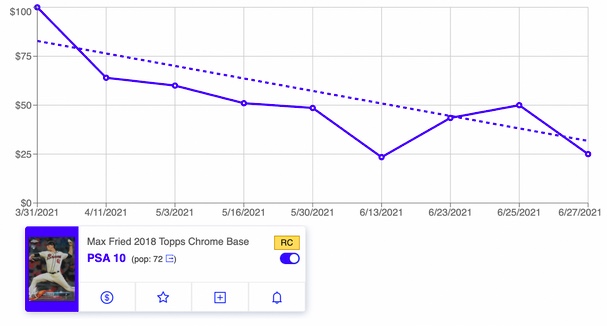 10 Ozzie Albies #72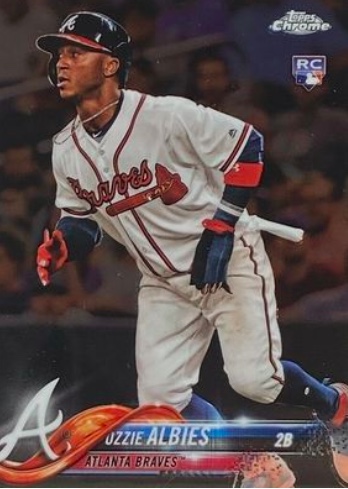 Albies is a mystery. He's so compact you'd think he'd just spray singles all over the place. But he's a 2019 Silver Slugger with two 20-plus home-run seasons to his credit, so there's plenty of muscle in his miniature frame. Collectors accept him however he comes; they just want their $50 card to get back to the $70 levels it once hit.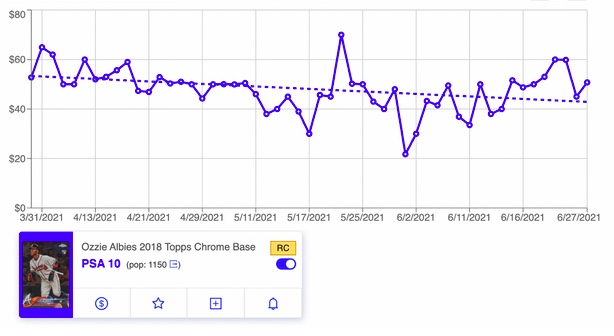 Track your collection and maximize your profit with Market Movers, the hobby's most powerful sports card pricing platform! Learn more here.
Note to readers: If you purchase something through one of our affiliates we may earn a commission.