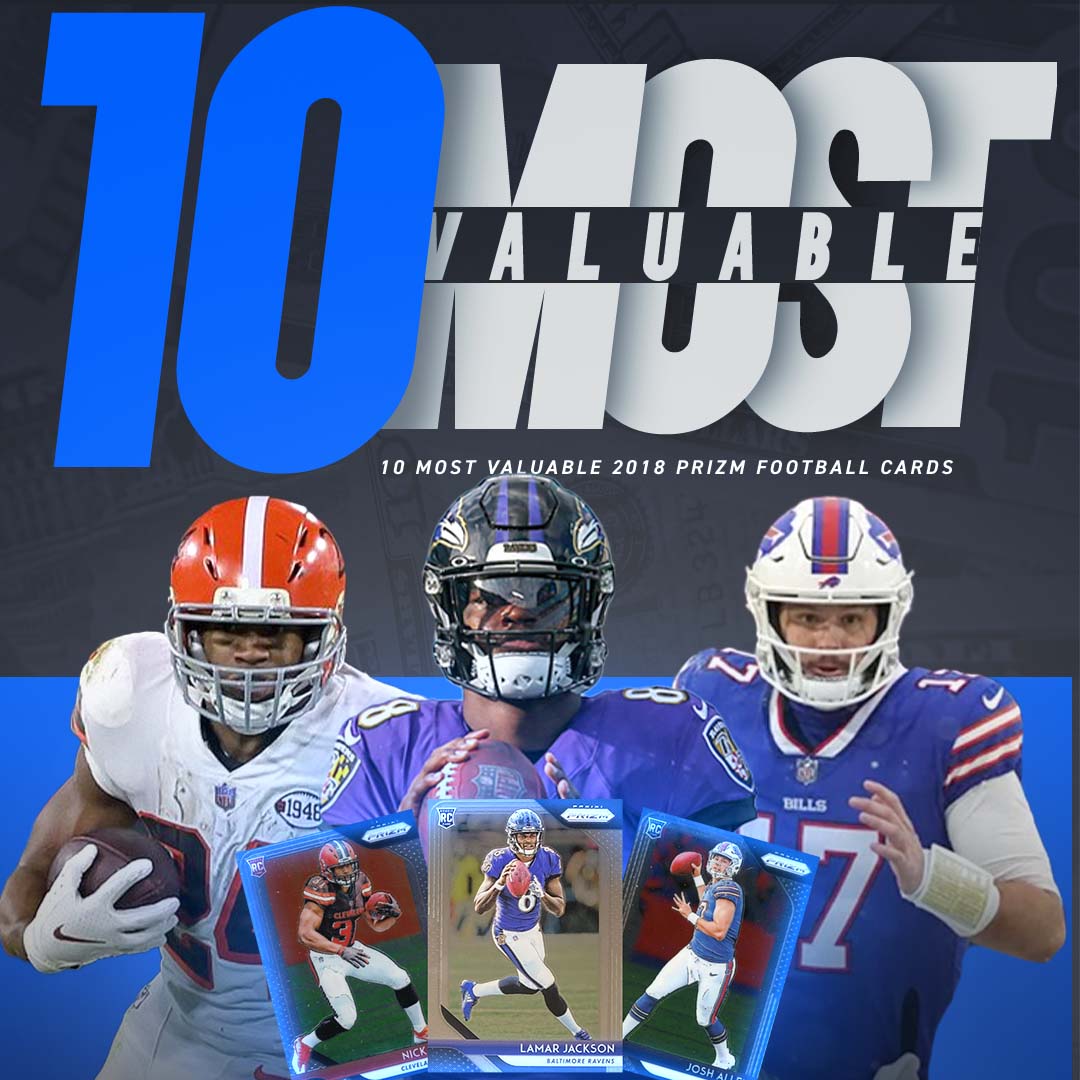 Sure, you have largely forgettable NFL draft classes like 2009 or 2013. But then, you also have years like 2018, where an NFL general manager could have been blindfolded and literally thrown a dart at a board and not have made a bad pick. No, seriously. Of the first 20 selections, 11 of them have been named to at least one Pro Bowl. And when you look a little further down the first round and into the second, you still find a league MVP (Lamar Jackson, 32nd pick), a three-time Pro Bowler (Nick Chubb, 35th pick) and a two-time first-team All-Pro (Darius Leonard, 36th pick). The group was absolutely loaded.
Luckily, a lot of that good fortune has translated into the hobby, too. While top pick Baker Mayfield and fellow QB Josh Rosen's uneven play haven't helped their rookie card values, superb signal callers like Jackson and Josh Allen have seen their cards do very well. Joining them on the following list of 2018 Prizm's most valuable cards are some fellow draft classmates, a couple of legendary QBs and a surprise wide receiver you probably didn't see coming.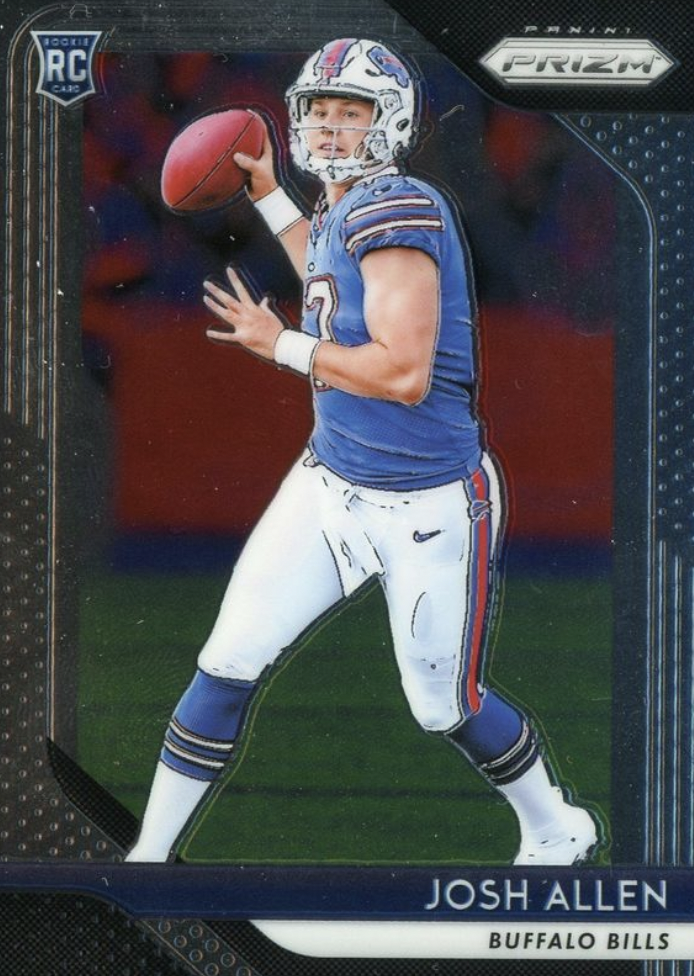 1 Josh Allen #205
This Buffalo stud played so well over the 2020 and '21 seasons that most folks forgot all about a rocky '19 where some were actually questioning if the Bills had made a boo-boo by drafting him. But just look at his stats and this card's steady sticker (only four sales under $500 in all of 2021) and you see those days are long over.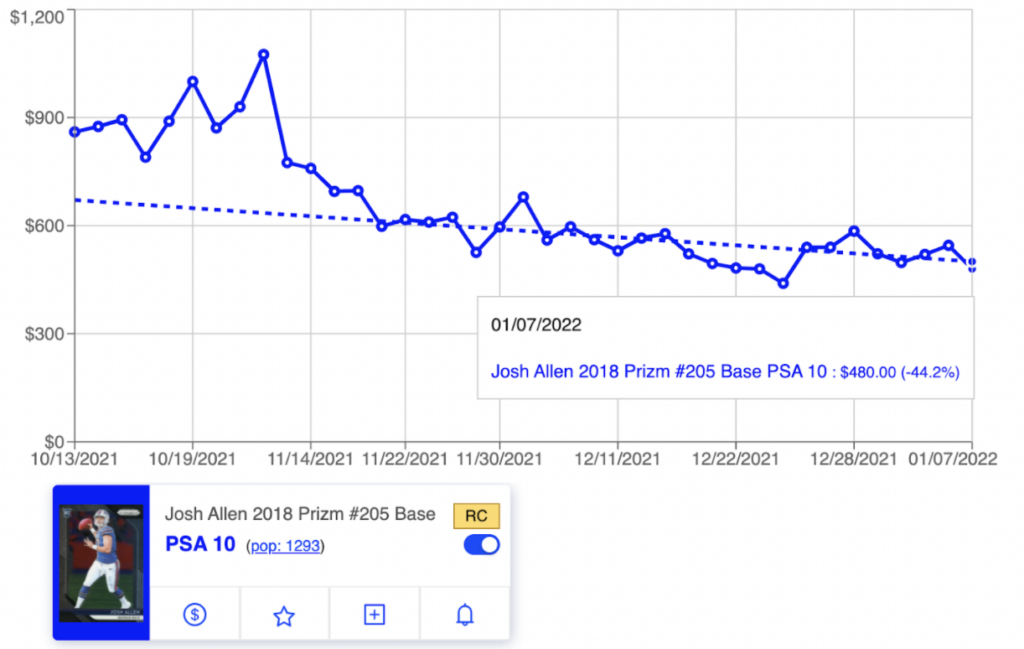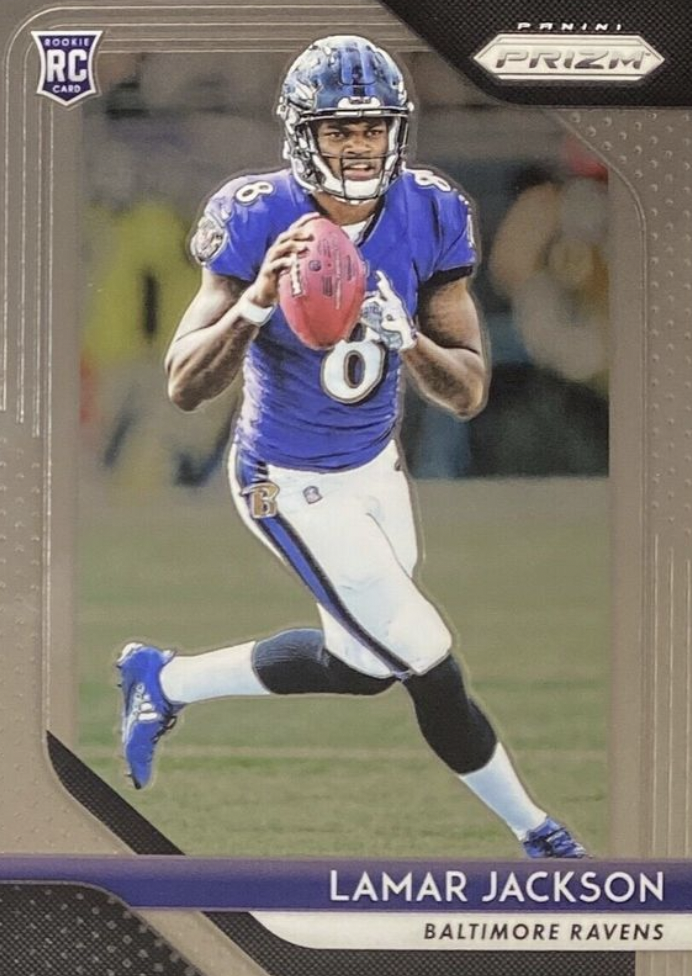 2 Lamar Jackson #212
The last of a record-tying five quarterbacks taken in the first round, this Ravens superstar may be the best all-around at the position in the bunch. Inexplicably, you wouldn't know that from this card's value, as it has dropped about 60% in value from Week 1 to Week 18 of the '21 season.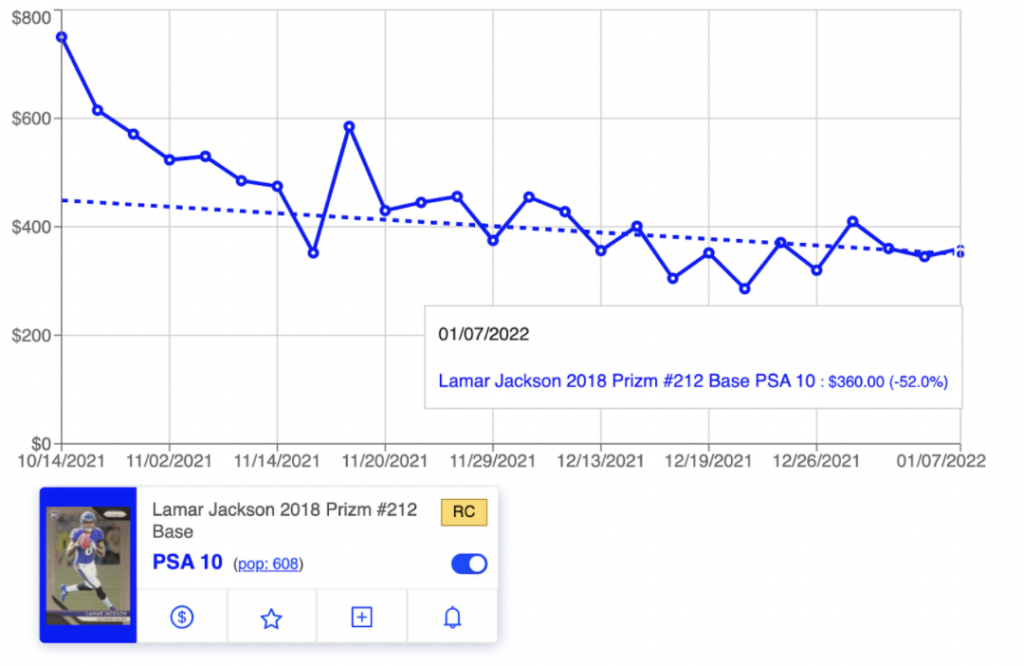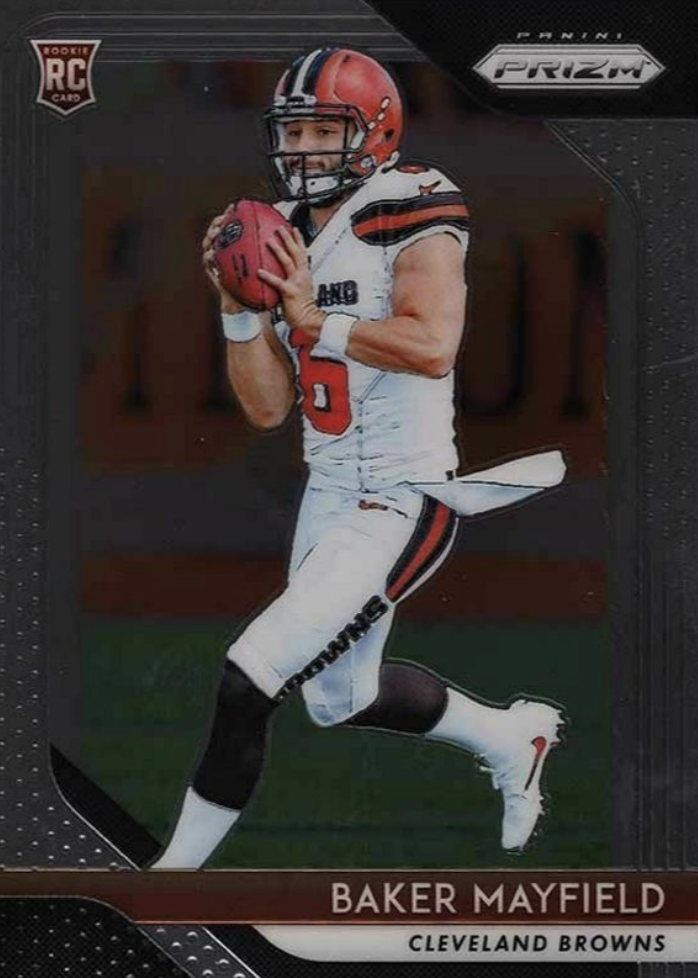 3 Baker Mayfield #201
The Cleveland Browns gave Mayfield a somewhat-flimsy reassurance that he was their QB1 for 2022. That organizational hesitation (along with Baker's so-so play) may be the fuel behind this card taking a 90% dip over the last six months of the year.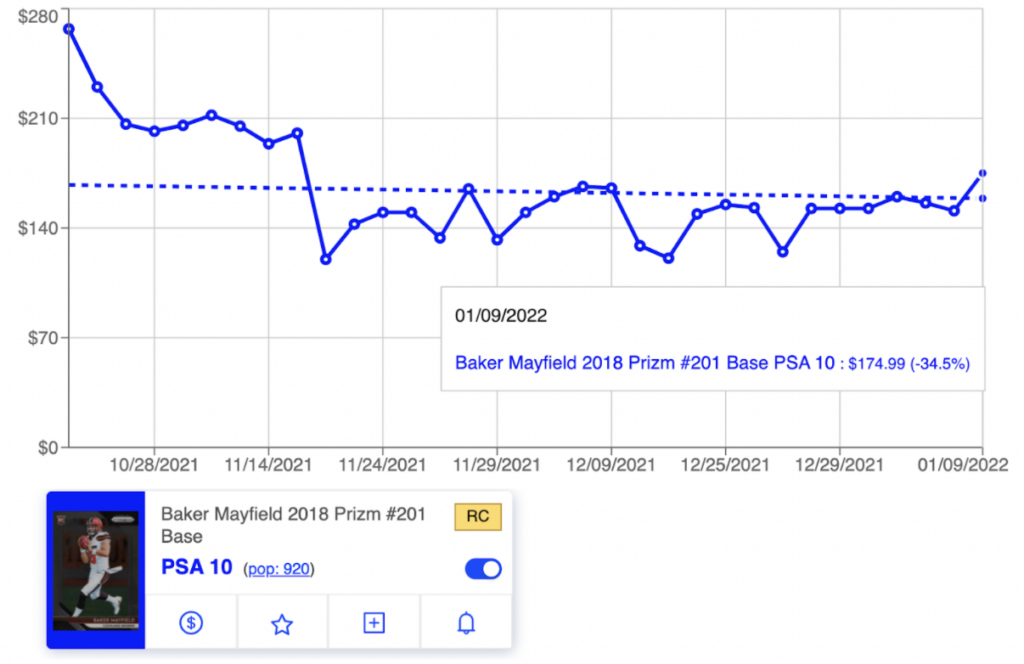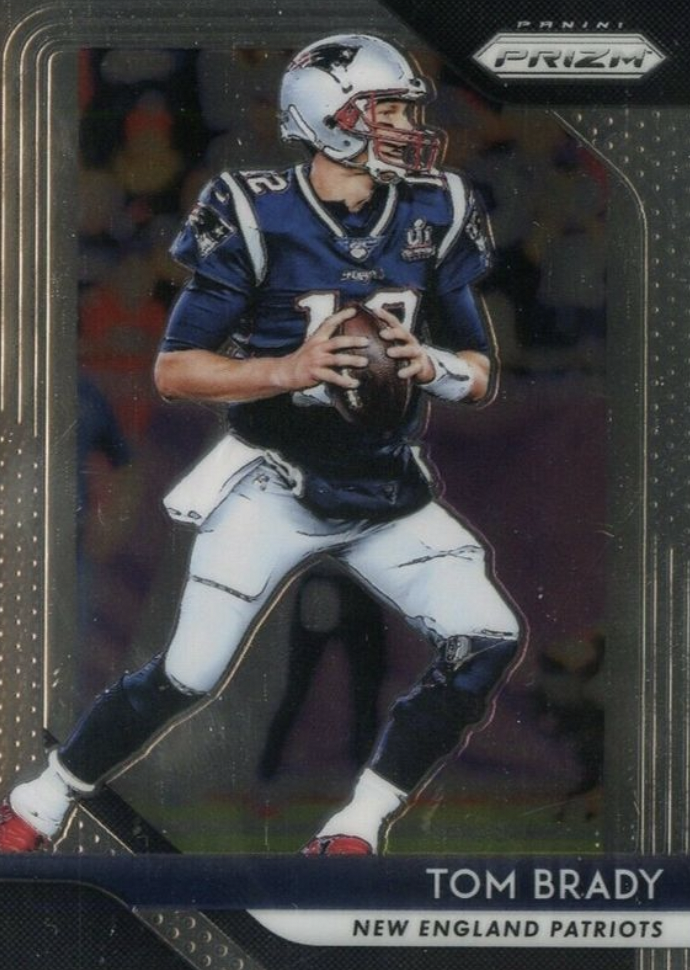 4 Tom Brady #69
This guy knows no droughts. No matter the year or set, you can expect the G.O.A.T. to be eating. Should his Tampa Bay Buccaneers have another deep playoff run in them before Brady retires, expect this card from his 19th season to get yet another bump.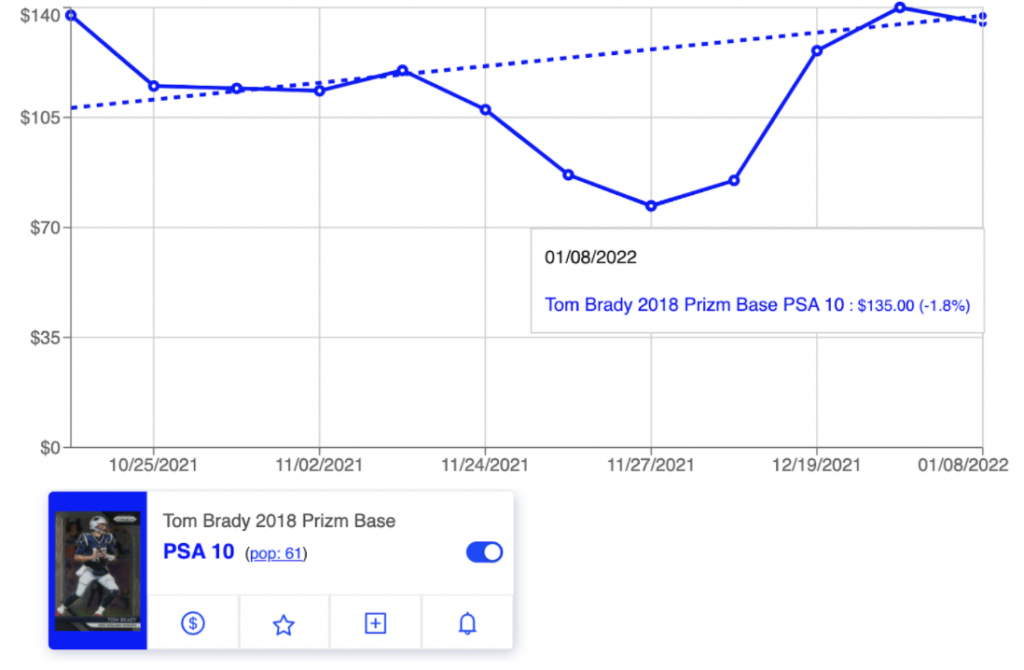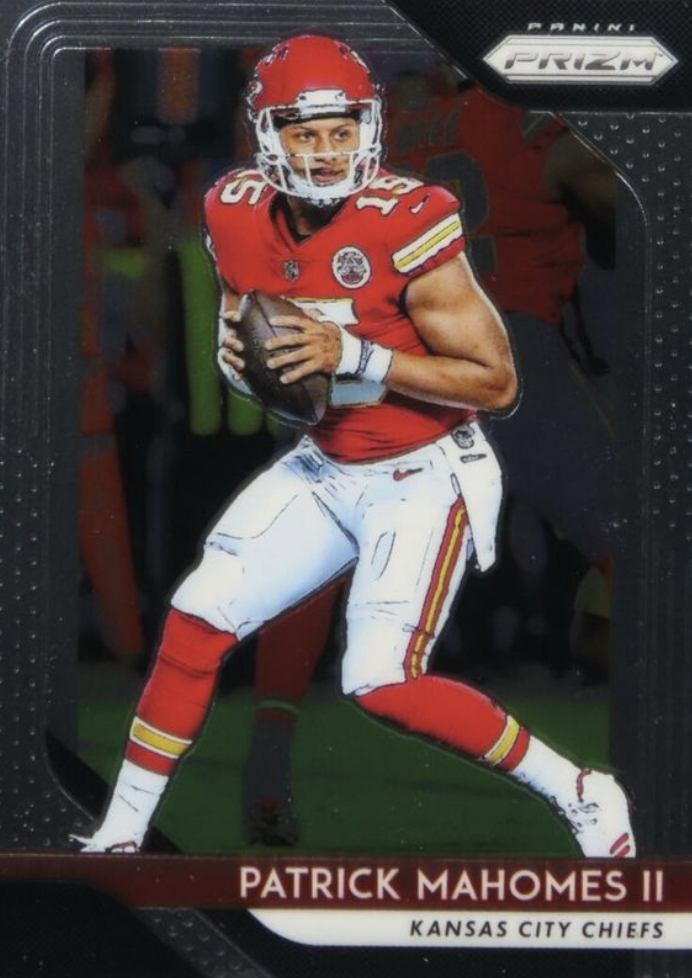 5 Patrick Mahomes #102
One of the few football players you can expect in a top 10 even in a non-rookie year, Mahomes can seemingly do no wrong in the hobby. This second-year card going for around $80-100 feels like a smart long-term play for a future Hall of Famer.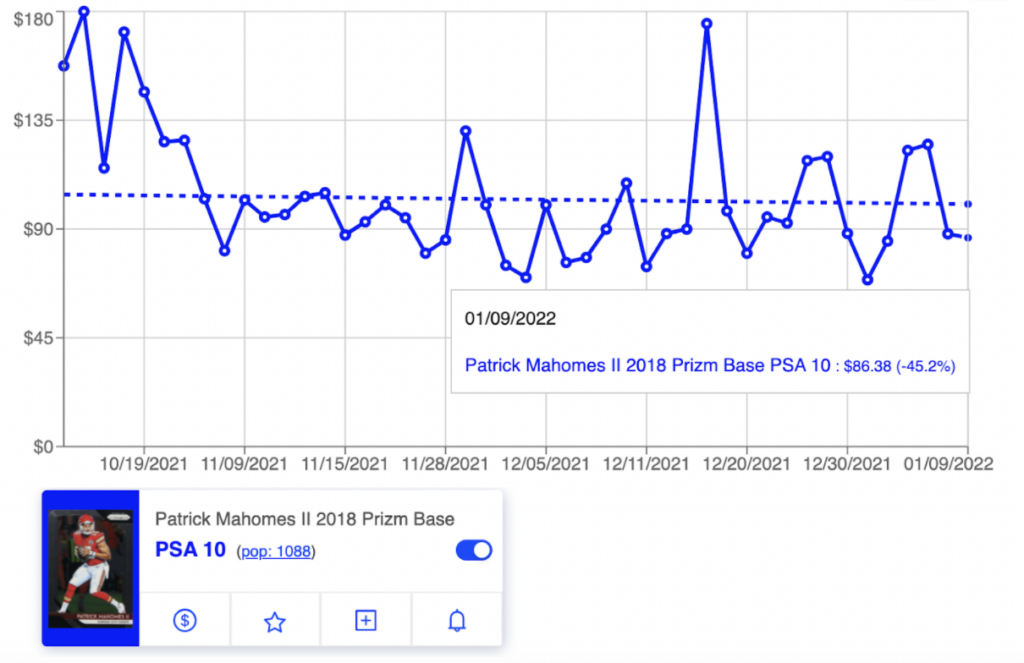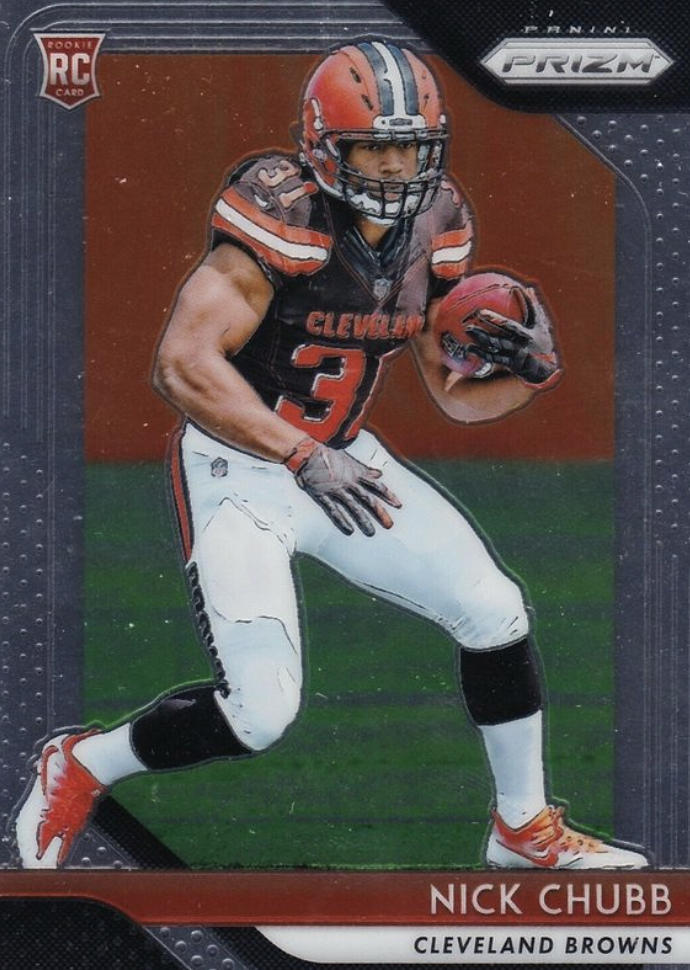 6 Nick Chubb #212
The Browns' 2021 did not go as planned, but the problem was not because of the ground game. Chubb finished second in the league in rushing yards. If he can keep that sort of production up for four or five more years, this PSA 10 at $100 will be a steal in another decade.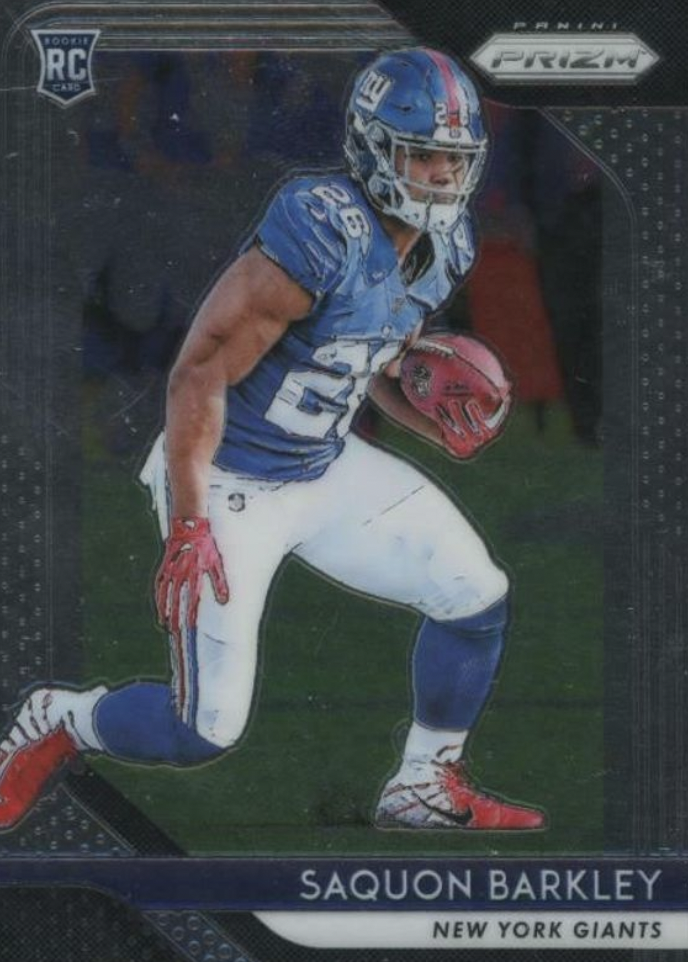 7 Saquan Barkley #202
The injuries are starting to pile up for Barkley. An amazing career that started with a 1,300-yard rookie campaign feels like ancient history after back-to-back seasons where he's only played in 15 of the 33 regular-season games. This card is feeling the pain, too, falling roughly 115% in 2021.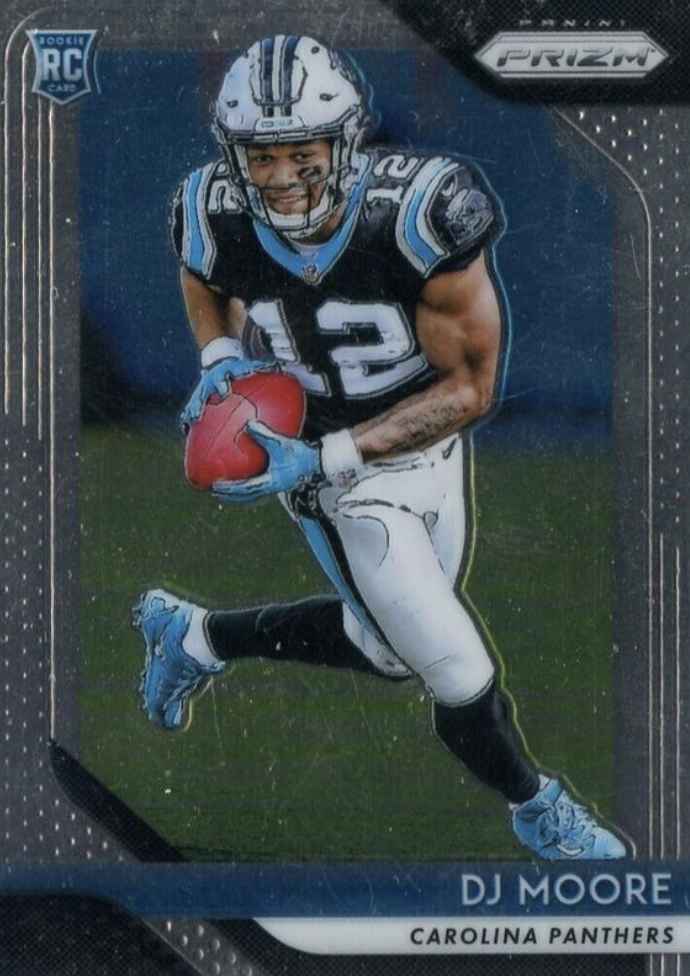 8 DJ Moore #207
While far from the Panthers' top offensive weapon (that's Christian McCaffrey, of course) Moore did use the 2021 campaign as his coming-out party as one of the NFL's most underrated receivers. Here's hoping that solid route-running and dependable hands become even sexier in the hobby.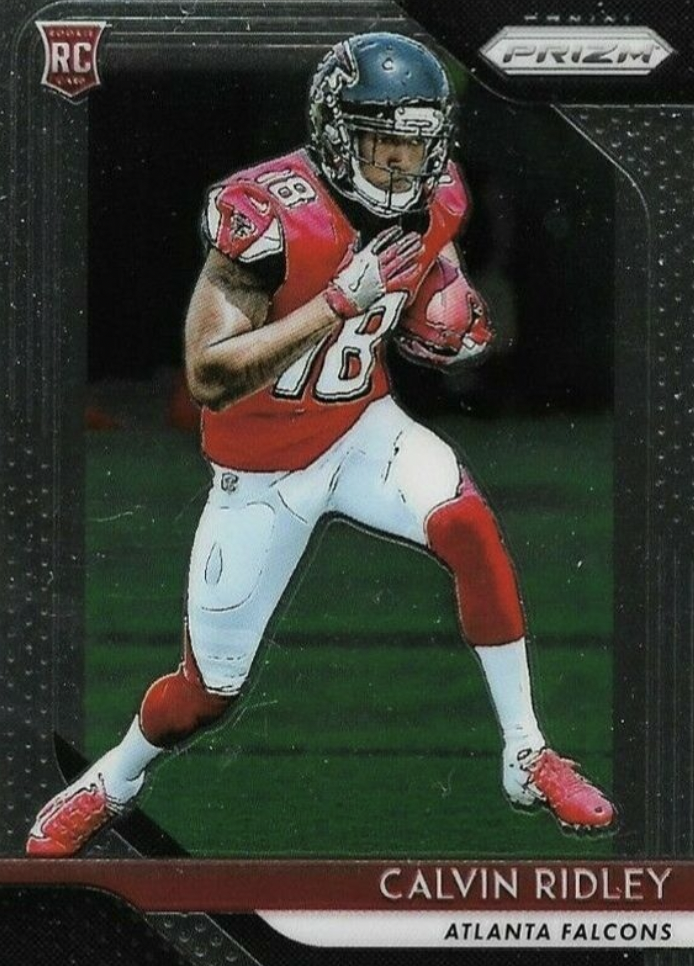 9 Calvin Ridley #209
At press time, the rumbles of Ridley, the one-time heir to Julio Jones' receiving throne in the ATL, wanting out were growing louder by the tweet. All we know for sure is that Ridley's 12 DNPs in '21 have had a damaging effect on this card's value (dropped to $23 in December '21).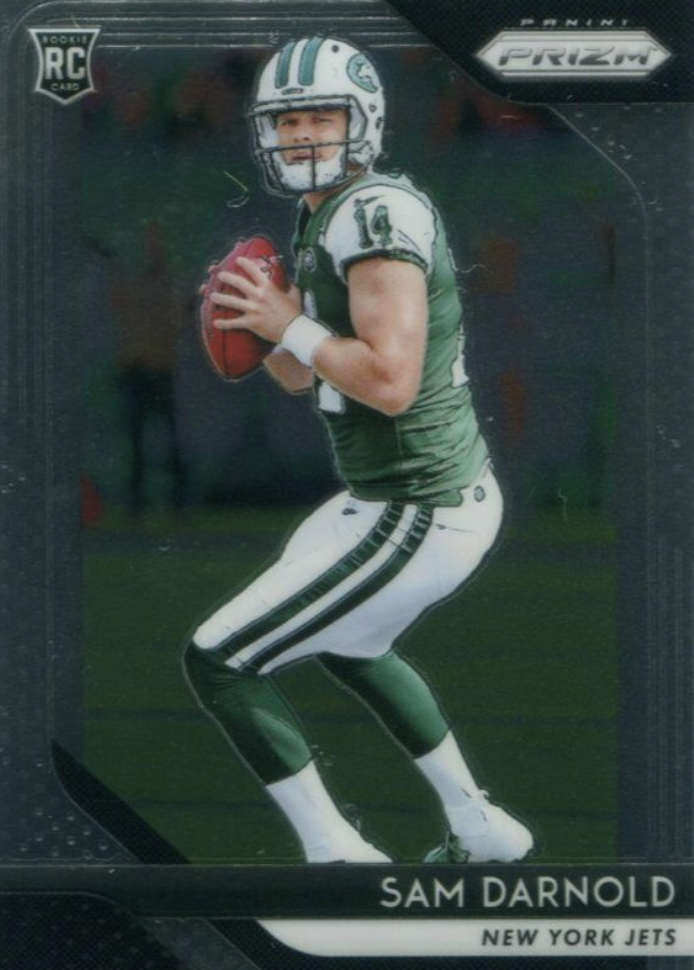 10 Sam Darnold #203
When Darnold was the New York Jets' QB of the future, this card was selling like hot cakes. Now that bumps, bruises and bad decisions under center have him settled in as the Panthers' QB 'til something better comes along, this card is floundering between $20-30.
Track your collection and maximize your profit with Market Movers, the hobby's most powerful sports card pricing platform! Learn more here.
Note to readers: If you purchase something through one of our affiliates, we may earn a commission.