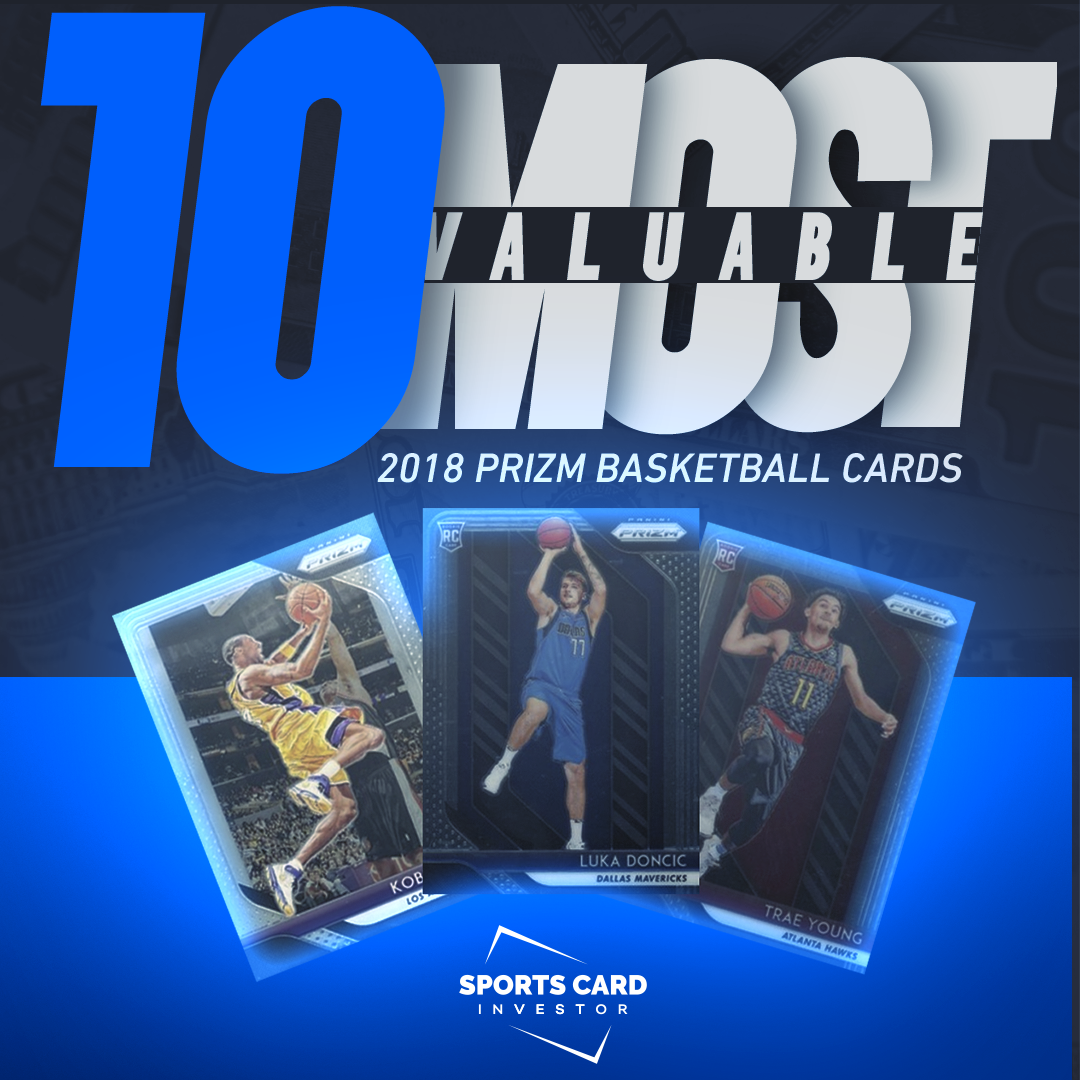 Luka Dončić and Trae Young were the 3rd and 5th picks respectively in the 2018 NBA Draft. So, technically, teams didn't really get them that wrong. But doesn't it just feel like they did? The clear two top talents in the class thus far, Dončić and Young have played so well that they've made solid selections like Deandre Ayton (the draft's 1st pick) and Jaren Jackson Jr. (4th) almost look like afterthoughts. But that's less a condemnation on them and more absolute adulation for the two all-stars.
In the world of cards, Dončić's 2018 Panini Prizm cards (especially his Silver variation) have already reached timeless status for good and not-so-good reasons. The good, of course, is that prices of the PSA 10 base card haven't seen anything south of $800 since June 2020. It has unquestionably been one of the most coveted basketball cards of the past few years. Of course, the downside of that excitement is that there are just so many cards out there. At last look, PSA had graded more than 30,000 of Dončić's Prizm base cards. Young was already over 20,000.
Even with the eye-popping POP, however, the set will have staying power. The combination of Prizm's solid place in the industry with the set's impressive roster of rookies will likely work itself through any overpopulation woes over the long run. But who, besides Dončić and Young, should be added to your collection? We recently cracked the numbers and came up with the 10 most valuable PSA 10 cards from the already-classic collection.
*NOTE: This list is based on average sales over the 90 days prior to press time. Like everything else in the hobby, prices and rankings can change at any moment.
1 Luka Dončić #280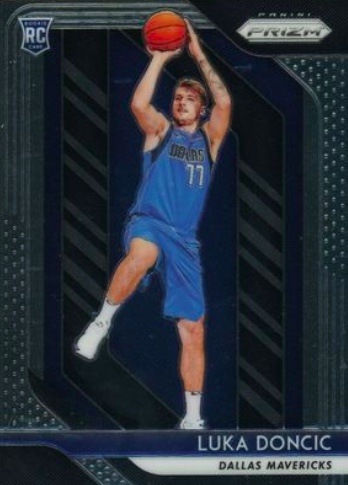 Though he's yet to win his first playoff series, Dončić has won over fans and collectors with his well-rounded, effortless-looking play. The Dallas superstar is No. 1 or 2 in points, rebounds, assists and just about every other category that means something for the 2018 class. And it's for reasons like that this generational talent's card is priced around $900 right now and will likely stay the most valuable in the set for a long time.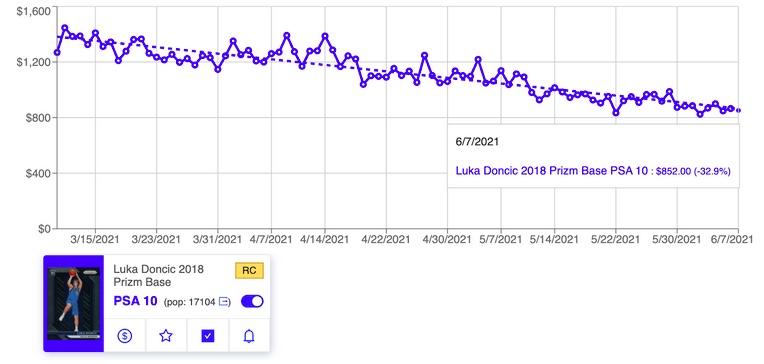 2 Trae Young #78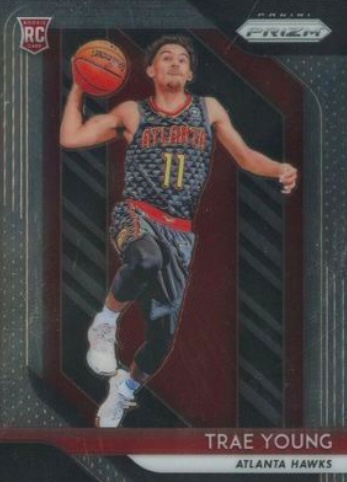 Young and Dončić, who were traded for each other on draft day, will likely be connected their entire careers. But while you bicker over who'll have the better career, the Atlanta Hawks guard will be over here dropping 30 points and making 10 highlight-worthy assists every night. Oh, and this rookie card? It'll be floating in the same space it has been since the start of 2021—somewhere between $300 and $800.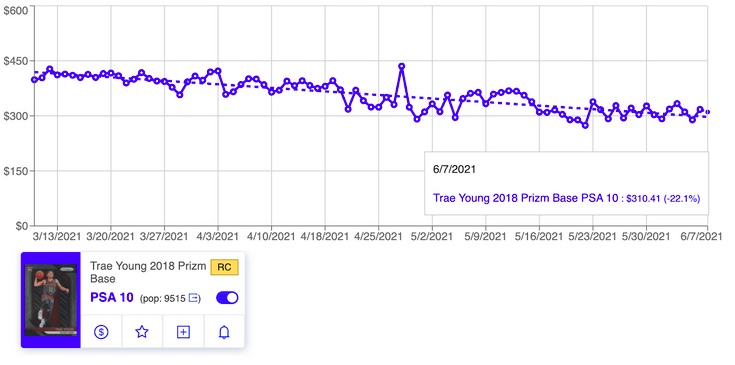 3 Michael Porter Jr. #32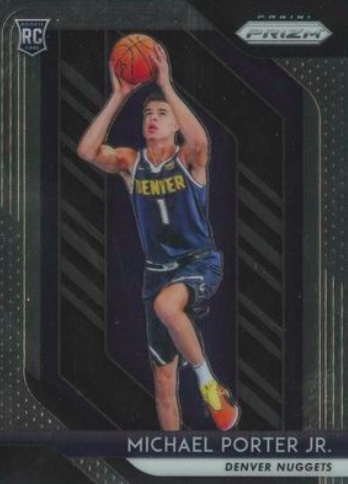 The talent is certainly there with Denver's Porter Jr. Six games of 30+ points during the '20-21 regular season tell us that much. It's just the consistency that people are worried about. Two of those aforementioned 30+ showings were followed with seven- and nine-point duds. But unlike his play, this rookie card remains relatively level in the $150-200 space.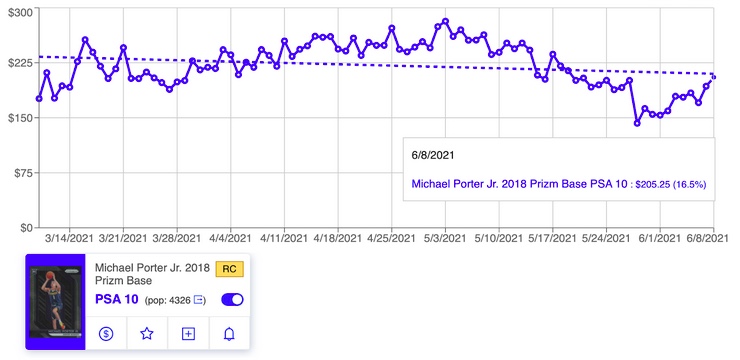 4 Shai Gilgeous-Alexander #184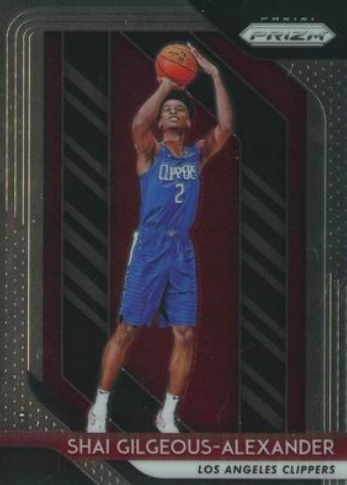 Call it a curse for playing in an often-overlooked Midwest market, but if Gilgeous-Alexander and his solid stat line (23 points and nearly six dimes) played on a bigger stage instead of Oklahoma City, the masses would know more about him. Luckily, the hobby's gaze proves a bit wider. This card has seen highs into the $300s while steady sales indicate that collectors aren't letting a little thing like location keep them from this card.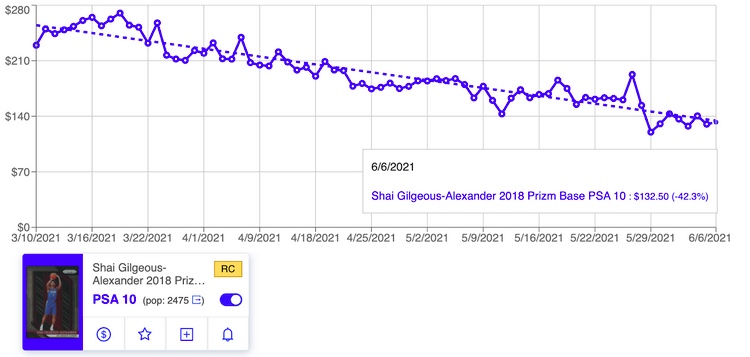 5 Robert Williams III #138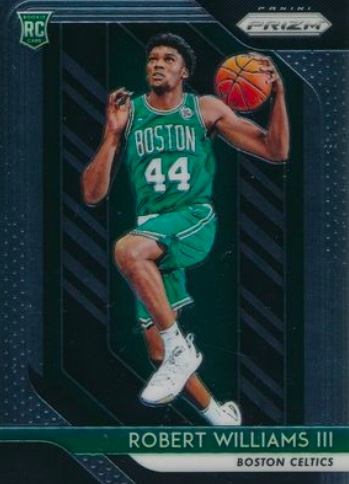 The biggest shocker on this list, Williams III, the 2018 Draft's 27th selection, hasn't gotten nearly the attention of some of the contemporaries in his class. This low-pop treasure is going for around $135 these days. But as his minutes continue to trend upwards in the Boston Celtics frontcourt, you can bet this card's value won't be far behind.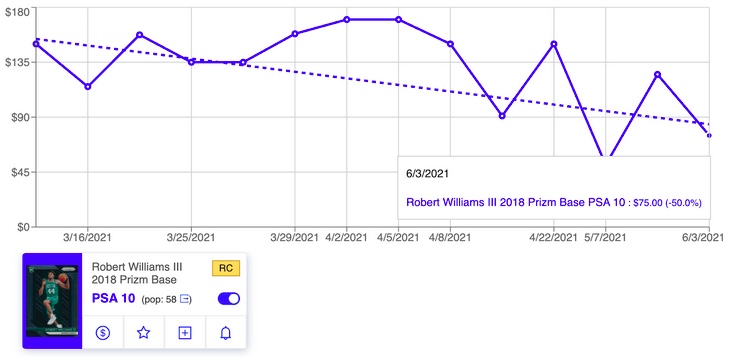 6 Collin Sexton #170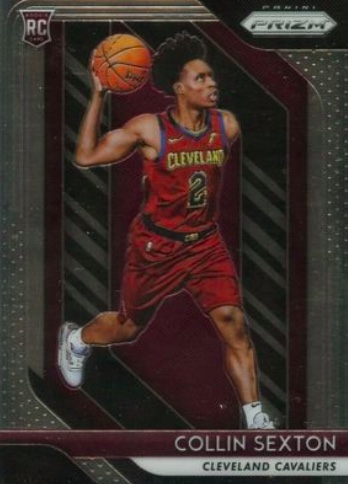 They call Sexton "Young Bull" for his ferocious, Russell Westbrook-like play on the court. The image on this card almost looks like the Cleveland Cavaliers guard is charging towards the paint. Opponents better get used to the snarling look. After a third year in the league where he averaged 24 points a game, Sexton looks to be taking the league by its horns.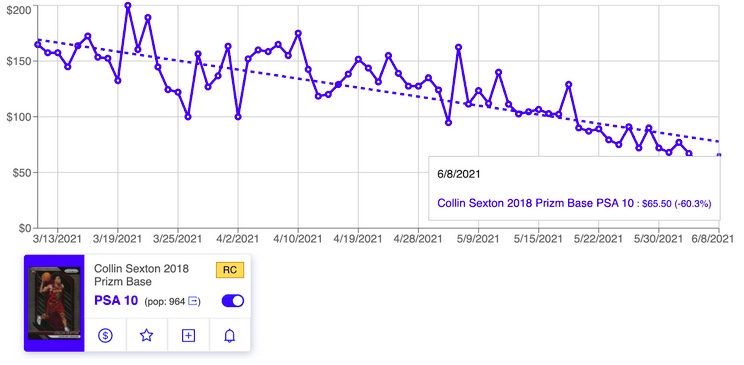 7 Kobe Bryant #15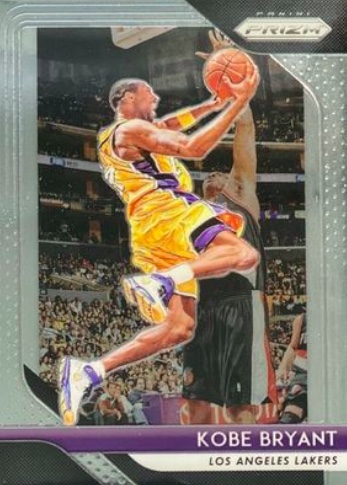 As Prizm annually does, this '18 set is filled with cards of retired NBA stars. Though Bryant called it a career a few seasons prior, this particular card still gets plenty of love in the hobby. As another show of Mamba's respect in the industry, this beautiful card proves the only non-rookie offering on the list.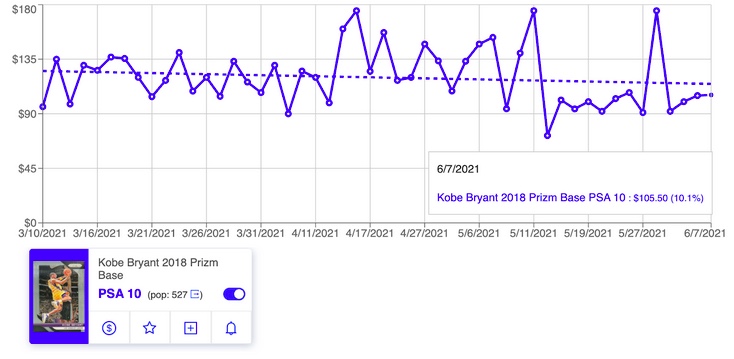 8 Jaren Jackson Jr. #66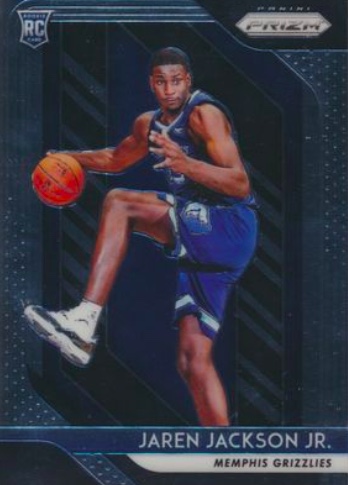 One of the most athletic players on this tally, Jackson Jr. looks like he could jump out of Memphis' FedEx Forum. Unfortunately, this card, sitting between $60 and $200 for much of 2021, won't make the leap into the next tier until Jackson Jr. gets healthy enough to consistently serve as Ja Morant's right-hand man for the Grizzlies.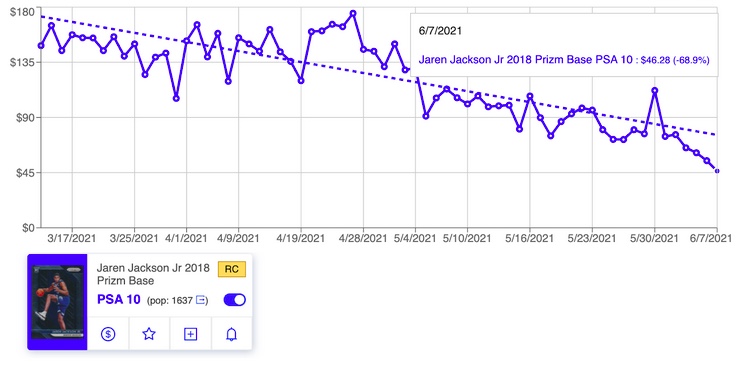 9 DeAndre Ayton #279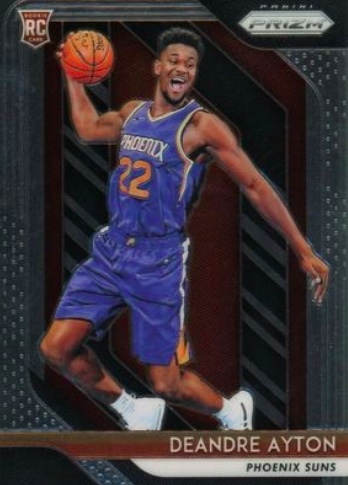 As the 2021 Playoffs have proven, Ayton is a tremendous force in the middle. Though he's been relatively quiet about it, the Phoenix Suns center managed six double-doubles in his first eight postseason games. Collectors have been waiting for this kind of breakout, too, which might explain why prices for this card have gone up about 17% since the start of the playoffs.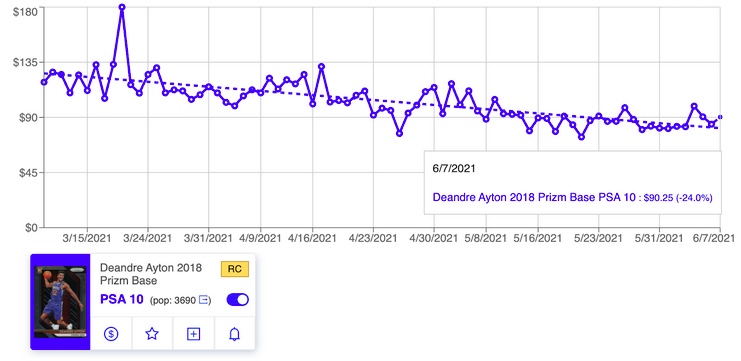 10 Mikal Bridges #289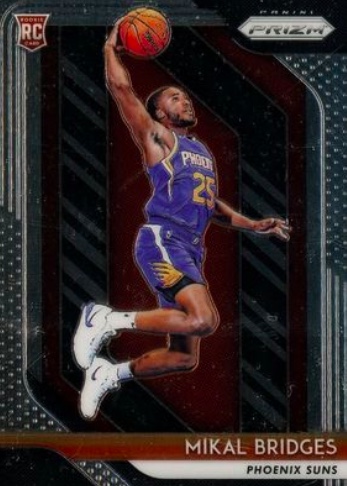 Another young Sun who's using the postseason spotlight to get on the national radar in Bridges. People who remember Villanova's national title runs in '16 and '18 know that the small forward has big game, but now they're starting to see it on the NBA stage. His RC is reaping the benefits of the exposure as well, as prices for it have floated between $80 and $115 for much of 2021.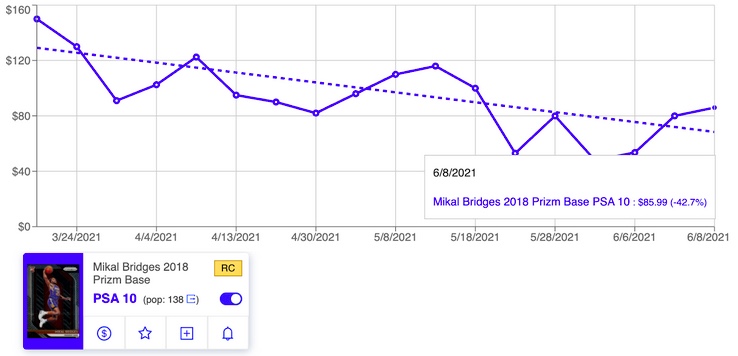 Track your collection and maximize your profit with Market Movers, the hobby's most powerful sports card pricing platform! Learn more here.