Though we haven't asked many Dallas Cowboys card collectors, we'd guess their favorite years are 1972 (Roger Staubach's first card) and 1989 (Troy Aikman's rookie season). But right up there has to be 2016, the year the franchise's current quarterback (fourth-rounder Dak Prescott) and running back (first-rounder Ezekiel Elliott) were drafted. Between the two standouts, they've already made five Pro Bowls and annually carry the weight of the team's playoff hopes on their backs.
Even if you're an Eagles or Giants fan, you have to admit that these Cowboys rookies look pretty sharp on these 2016 Prizm Silver cards. There's just something about how the Dallas uniforms, framed in the thick, metal-looking border, just pop off the card with the chrome reflection.
But it's not only the 'Boys uniforms that work so well in this 300-card set of parallels. As you'll see in the following round-up, Titans, Rams and other teams' rookie jerseys look good, too. Though a veteran Tom Brady finds himself on the final roster, it's Prescott, Elliott and others' fresh faces who make the popular 2016 Prizm Silver set so vital to football hobbyists.
1 Dak Prescott #231
When healthy (like he was in his 30-TD-passing 2019 campaign), Prescott is one of the league's most exciting QBs. If he comes back from his dislocated right ankle to deliver another Pro Bowl-worthy season in '21, this card could hit a new stratosphere. C'mon, we are talking about Dallas, after all. Until that happens, you'll likely find the card priced in the $700-900 range.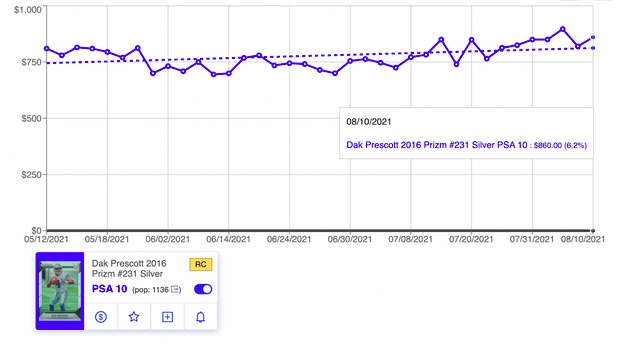 2 Derrick Henry #298
During the final four games of the 2020 season, Henry was nearly unstoppable, rumbling for 710 yards and 5 TDs. But just as difficult as it's been for opposing defenses to slow Henry down, it's been a challenge for collectors to find this rookie card in a PSA 10. The RC is currently sitting at a relatively low 129 POP, but should the Tennessee Titans terror keep stiff-arming the competition, that number will undoubtedly rise.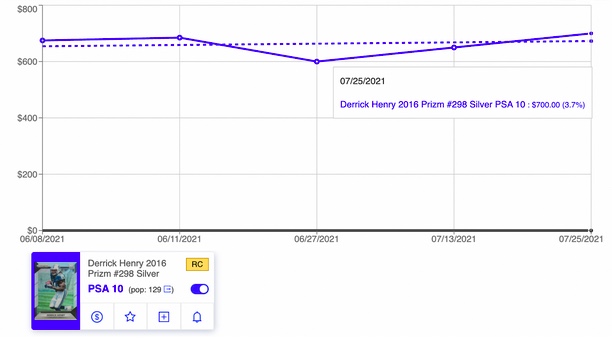 3 Tom Brady #2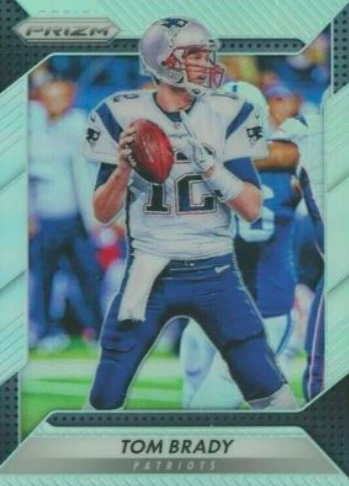 In this picture, Brady is sitting back in the pocket, waiting on a receiver, likely Julian Edelman or Rob Gronkowski, to find a slither of a window for him to throw into. No telling if he made the completion or not. Doesn't matter. He's the G.O.A.T. This is his '16 Silver. The math is just that simple.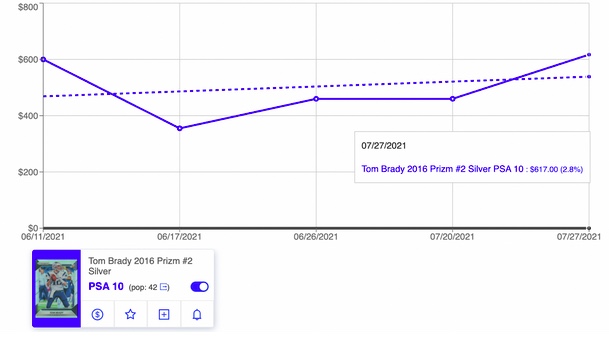 4 Carson Wentz #218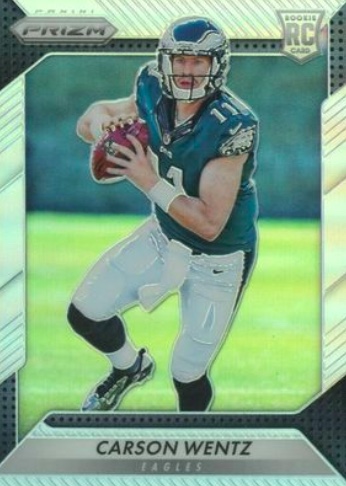 Poor Wentz fans. They've championed for the guy ever since his name was called in the '16 draft. During the good times (4,039 passing yards in '19) and bad (watching Nick Foles lead the Eagles to Super Bowl 52), they were right there in their No. 11 jerseys. Even when he left Philly for the Indianapolis Colts, they went right along with him. The strong support might explain why a couple of these PSA 10s sell just about every week.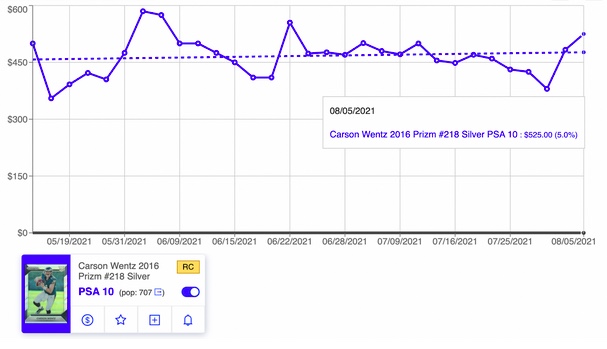 5 Tyreek Hill #296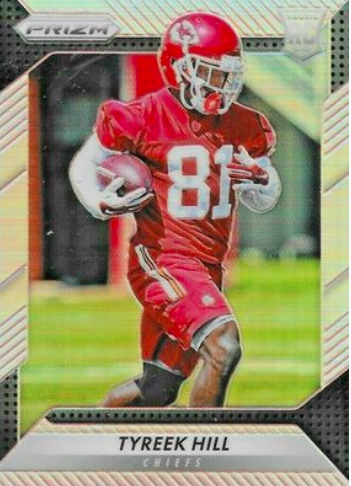 They call Kansas City star Hill "Cheetah" for obvious reasons—4.29 40-yard dash, four punt-return TDs and a ridiculous first step off the line. Ironically, the slow market for this card — there were only 16 PSA 10 sales between Valentine's Day and the 4th of July 2021 — more resembles a turtle's pace. Should Hill play a big role in another lengthy Chiefs playoff run, though, this RC might stop playing possum in the market.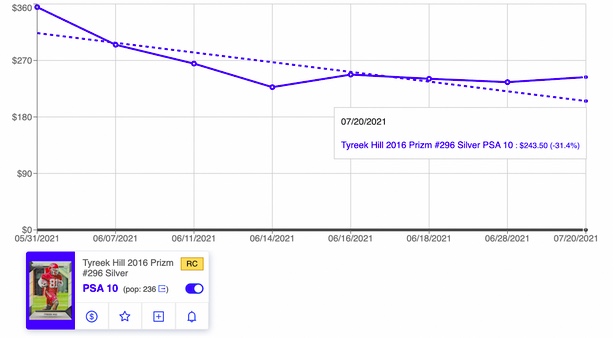 6 Ezekiel Elliot #238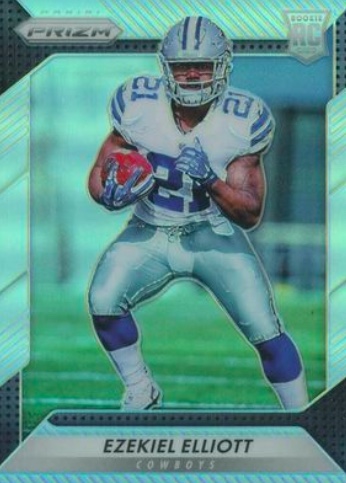 By Elliott's lofty standards, his 2020 effort (979 yards, 6 rushing TDs) was a bit disappointing. The versatile running back has such a good resumé up to that point, however, Cowboys fans (and the collectors who created this card's 881 POP) are willing to forget that and, instead, continue hoping that they have a generational talent in their backfield.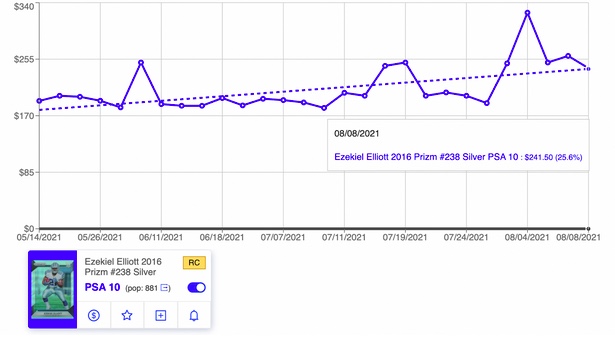 7 Michael Thomas #230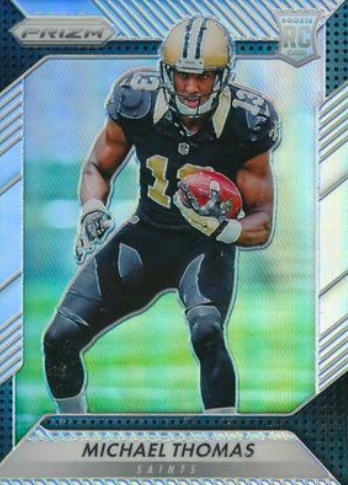 Thomas only started five games for the New Orleans Saints last year. With him reportedly missing the 2021 season's first four months, too, whispers of his fragility are only getting louder. Confidence in his cards seems to be limping a bit as of late as well, as prices for this card have dropped from $600 in August '20 to $150 in August '21.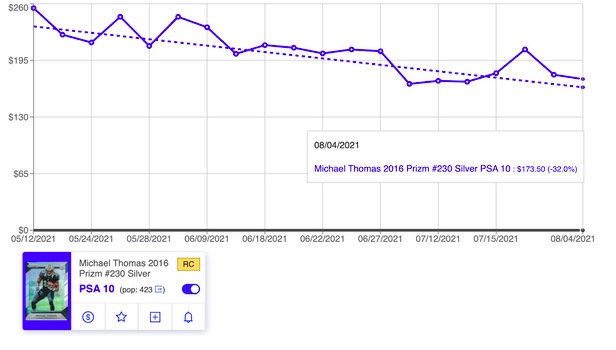 8 Jared Goff #208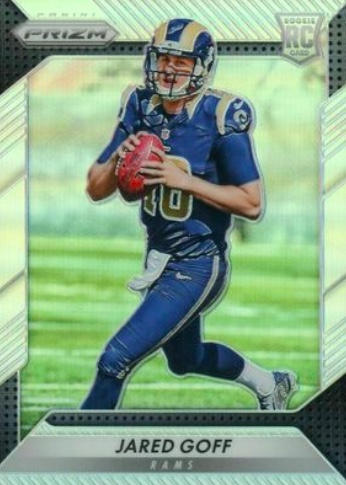 Hobbyists' high hopes in Goff are evident in this card having one of the most robust POPs on this list (446). The California Bears product has had some NFL success (two-time Pro Bowler with two 4,000-plus passing-yard seasons), but he hasn't been that franchise-altering signal caller some thought he would. Now that he's relocated to a Detroit team with the gifted D'Andre Swift and T.J. Hockenson, Goff's next chapter could be exciting.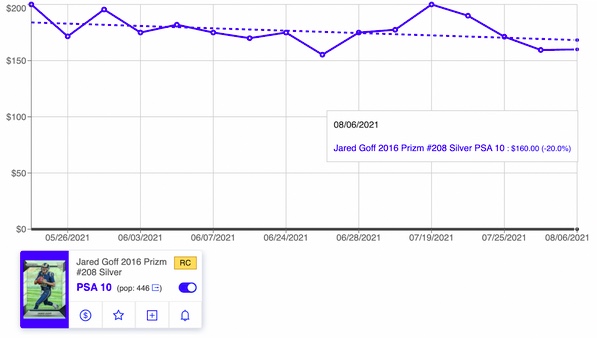 9 Jalen Ramsey #291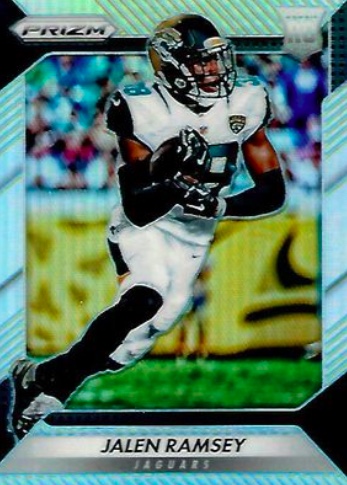 Beyond the rare talent like Lawrence Taylor or Deion Sanders, most defensive players (even the Hall of Famers) just aren't sexy enough for collectors. Ramsey, even though he's arguably the finest cornerback in the game, hasn't had much luck, either. But a low POP 64 or not, this card's average price has steadily risen so, maybe, defensive players are finally getting their due.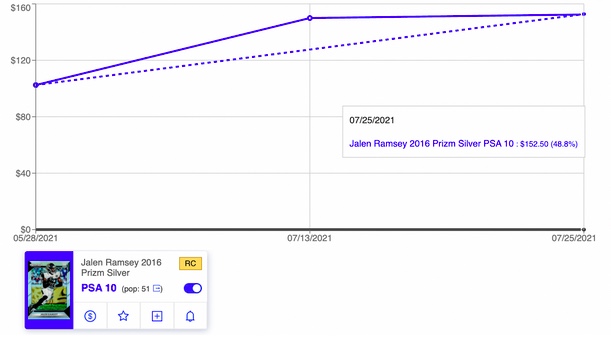 10 Joey Bosa #228
…Or maybe they aren't. Bosa is generally regarded as one of the game's top edge rushers, but only 121 of these Silvers have been graded by PSA. The three-time Pro Bowler dealt with some concussion issues in '20, but should he be able to consistently pace the Chargers D in '21, it might create the excitement needed for a card that hasn't sold for over $100 since June '21.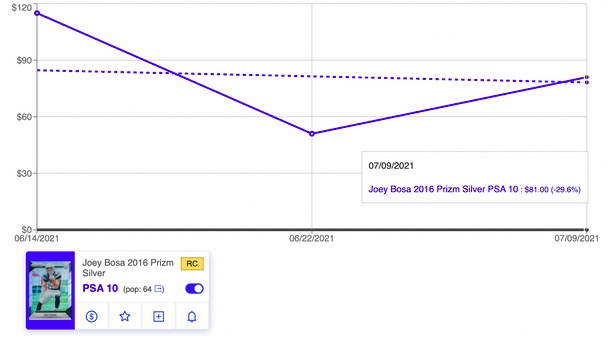 Track your collection and maximize your profit with Market Movers, the hobby's most powerful sports card pricing platform! Learn more here.
Note to readers: If you purchase something through one of our affiliates, we may earn a commission.