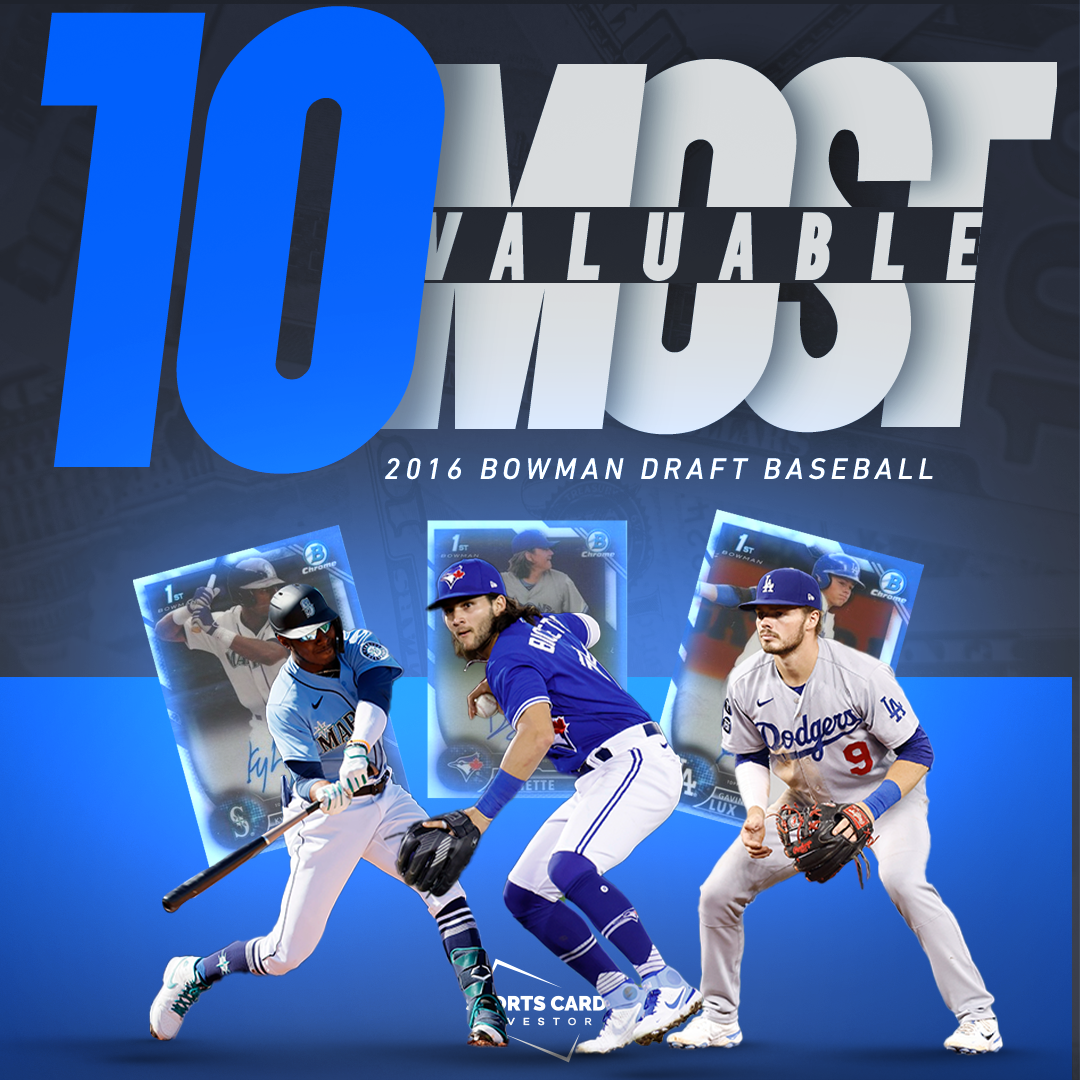 Bowman cards are some of the most sought-after in baseball because they're often the first ones you see of a particular player in a professional jersey. That aspect makes it easy to understand why Bowman is so popular with collectors. Where things get a little confusing is with the differentiating of the cards; there are so many iterations of the Bowman brand every year. We're talking Bowman Draft, Bowman Chrome and regular Bowman Baseball.
In 2016, the version that arguably captured the most attention was Bowman Draft, mainly because of its Chrome Draft Pick subset. Its checklist was absolutely loaded. You had sluggers (Pete Alonso), speedsters (Kyle Lewis), a son of an MLB legend (Cavan Biggio) and a slugging speedster who happened to be a son of an MLB legend (Bo Bichette). To have all of those now-familiar names splashed in the shiny chrome finish didn't hurt. Seeing that coveted "1st Bowman" stamp on the card was a nice touch, too.
Now, you might be wondering where budding star Fernando Tatis Jr. fits into all of this. Well, he's got a 2016 card, but it's in Bowman Baseball's Bowman Chrome Prospects subset. Yeah, we know; it's all a little complicated. But even though there's no Tatis in the following tally, the autographed 2016 Bowman Draft Chrome cards listed below are all tremendous additions to your collection.
1. Bo Bichette – Draft Pick Auto #CDA-BOB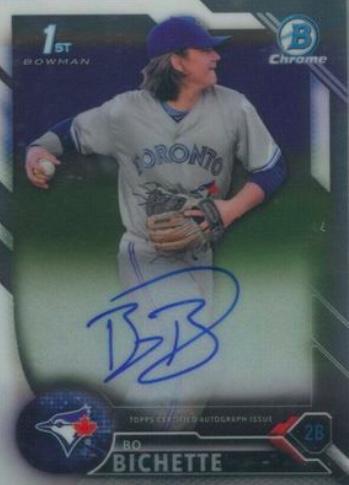 Bo has the flowy hair and timeless swing just like his daddy Dante, one of the Colorado Rockies' most feared hitters in the '90s. What the young Bichette will need to work on to become an even greater player than his pop is the regularity with his, well, pop. Dante hit 20+ home runs in eight consecutive seasons. The 2021 campaign is the first time that Bo's reached the mark, but collectors are confident it won't be his last.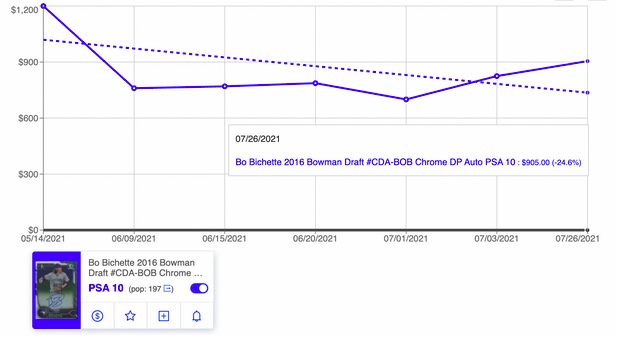 2. Pete Alonso – Draft Pick Auto #CDA-PA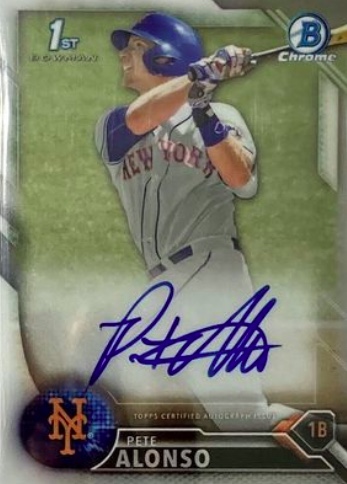 Though he's come down from his first-year pedestal — in 2019, the Mets' Alonso set a rookie record with 53 homers — Alonso is still putting up big numbers as New York's most feared hitter. He'll be considered a king in Queens if he makes 35 dingers an annual occurrence. Become a regular 40-smash club member and this rookie card becomes a huge prize.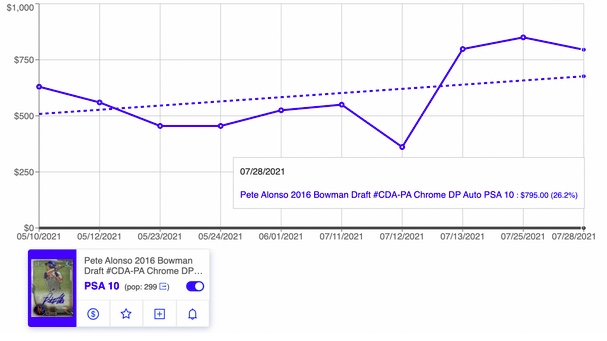 3. Dylan Carlson – Draft Pick Auto #CDA-DC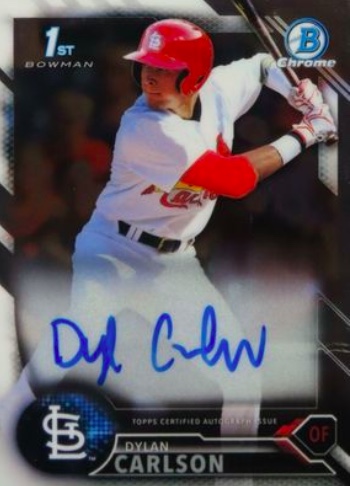 Carlson entered the 2021 campaign as one of the league's most-talked-about rookies. Though he's had some highs (8 3-hit games) and lows (an August wrist injury) in 2021, we still don't know exactly what we have in the Cardinals' 22-year-old outfielder. But collectors are holding out hope that it's something pretty special.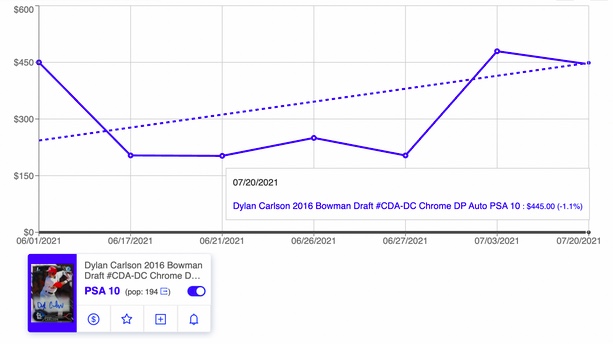 4. Kyle Lewis – Draft Pick Auto #CDA-K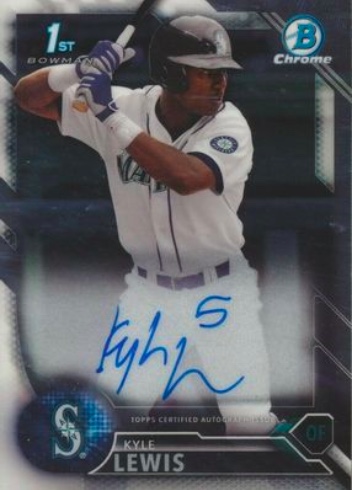 There is a lot to love about Seattle Mariners outfielder Kyle Lewis. The kid's bat has some pop, his legs can generate some gas and he's got one helluva glove (remember this catch?). It's easy to see how Lewis cruised to the 2020 AL Rookie of the Year and why many hobbyists have faith in his cards down the road.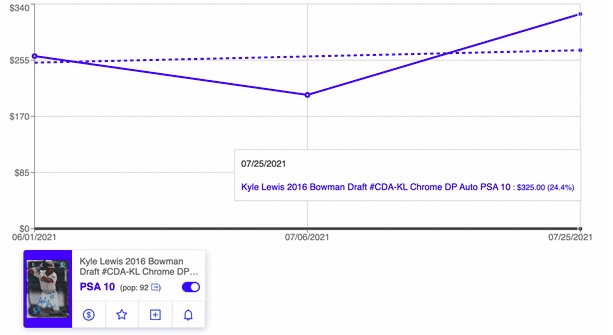 5. Alex Kirilloff – Draft Pick Auto #CDA-AK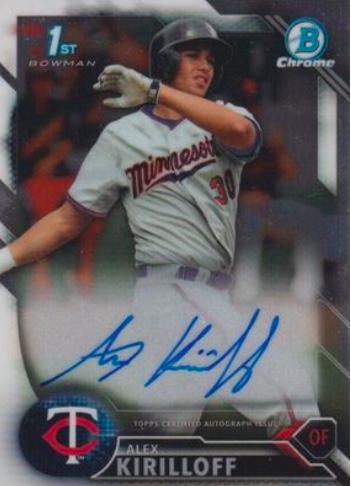 The Minnesota Twins' immediate outlook may not be pleasant, but with the likes of Kirilloff, Luis Arraez, Jorge Polanco and Byron Buxton on the team (average age: 25.5), the future looks somewhat bright. Kirilloff is such a talent — rumor around Twins land is that he batted close to .800 at a 2020 Minnesota camp — that it's clear to see why, last season, the team made him the first player in MLB history to make his big-league debut with a playoff start.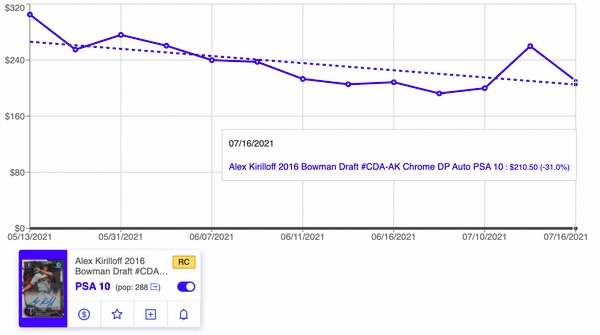 6. Bobby Dalbec – Draft Pick Auto #CDA-BD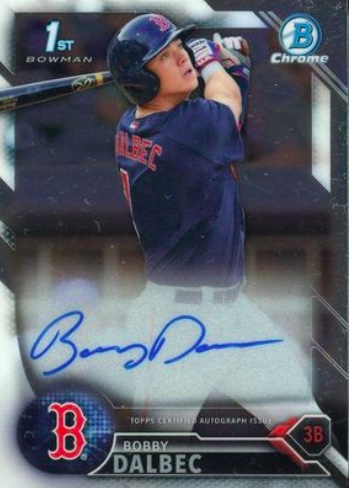 Congrats to those who weathered Dalbec's early '21 rockiness (.214 BA in April). Things have certainly gone a lot smoother in the season's second half (.347 through 20 games in Aug.) for the guy some have already penciled in as the Red Sox's first baseman of the future. For this card to generate some real steam, though, Dalbec's going to have to keep things going the full season.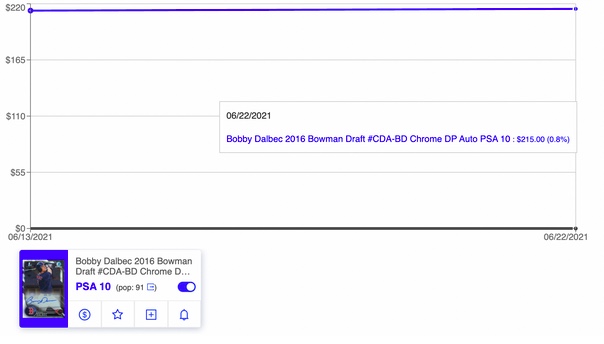 7. Gavin Lux – Draft Pick Auto #CDA-GL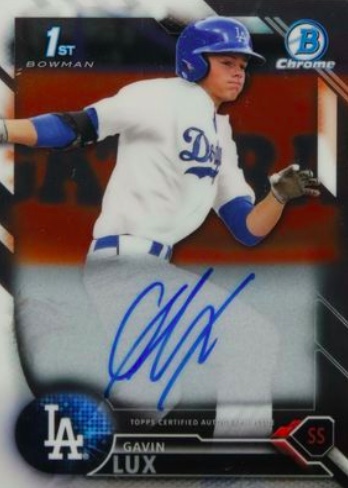 The Dodgers have so many big names on their roster that it's challenging for a fresh face to break through. Lux, however, was able to do just that, generating all kinds of buzz in '20 around the hobby. With the L.A. outfield absolutely stacked, though, there haven't been the at-bats to go around for Lux in '21. If you're someone who's stashed this card away, here's hoping he can sharpen his skills down in AAA and get back at it in '22.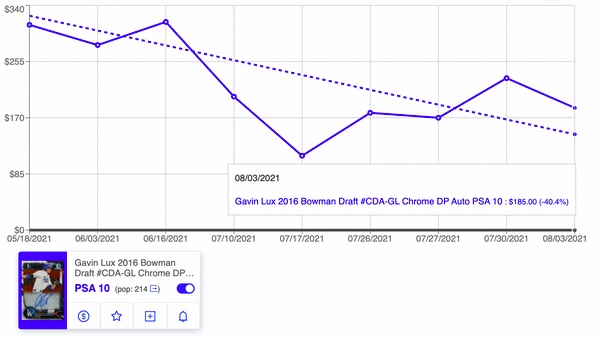 8. Matt Manning – Draft Pick Auto #CDA-MM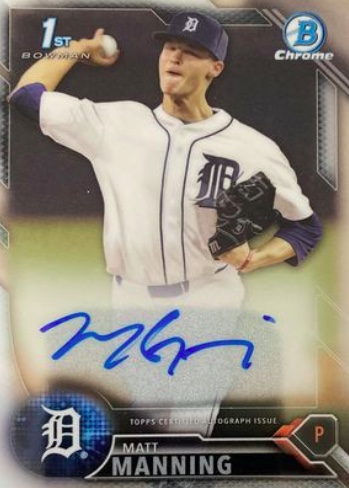 Like most young pitchers, Manning has dealt with some consistency issues. He'll go one outing and give up six earned runs, but his very next time on the hill he'll mow down a string of veteran hitters with his sick four-seamer. Once he figures all that out, the Tigers might have an ace for the next decade. But with this card's relatively low POP (70), that news may not have gotten out of Michigan just yet.
9. Bryan Reynolds – Draft Pick Auto #CDA-BR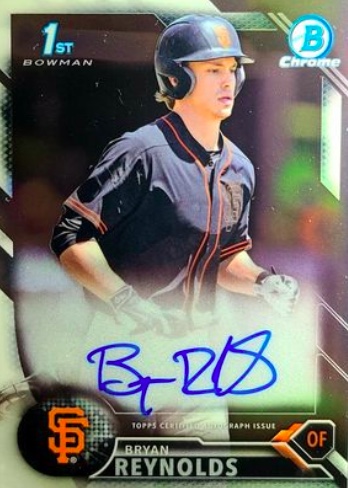 A first-time all-star in '21, Reynolds is by no means a league secret. Still, the gifted outfielder does play for ever-floundering Pittsburgh, so the collecting masses might still be missing out. But the guy's got an outside shot at a 30-homer/100-RBI season in '21. Do that a few times in the middle of a desert and the hobby will find out about it.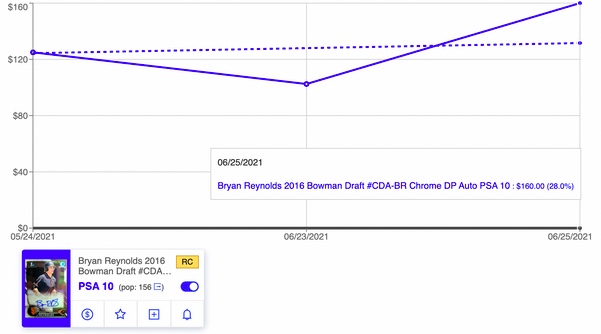 10. Cavan Biggio – Draft Pick Auto #CDA-CB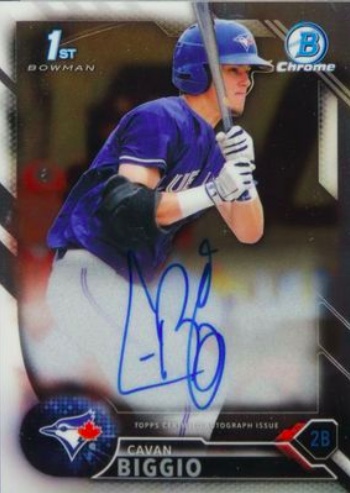 A famous last name will only get you so far. Eventually, you've got to come to the plate or field that tricky hop. If you don't regularly deliver, you'll be exposed. It's a good thing then that Cavan, son of 2015 hall of fame inductee Craig Biggio, is solid with the leather and the Louisville Slugger.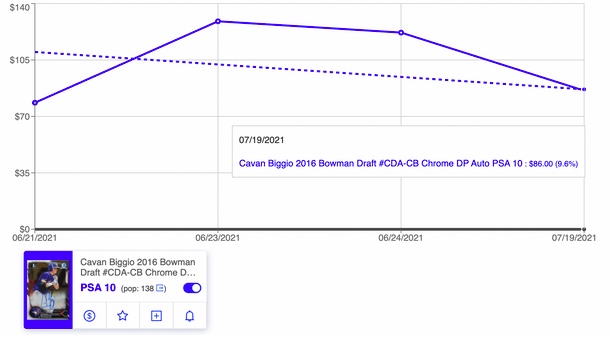 Track your collection and maximize your profit with Market Movers, the hobby's most powerful sports card pricing platform! Learn more here.
Note to readers: If you purchase something through one of our affiliates we may earn a commission.