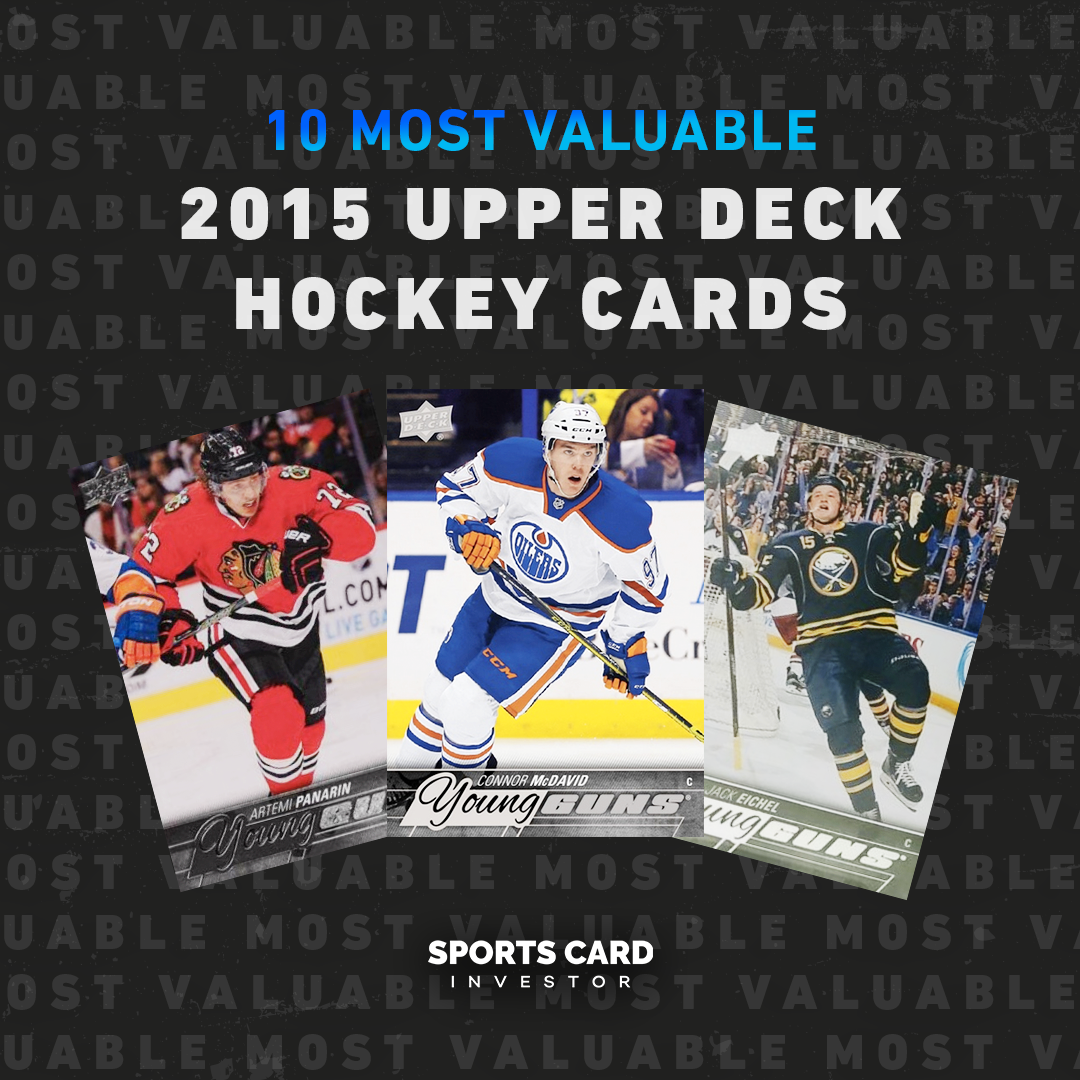 Nothing has shocked us about Connor McDavid since he came into the NHL in 2015. The Ontario native stormed onto the ice with a Hart Trophy-winning sophomore campaign in '17, had back-to-back 100-point seasons in '18 and '19, and wowed with a '20-21 season where he put up a Mario Lemieux-like 105 points in just 56 games, en route to what should be a second Hart Trophy designation.
When he gets that MVP hardware, his 2015 Upper Deck Young Guns card, already comfortably over $3,000 in a PSA 10, will likely shoot into the same $4,000-5,000 stratosphere as Sidney Crosby and Alexander Ovechkin's 2005 Young Guns cards.
But McDavid's card is far from the only highlight of these short-print inserts from the 2015 Upper Deck 1 and 2 sets. This spectacular Young Guns class also features a host of other international stars and a few American studs. Keep reading to find out which ones specifically deserve to be hunted for after you locate the McDavid gem.
*NOTE: This list is based on average sales over the 90 days prior to press time. Like everything else in the hobby, prices and rankings can change at any moment.
1 Connor McDavid #201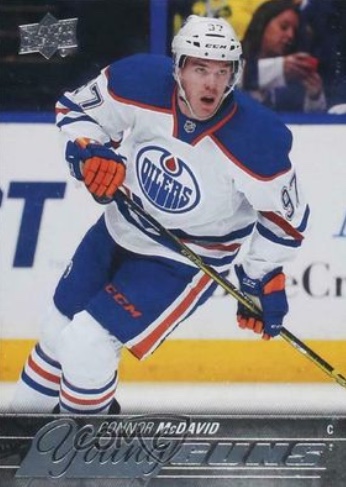 Many of The Chosen One's numbers are jaw dropping—195 goals, 574 points, 24 years old. Still, the stat that's blowing collectors' minds right now is how much this rookie card has exploded in the past year. When the Stanley Cup Playoffs began in '20, this card was selling for just north of $1,000. When the puck dropped on the '21 postseason, it was up approximately 230%. Clearly, the sky is not only the limit for this generational talent, but also for this card.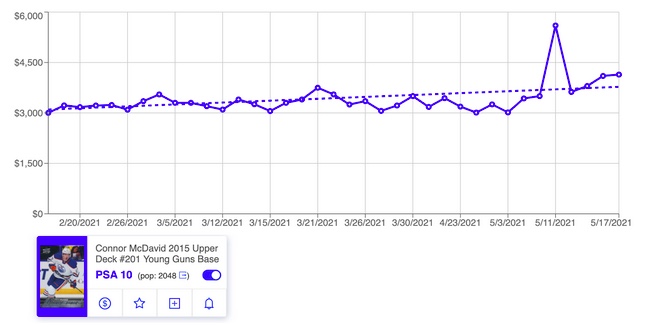 2 Jack Eichel #451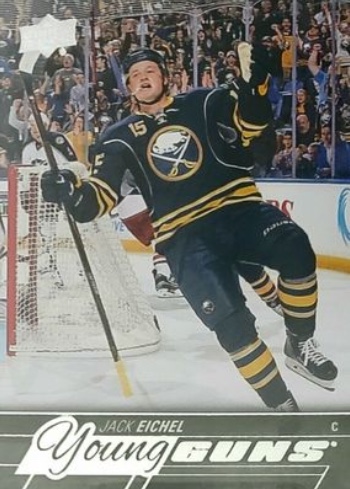 Though an ailing Jack Eichel only played in 21 games for the Buffalo Sabres in '20-21 (and rumors of the unrestricted free agent's departure from the team are only growing louder), there's no denying what the young man has done on the ice (three-time all-star) and off of it (nominated for the community service-focused King Clancy Memorial Trophy). It also doesn't hurt his rookie card's value that he's one of the three or four active American-born players, either.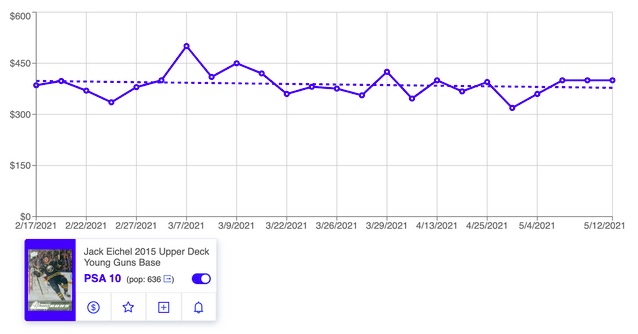 3 Artemi Panarin #221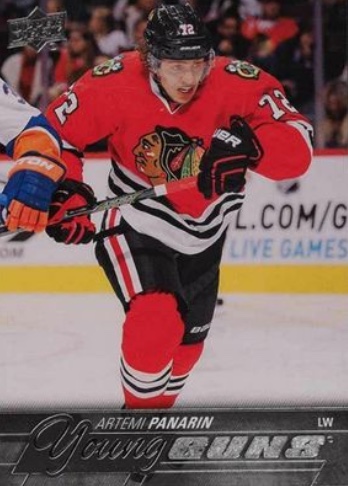 While a lower-body injury has kept Artemi Panarin sidelined since May 3, the hobby's love for the New York Rangers left wing is in a very healthy place. Panarin's Young Guns has steadily risen to its current spot (about $375) since mid-March. Collectors are likely optimistically looking toward next season, hoping he can repeat the 95-point showing he had in '19-20.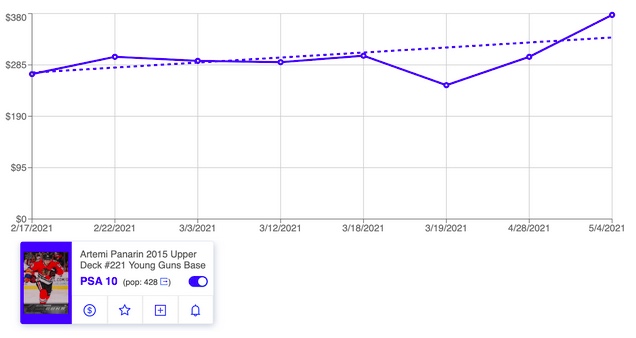 4 Mikko Rantanen #206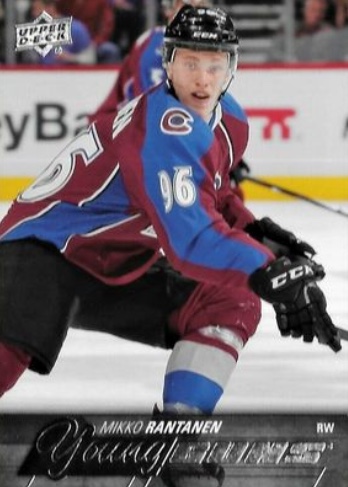 A phenomenal talent on the wing, Mikko Rantanen has skated himself out from under Colorado Avalanche teammate Nathan MacKinnon's shadow. When you lead your team in goals and points, like Rantanen did in '20-21, that tends to happen. Colorado's highest-paid player, the Finnish phenom is signed through '24-25, meaning those highlight-worthy plays alongside MacKinnon could just be getting started.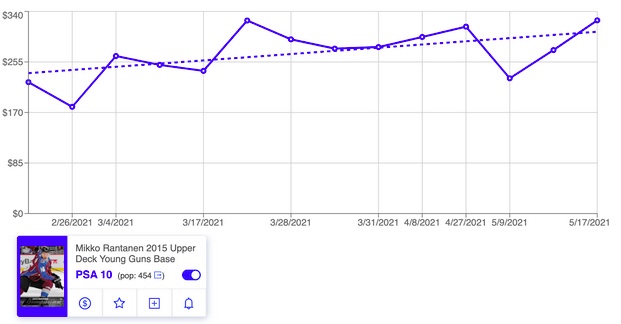 5 Dylan Larkin #228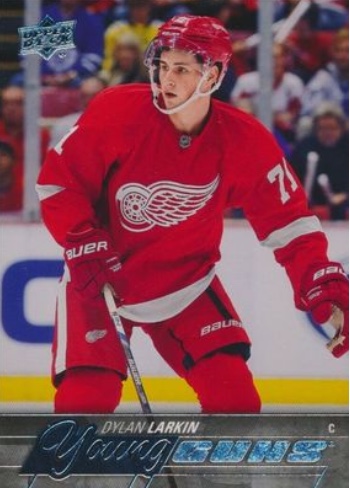 No need to sugarcoat the truth about Dylan Larkin's '20-21 campaign. It was rough. After managing just 9 goals in 44 games, the Detroit Red Wings captain had his season shut down because of a neck injury. On top of all of that, Detroit failed to make the playoffs for the fifth straight season. The 15th selection in the 2014 NHL Entry Draft, investors are crossing their fingers that things turn around for the 24-year-old next season.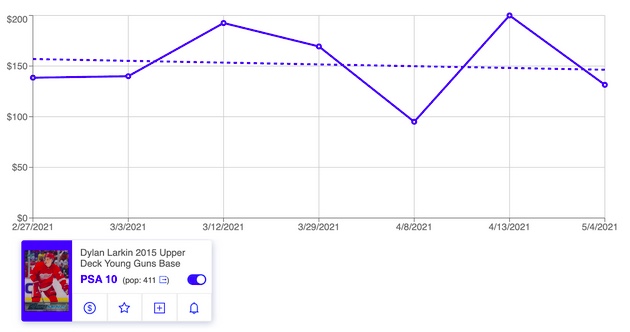 6 Connor Hellebuyck #214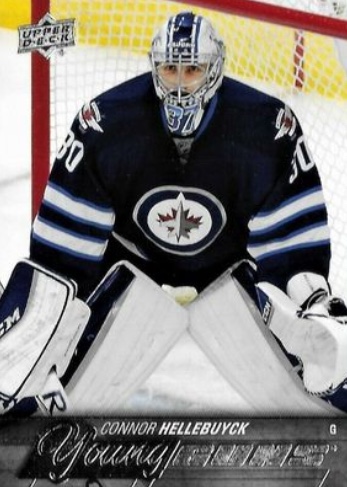 One of the NHL's top net minders, Connor Hellebuyck led the league in minutes played, shots against and saves in '20-21. While we don't think the Winnipeg Jets goalie will be repeating as the winner of the Vezina Trophy –Tampa Bay's Andrei Vasilevskiy has been nothing short of a brick wall this year—we fully understand how he's captured the heart of the hobby and get why this rookie card routinely goes for over $150.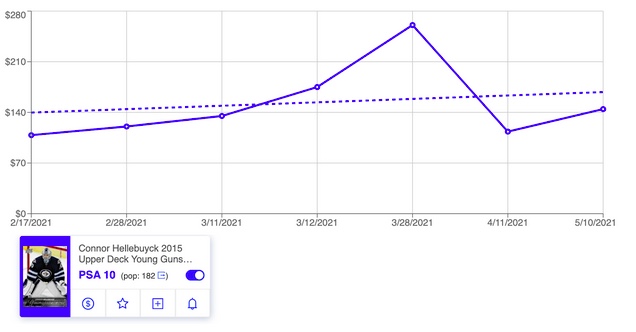 7 Nikolaj Ehlers #223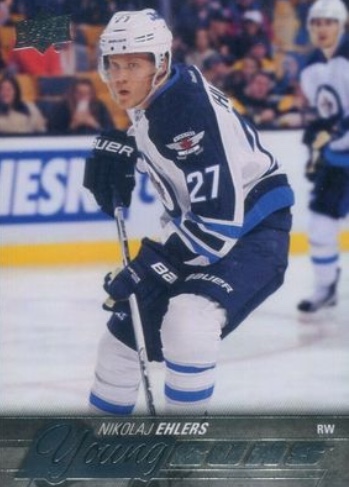 If you're looking for consistency, winger Nikolaj Ehlers is a model of it for the Winnipeg Jets. Since coming into the league in '15, Ehlers has scored at least 20 goals in every campaign—and that includes a shortened '20-21 where he's dealt with an upper-body injury since April. If he's healed enough to put the Jets' offense on his back, watch this card muscle its way around the $200 mark.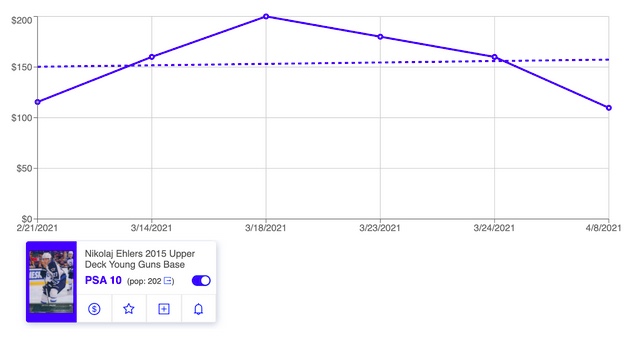 8. Kevin Fiala #208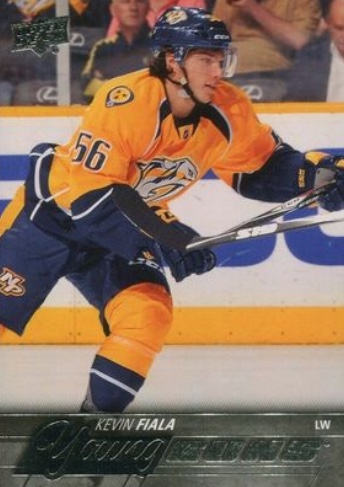 Though the Minnesota Wild's Kevin Fiala is one of the few guys on this list yet to be named to an all-star game, he's had a solid career. In '20-21, in fact, he delivered a well-rounded 20-goal, 20-assist showing. Hobbyists may be keeping this card in circulation with the hope that the breakout season they feel the 24-year-old left wing has somewhere inside will occur soon.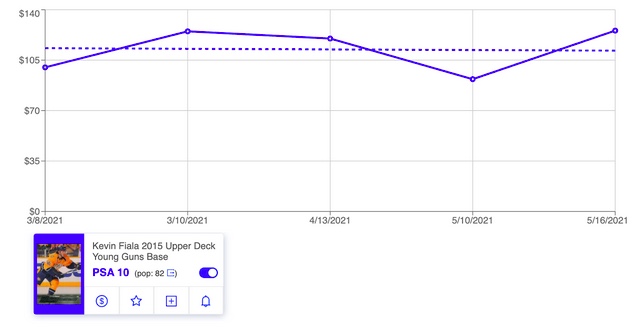 9 Matt Murray #526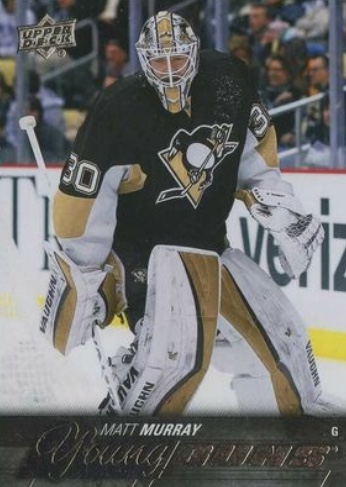 With back-to-back Stanley Cup titles in '16 and '17 and the Michel Briere Memorial Rookie of the Year Trophy on his Pittsburgh Penguins resumé, Matt Murray's early NHL success is unmatched by anyone on this list. While the past few seasons haven't been quite the fairytale — Murray was traded to Ottawa in 2020 — the goalie is showing he still has a few chapters yet still to be written.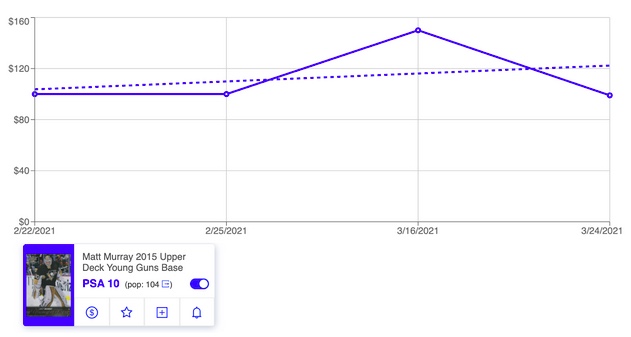 10 Sam Bennett #231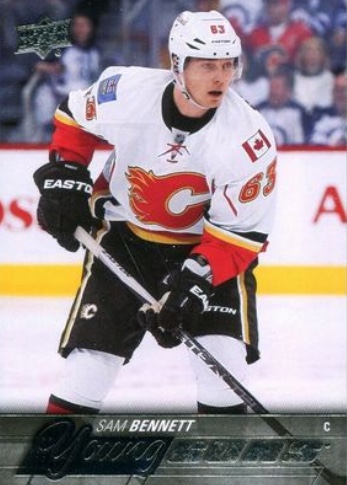 The recent spike in Sam Bennett's Young Guns card value makes sense. Savvy collectors know that when the primetime playoff lights come on, the Florida Panthers center is right in the middle of the action. At press time, Bennett had played in 30 career playoff games. If he can add to the 11 goals and 8 assists amassed so far with a quality showing in the '21 postseason, this card will only go up.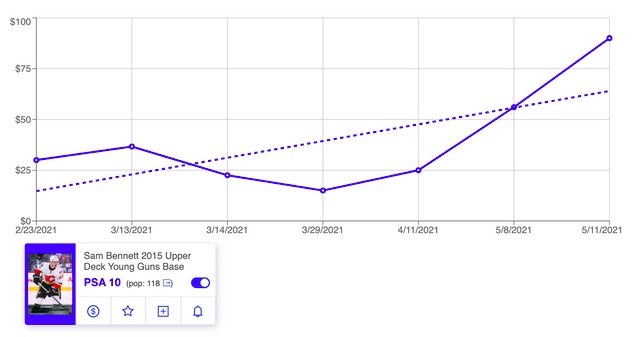 Track your collection and maximize your profit with Market Movers, the hobby's most powerful sports card pricing platform! Learn more here.
Note to readers: If you purchase something through one of our affiliates we may earn a commission.