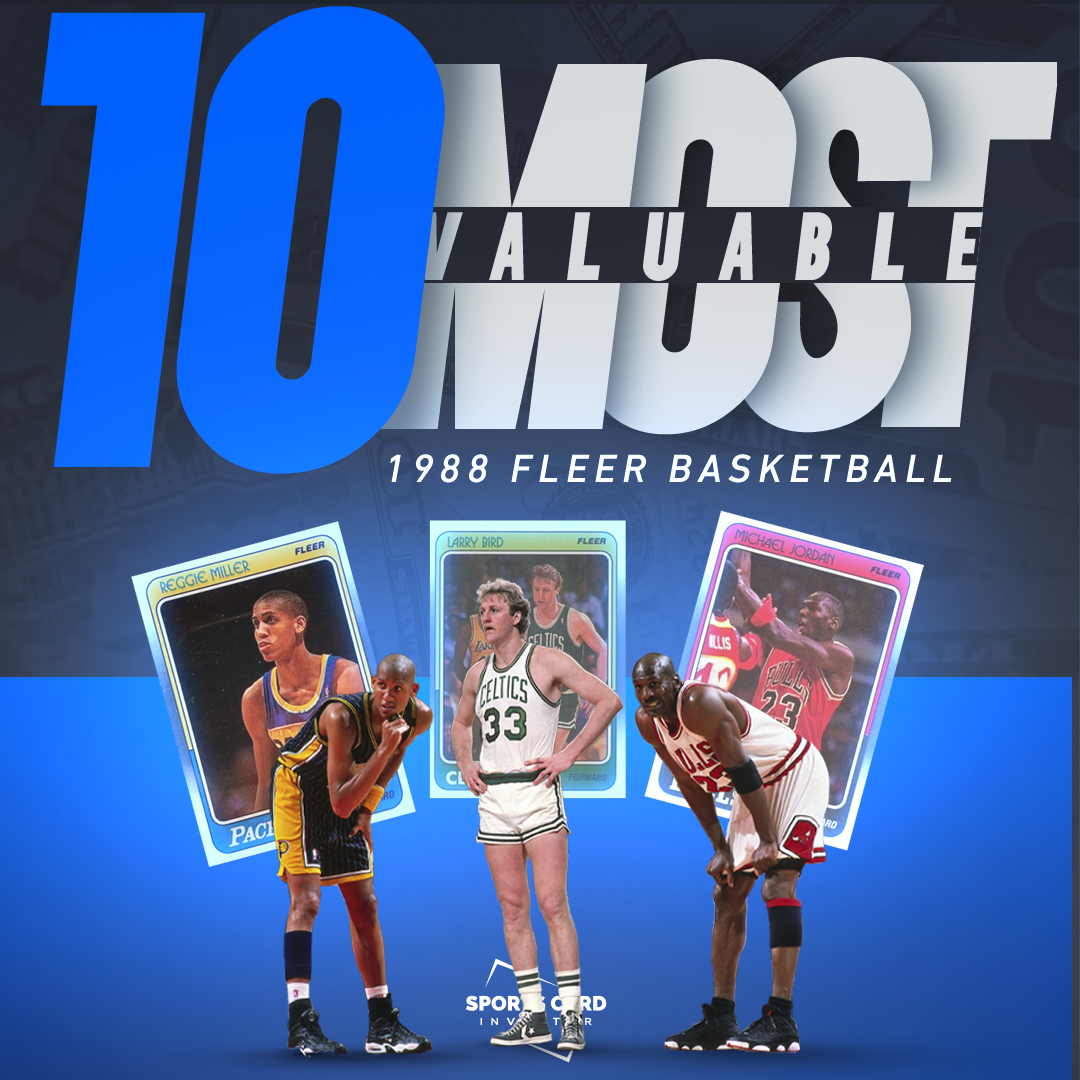 When Fleer card designers sat down to plan their basketball card set in 1988, we're guessing they kept the meeting short and sweet. Okay, fellas, the new season is about to tip off and we need to release some cards. Any ideas? One guy probably raised his hand and said, Let's go with an action shot that's framed in team colors. We'll include the player's name, team and his position in funky fonts. He looked around, everyone nodded in approval and they adjourned for lunch.
Thankfully, the roster of vets and rookies is so impressive in the 132-card set that its lackluster look doesn't much matter. Though Michael Jordan's fifth-year card is the most coveted one (wait, is that a tongue showing!), the set is absolutely loaded with star power. Beyond the usual hall-of-fame heavyweights (including Kareem Abdul-Jabbar's last card), you have the first entries from legends like Dennis Rodman and Scottie Pippen.
Alas, we are talking about a set from the '80s. The centering issues, dark spots and occasional print dots haunt the collection. But if you're lucky enough to find one that's properly aligned and blemish-free, you can bet you're sitting on something pretty special. Just look at the following cards' prices in a PSA 10. They're all valued more $200, with some going for well into the thousands. Not bad for a set that can't even push the design envelope to the edge of scorer's table.
*NOTE: This list is based on average sales over the 90 days prior to press time. Like everything else in the hobby, prices and rankings can change at any moment.
1 Michael Jordan #17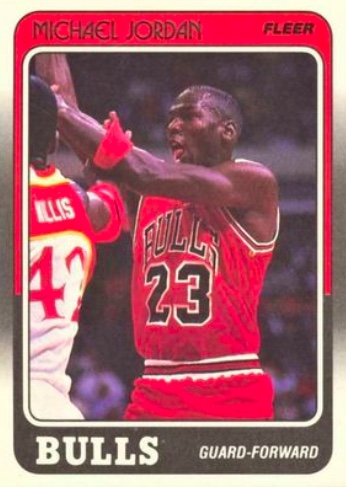 MJ's '88 highlights are impressive: 32-point average, NBA all-star, four-time player of the week. His PSA 10 card certainly holds its own, statistically, by not falling under $4,000 for most of 2021. Even nearly 20 years after his retirement, Jordan keeps winnings.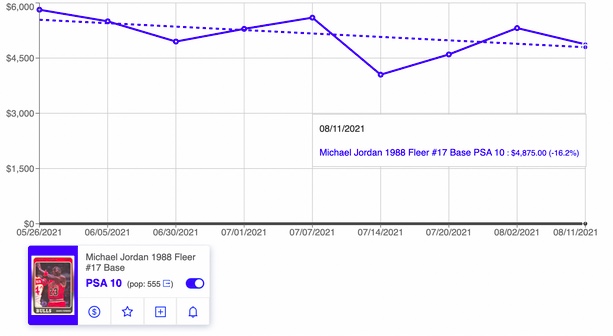 2 Scottie Pippen #20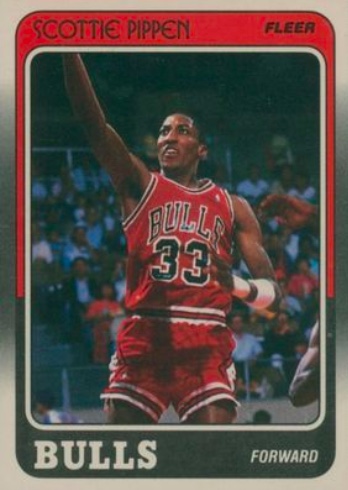 We've said our two cents about the set's generic feel, but something about this card – Pippen appears to be floating in the paint, prepping a sweet finger roll — has always resonated with us. Doesn't hurt that it's the rookie card of one of the greatest small forwards in hardwood history.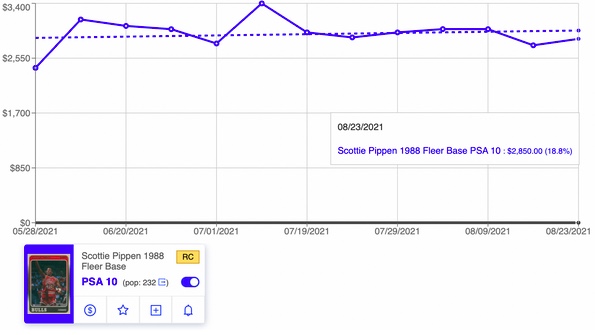 3 Dennis Rodman #43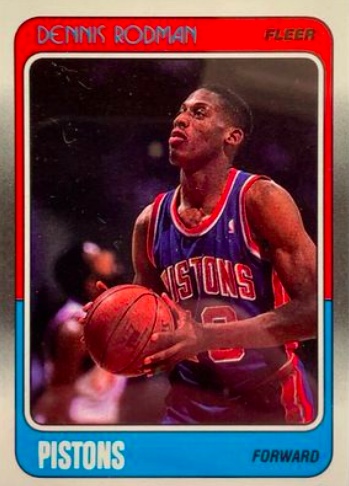 Lionsgate has greenlit 48 Hours in Vegas, a feature film chronicling Rodman's infamous Sin City trip that occurred in the midst of the '98 NBA Finals. But you don't need Hollywood to tell you that, when it comes to partying or putting his body in jeopardy for an important rebound or loose ball, few ever outdid the Worm.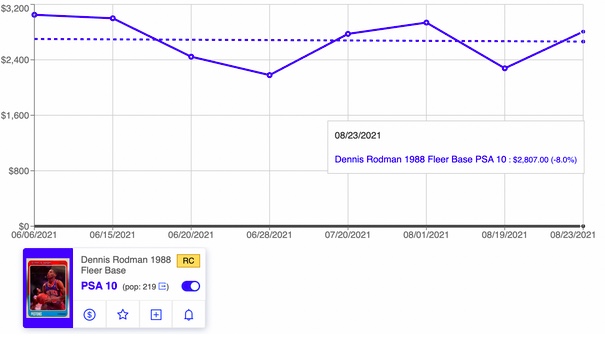 4 Reggie Miller #57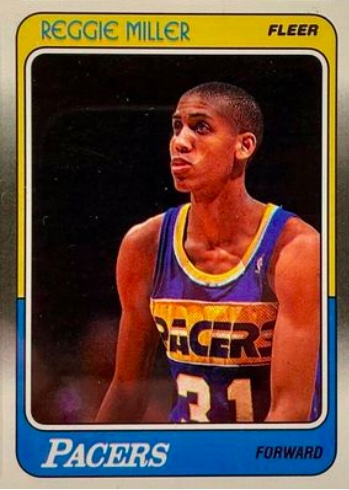 When it comes to cold-hearted killers on the court, real basketball fans have Miller's name right near the top. A 25,000-point scorer who was leading the league in made three-pointers before Trae Young was born, Miller was the leader of an Indiana Pacers squad in the '80s and '90s that came oh-so-close to the championship a few times.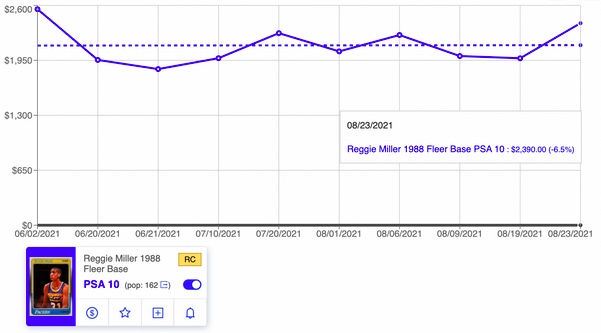 5 Magic Johnson #67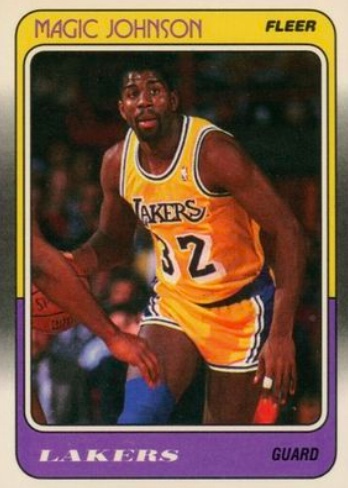 Amazingly, there are only 183 of these PSA 10s floating out there in the world. We're almost certain that has more to do with nagging centering issues than the fact people weren't sending in this card for a game-changing point guard just coming off back-to-back NBA Finals wins.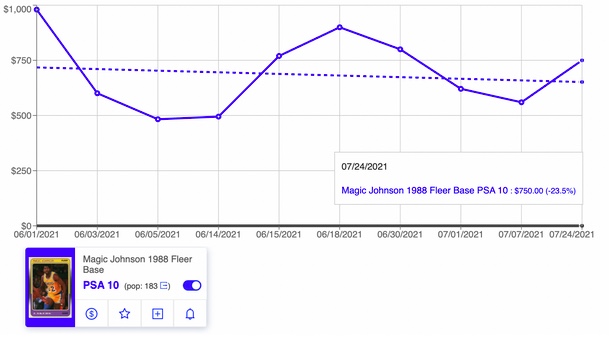 6 John Stockton #40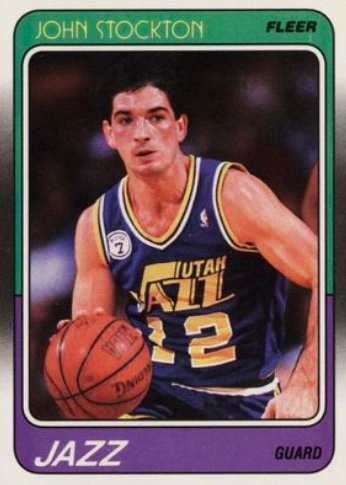 This card perfectly catches the baby-faced Utah Jazz guard doing what he did best, pushing the ball down court and looking for an open teammate. There's a reason Stockton is the NBA's all-time leader in assists by a HUGE margin. With a POP of 821, it's also clear that the hobby appreciates all that he accomplished over his brilliant 19-year career.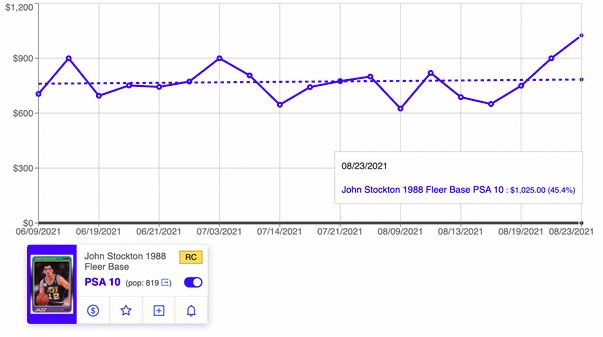 7 Larry Bird #114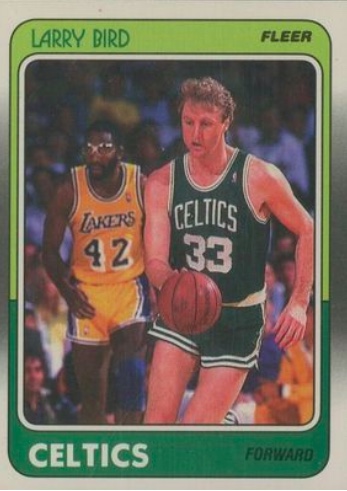 By the '88 season, Bird was already a three-time NBA champ and a three-time MVP who was well on his way to a hall of fame induction. What's cool about this card – well, besides the fact it captures Bird in the middle of what appears to be a fast break — is that it clearly shows another basketball legend, James Worthy, in the same frame.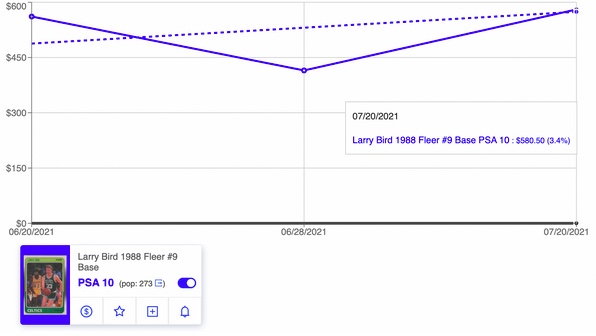 8 Kareem Abdul-Jabbar #64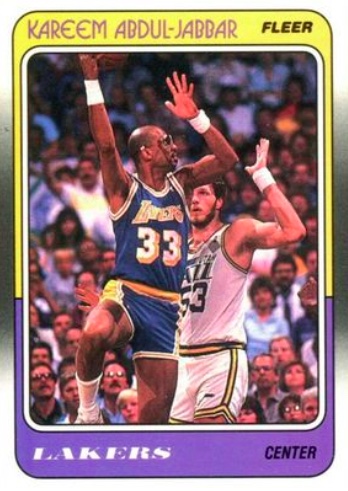 This card is so cherished around the hobby because it's the last one of Abdul-Jabbar's career. The NBA's all-time leading scorer would call it quits after the '88-89 campaign, moving on to become an accomplished author, social change advocate and actor (see: the second season of the raunchy FX comedy Dave).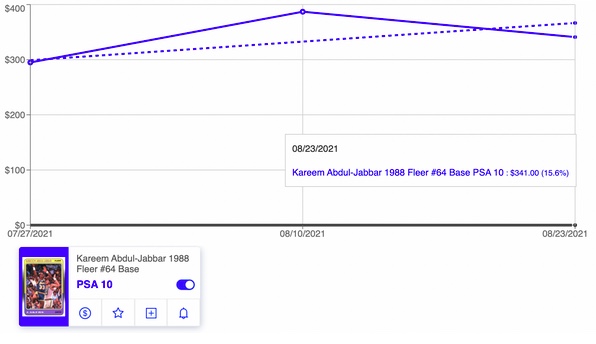 9 Horace Grant #16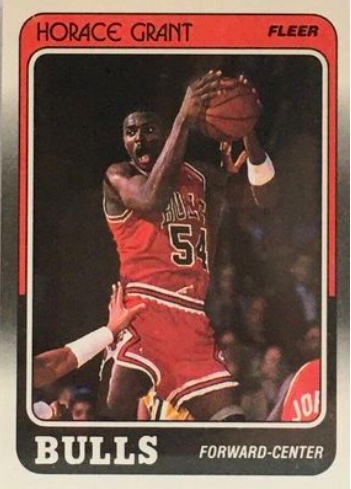 The fourth person on this chart to play for the Chicago Bulls in the '90s, Grant was the muscle those championship teams needed in the paint and along the perimeter. Though Horace's career was filled with highlights (four-time NBA champ, '94 all-star), he's the only player on this tally not inducted in the Pro Basketball Hall of Fame.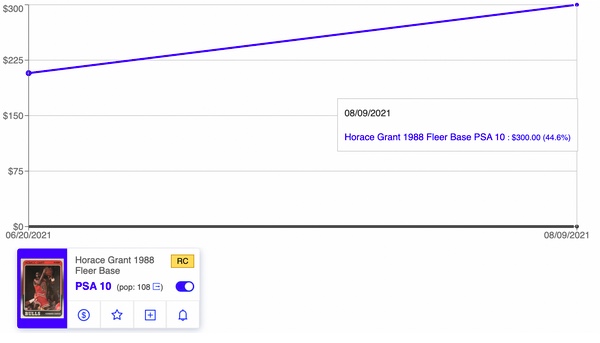 10 Hakeem Olajuwon #53
The discussion of the NBA's greatest centers could use more "Hakeem Olajuwon" at its core. The Rockets legend had a strong presence on D (two-time Defensive Player of the Year), good vision (more than 3,000 assists) and his own signature move (The Dream Shake). It's no wonder collectors can't get enough of his '80s cards.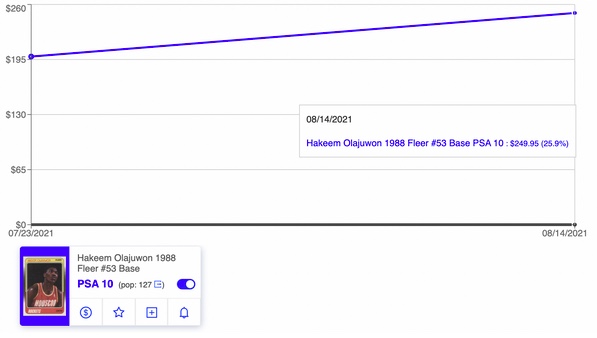 Track your collection and maximize your profit with Market Movers, the hobby's most powerful sports card pricing platform! Learn more here.
Note to readers: If you purchase something through one of our affiliates we may earn a commission.