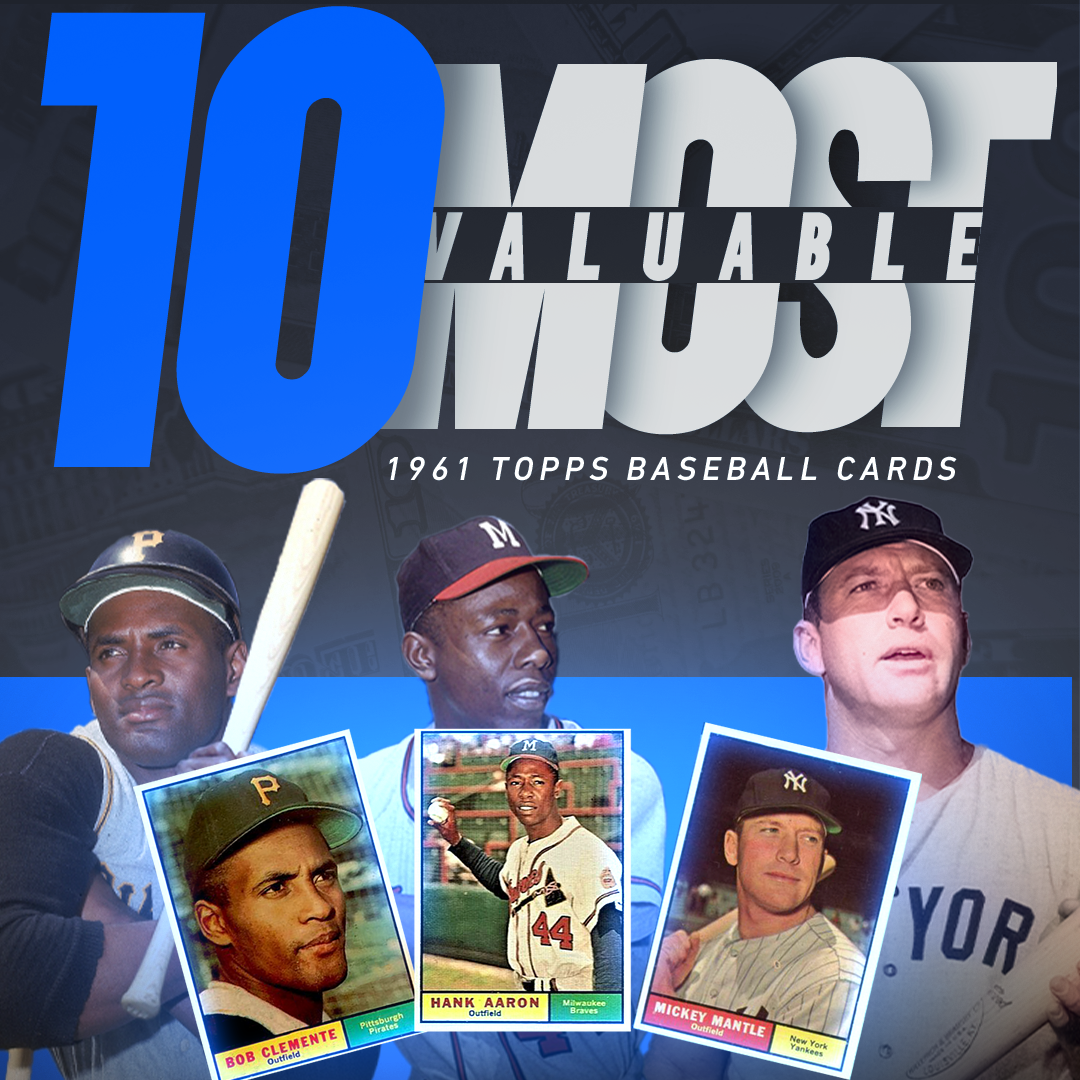 In most circles, the 1961 New York Yankees are considered one of the best Major League Baseball teams ever assembled. You had Mickey Mantle and Roger Maris in the outfield, Whitey Ford on the mound and Yogi Berra behind the dish. Impressive, yes? Well, according to Bill James, one of the baseball's preeminent historians, that's not necessarily the case. In The New Bill James Historical Baseball Abstract, the scholar asserts, "I am certain that the 1961 New York Yankees were not a great baseball team" and then proceeds to spill off factoids backing his claim.
But no matter what Mr. James feels about the team's overall play, Mantle and Maris' individual performances cannot be denied. While the twosome's legendary seasons at the plate (a combined 115 HRs and 269 RBI) are big reasons for this set's popularity, a part of us wants to believe it's because of the cards' simple, block framing and the traditional poses of the players.
Because of a scarcity of PSA 8s and 9s on the market, we'll be focusing on PSA 7s in this top 10. Mr. James may be interested to know that, while nearly a third of the players on the list are Yankees (hey, Yogi!), legends from other teams are well represented from this timeless collection, too.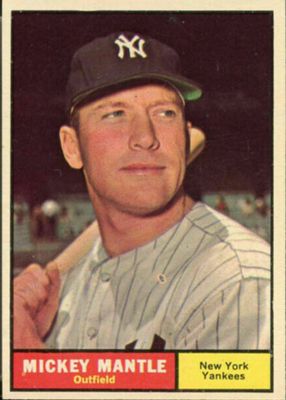 1 Mickey Mantle #300
On the heels of an MVP runner-up '60 campaign, Mick continued his brilliant play at the plate the next season with a .317 average, 163 hits and a .687 slugging percentage. Those numbers are almost as spectacular as this card's figures, which have hovered between $1,500 and $2,500 for the past year.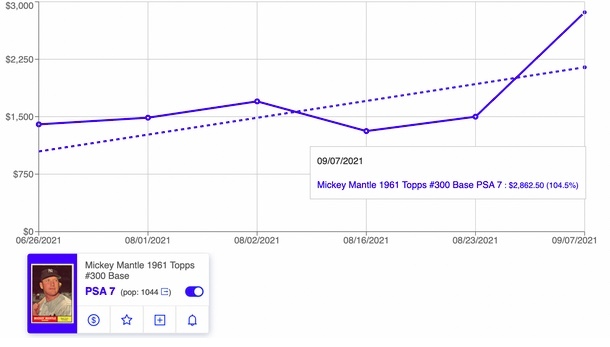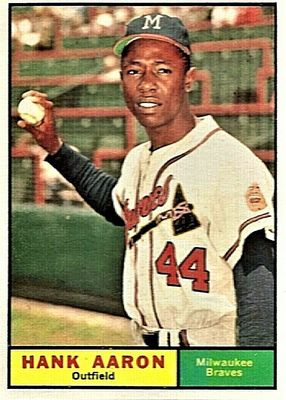 2 Hank Aaron #415
We won't lecture you with any of Hank's baseball stats, as they've been repeated ad nauseam over the years. But what we will focus on are the card facts. The most impressive: though this PSA 7 is from the Hammer's eighth MLB season, it still commands between $600-800.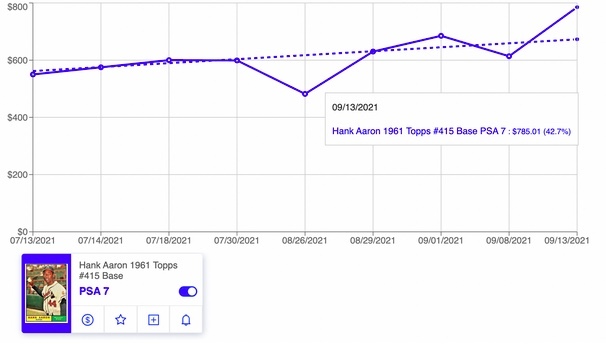 3 Willie Mays #150
Right on Aaron's heels in the average-sale category is this card from the Giants icon. Though the "Say Hey Kid" looks terribly disinterested in this photo, collectors continue to look the card's way by making purchases of it every month or so.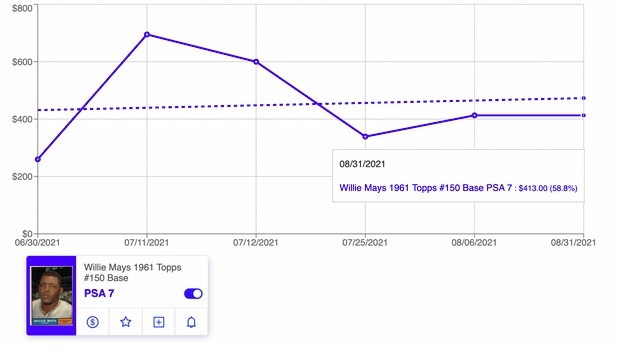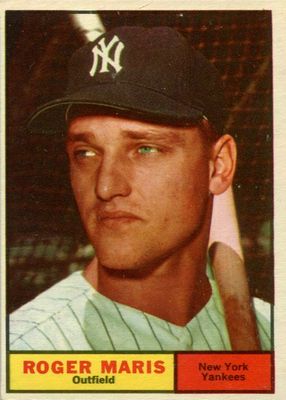 4 Roger Maris #2
While Maris' Hall of Fame credentials will be debated until the end of time, not many will ever question this card's significance. The card from the '61 season where he famously slugged 61 homers? Yes, please.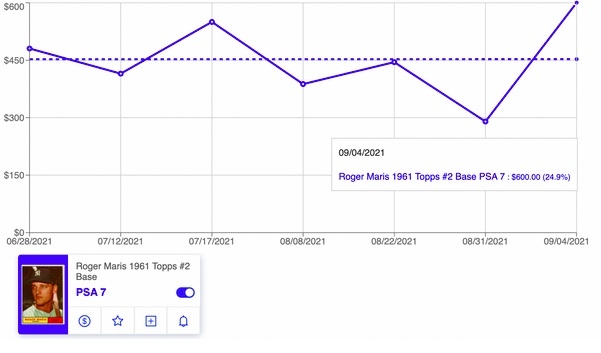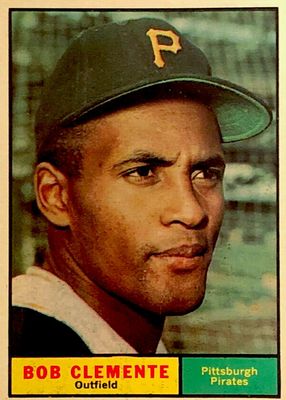 5 Roberto Clemente #388
The eighth-best center fielder of all-time according to Bill James' calculations, Clemente probably lands even higher than that in fans' hearts, which might explain why one of these beauties sells every couple of weeks.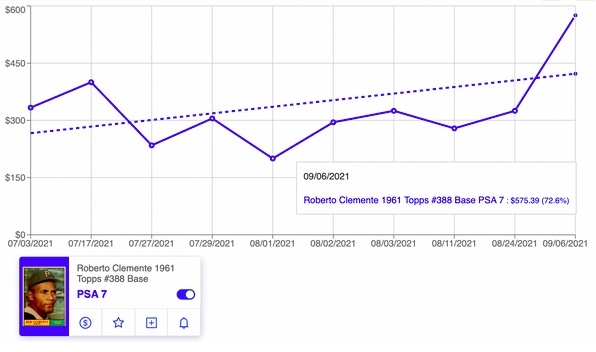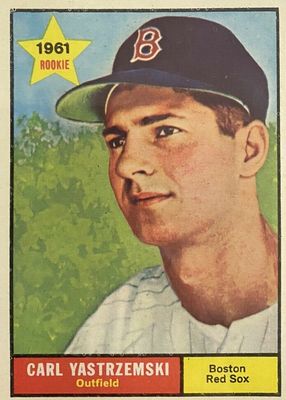 6 Carl Yastrzemski #287
The first rookie card on this chart, Yaz's '61 Topps is the first collectible in a storied 23-year career with the Boston Red Sox that consisted of three AL batting titles, 18 All-Star game appearances and a 1989 Cooperstown induction.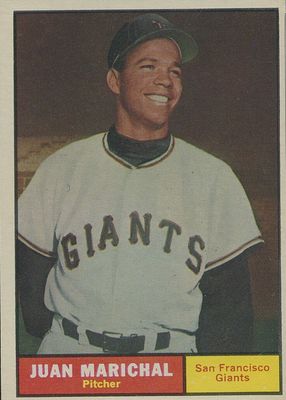 7 Juan Marichal #417
Another first-year card, this '61 Topps for the Giants pitching great served as a precursor to a fantastic career highlighted by 243 victories, 10 All-Star invites and more than 2,300 strikeouts.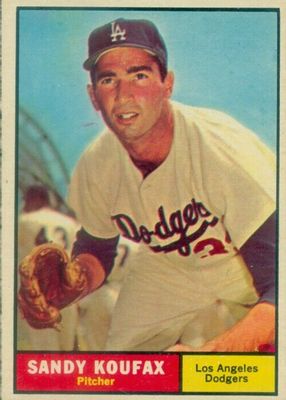 8 Sandy Koufax #344
Want to hear a wild Sandy Koufax stat? In two of the three seasons where the Dodgers ace won the pitching triple crown (wins, ERA and Ks), he also led the league in complete games and innings pitched. It's no wonder why this card regularly goes for $300.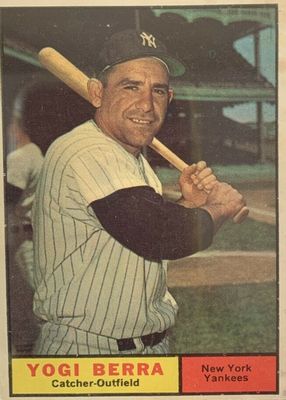 9 Yogi Berra #425
Contrary to what pop culture proclaims, Berra was quite the producer at the plate. His 358 dingers and 2,150 hits are some of the most impressive ever for a catcher. The combination of Yogi's stats and standout quotes make cards like this so popular in the hobby.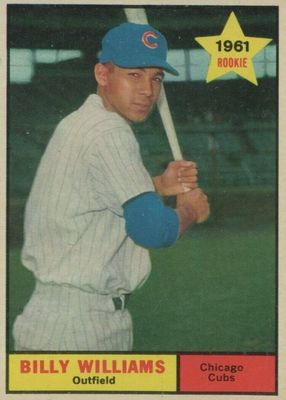 10 Billy Williams #141
One of the best to ever patrol left field for the Cubbies, Williams went on to smash 426 home runs, get 1,475 RBI and etch a place in Chicago's heart forever. This is the card that started it all.
Track your collection and maximize your profit with Market Movers, the hobby's most powerful sports card pricing platform! Learn more here.
Note to readers: If you purchase something through one of our affiliates, we may earn a commission.