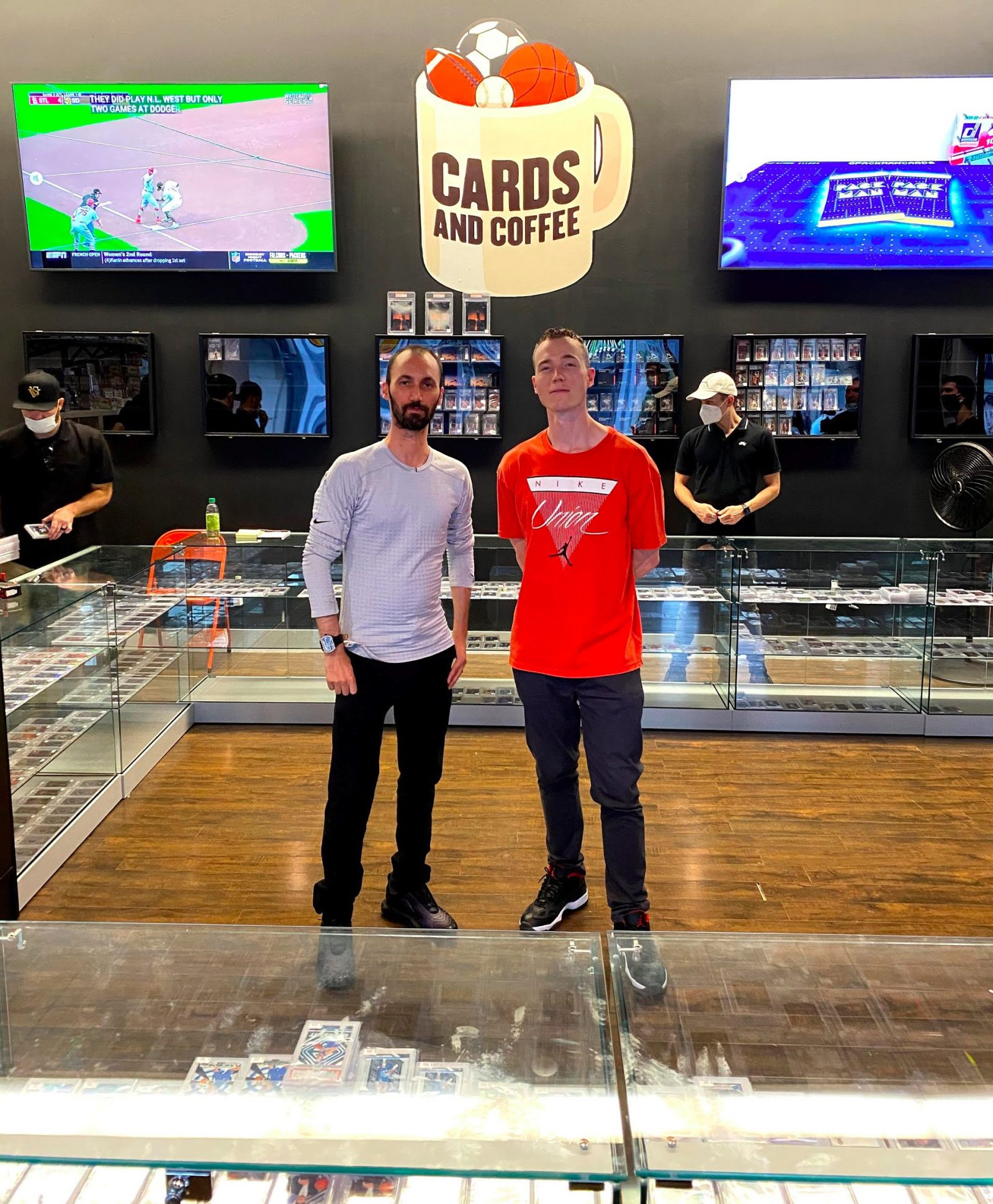 If the conversation of hip hop's 10 greatest MCs comes up and Nas' name isn't mentioned, you'll probably want to find another conversation. The Queens-bred MC is just that vital to the genre. His influence reverberates far beyond music, though, with his impact felt in fashion, business and now even sports cards.
DJ Skee loves few things more than sports and hip hop. So, when Topps approached the L.A.-based DJ and media personality about collaborating for the card brand's popular Project 70 series, Skee jumped at the chance to design something. The only question was who all he'd pay tribute to with the set.
"I really wanted to figure out the right theme and style to roll out with my cards," says DJ Skee, who's planning a limited-edition, 20-card release throughout the year. "I thought by pairing it with music culture in general, there was just no better way [to make it work]."
One of the most stunning cards in Skee's set thus far is Satchelmatic, where an image of iconic Negro League pitcher Satchel Paige's face is placed over a sepia-tinted backdrop inspired by Nas' classic Illmatic album cover. Closely scan the front and you'll spot five hidden microphones, a nod to '90s hip hop mag The Source's album-grading scale.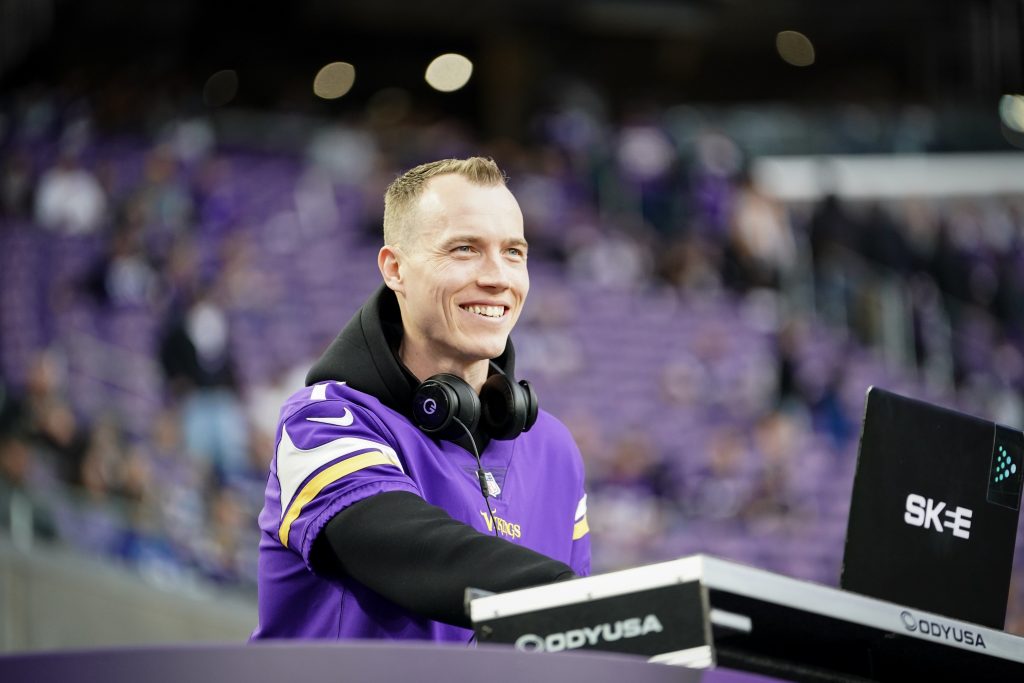 "The level of detail that I'm really going into," says Skee, "with how it's constructed, what that format is, what the music inspiration is, how we're tying the players together [is intense]. I've spent a ridiculous amount of time on it because it's just a dream project for me."
Unfortunately, you won't find Satchelmatic, the beautiful Babe Ruth-Jay-Z cards or the April 22-dropped Byron Buxton-DMX mash-up at Cards and Coffee, the popular Southern California card shop DJ Skee co-owns with long-time friend/music genius Steve Aoki and businessman Dan Fleyshman. The short-print releases were only available online at DJSkee.com and Topps.com and sold out in a matter of minutes.
"It's been overwhelming," says Skee, who collects cards of stars who shined for his beloved Minneapolis teams like Kevin Garnett and Randy Moss. "I've spent such a tremendous amount of time on it. I'm glad to see that the work put in is paying dividends."
Though he was specifically talking about Project 70's response in that quote, Skee's sentiment could easily apply to Cards and Coffee. One of the true success stories of the pandemic, Cards and Coffee has become known in collecting circles not only for its celebrity owners and high-end Hollywood address, but for its playful nature, free cups of java and animated pack-breaking channel, The Coffeebreakers.
"Since we launched," adds Skee, "the numbers have been through the roof. Our break business is just through the moon. It's insane. I can't even keep up. There are people hired just to find wax. What's happening over there is just phenomenal."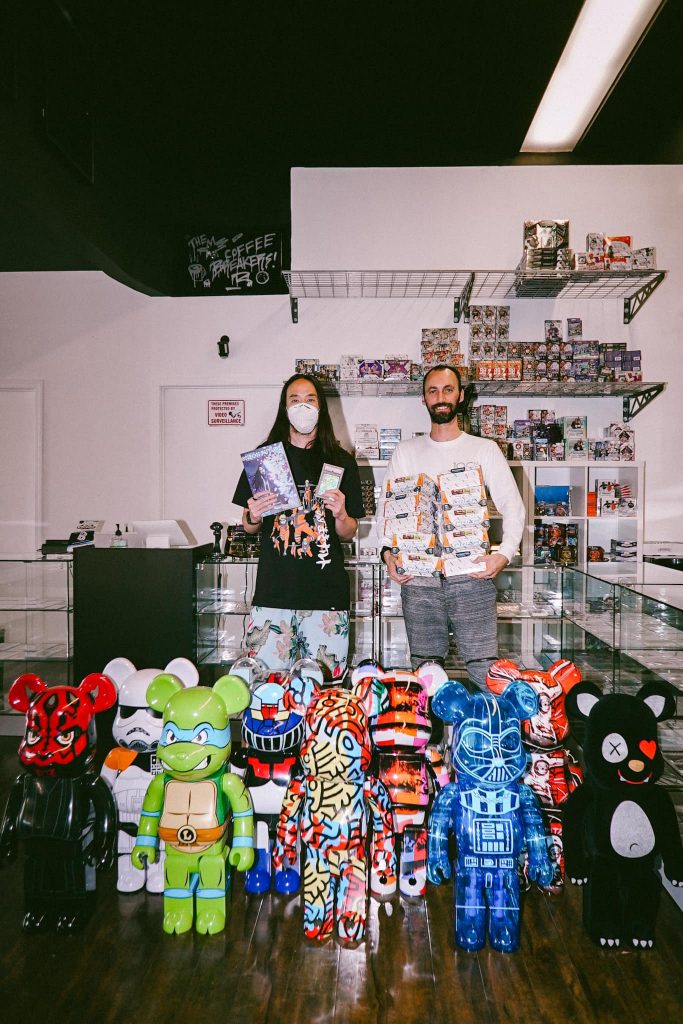 When the topic of innovative young entrepreneurial minds arises, Dan Fleyshman's name ought to be one of the first ones you hear. The man knows a thing or three about running a business. Beyond Cards and Coffee, Fleyshman has created an energy drink, launched Victory Poker and is the brain behind Everbowl, a chain of açai bowl restaurants. But even with all of those endeavors, what he and the team have been able to do with the card shop is worthy of its own Ted Talk.
Cards and Coffee debuted in October 2020. No need for us to tell you what the retail world looked like back then—especially for a brick-and-mortar establishment. Fleyshman insists that, when the card shop opened its doors for the first time, there wasn't another functioning business in either direction for three Hollywood Boulevard blocks. Cards and Coffee didn't just survive those challenges days, it thrived in them.
Like any successful entrepreneur, however, Fleyshman never stops looking for the next opportunity. So, with the L.A. location holding its own, he deemed this spring the perfect time for the brand's expansion. But he had to do it the right way.
"I got hit up by like 15-20 potential licensees who wanted to use our name and do a joint venture with us," says Fleyshman, who has impressive card stashes of tennis legend Serena Williams and budding Miami Heat guard Kendrick Nunn. "But this is something that's a passion project. You gotta be in the store six or seven times a week, morning through night. It's not something you can do part time or casually or just hire some staff. It doesn't work like that. So much expertise is involved in cards."
Salt Lake City may not be the first place you think of that fits Fleyshman's criteria, but he saw something special in the Utah capital. Where it seemed like L.A. buyers were more focused on buying, selling and flipping, folks in SLC cared less about bottom lines and more about having a good time. "People in Utah come in with three kids," says Fleyshman. "They've been having cards for 20, 30 years. They're looking to buy cards. Would they sell cards? Sure. But they're not like, 'Hey, let me buy this for $300 and sell it for $420.'"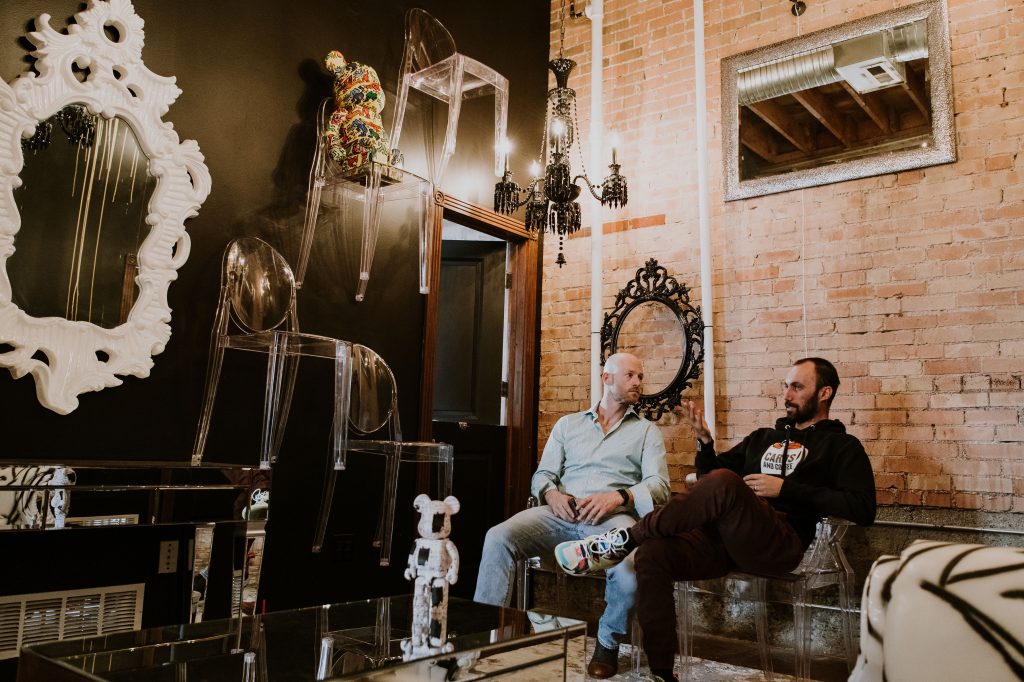 Still, the biggest reason Utah expansion happened was Jared Bringhurst. A serial entrepreneur by trade, he feels right at home in the hobby. With his collecting passion — Bringhurst was into cards back in the late '80s, even selling them to classmates from his driveway after school — and business acumen already in place, the Bringhurst-Fleyshman partnership made perfect sense.
"This is really a dream come true for me," says Bringhurst, who, along with Emma-Lee Blotter, Jesse Christiansen, Jimmy Rex and Kevin Trost, co-own Cards and Coffee SLC with Fleyshman. "I've done a lot of businesses but when they opened Cards and Coffee in LA in October, I texted [Dan] immediately and said, 'We gotta do Salt Lake.' It's funny. On February 3, I texted him again and said, 'We're ready.' Sixty days later, on April 3, we opened."
Cards and Coffee SLC's interior feels like a stylish loft. But instead of fancy light treatments and wood-beamed ceilings setting a pretentious mood for potential customers, the décor flows and the space feels inviting. Who knew exposed brick walls could complement boxes of 2017 Topps Chrome baseball cards so well?
But from the sounds of things, the shop could have been an empty box and people still would have flocked to it. They're just so happy to have an outlet to shop and share memories. "Every day we're getting bombarded with emails, texts, comments and messages," says Fleyshman. "And the main story is the same one over and over: 'Oh, I used to collect but it's at my mom's house. Oh, I gotta get a hold of my great uncle. He's got these great cards.' That comes up 10 to 40 times a day."
"One of the things that I loved about our store," says the Utah Jazz-collecting Bringhurst, "was how many people brought their kids, their wives, their husbands, girlfriends, boyfriends, out to the launch. Kids were given their first Pokémon, baseball or basketball pack. Just to watch the kids' eyes light up and sit on the floor and spread Pokémon cards out. That's what we're really about as much as the investor who wants to make some money."
Even with those new happy faces, the Cards and Coffee brand won't rest with the Salt Lake City and L.A. locations. In fact, Fleyshman already has his eyes set on the company's next move. New Jersey, Miami, San Diego and Vancouver look like serious candidates. Las Vegas and Phoenix are on the radar, too; Fleyshman just hasn't found that Bringhurst-like figure in those last two cities to see the project through. He knows that it's passion that separates Cards and Coffee from other local card shops. Future partners have to bring it.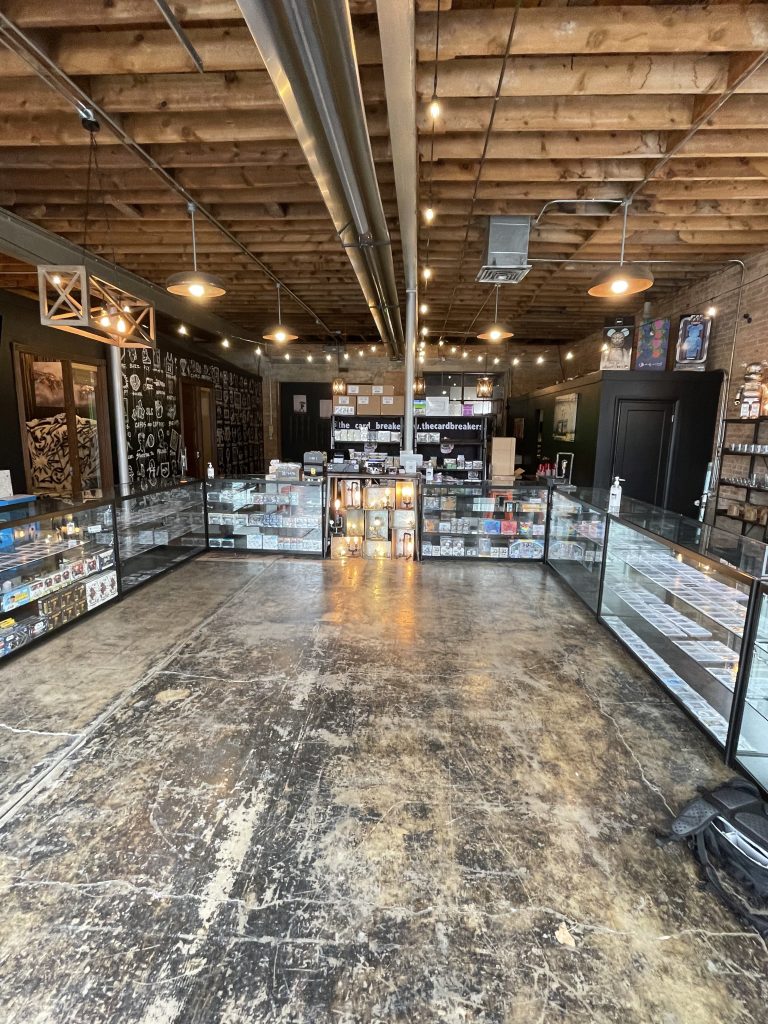 "Nobody could just pay me [for naming rights] or buy a license," says Fleyshman. "If I don't have a quarterback there, there's no point. Jared lives and breathes it. It makes perfect sense. I have some of those characters in the first cities I mentioned, but I don't have them yet in Las Vegas or Phoenix. There are cities I'd like to open. I just don't have that main character."
It's that kind of foresight that makes this company's outlook so bright. It's that kind of thinking that has made the brand work thus far. Needless to say, the next time there's a debate over who the biggest young players in the hobby are, Cards and Coffee's name might need to lead the discussion.
"My favorite thing about owning a sports card shop is that every single person that walks in and walks out is happy," says Bringhurst. "If they buy a $5 pack or if they spend $150,000, they're walking out with a smile on their face. I feel like I own Disneyland. It's the happiest place on earth."